When you shop through retailer links on our site, we may earn affiliate commissions. 100% of the fees we collect are used to support our nonprofit mission.
Learn more.
When Consumer Reports tests baby products, safety is paramount. In our stroller tests, we tug on the harness, push the stroller over all kinds of terrain, and stress the brakes on a 20-degree incline. Fortunately, brake failures are rare. But in 2014 the brakes on a double stroller released, posing a potential risk to the pint-sized passengers. At the time we designated the Graco Ready2Grow Classic Connect LX a "Don't Buy: Safety Risk." Now, we're happy to report that the brake problem has been fixed and the Don't Buy designation removed. Here are the details.

The Graco Ready2Grow Classic Connect LX is part of a family of strollers that includes the Graco Ready2Grow Classic Connect, the Graco Ready2Grow Click Connect LX, and the Graco Ready2Grow Click Connect that are all compatible with Graco car seats. They can carry two children of different sizes and ages and let one child sit while the other stands.

The stroller has rear-wheel brakes that can be locked or released with one touch of the foot. When you step on the brake pedal a lever on each side engages the wheel and hub adapter by lodging itself between two spokes. But in our earlier braking tests, we found that some of the wheel hub spokes were actually bending under the weight of two simulated children—we use dummies—allowing the brake to release, and the stroller to roll off the test platform. Imagine that happening with two real passengers on board.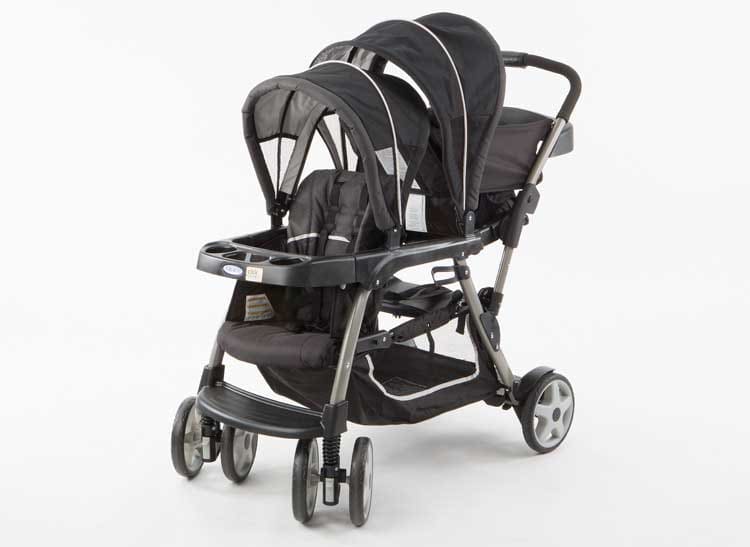 Retest Results
We communicated our concerns to Graco and the Consumer Product Safety Commission and asked Graco to let us know when the brake design had been changed. They did not do so but we decided to buy new samples anyway and bought two models of the Graco Ready2Grow Click Connect that were manufactured in 2015.

We conducted our braking test on the two new samples. This time, both performed adequately and no brake releases were observed. We also examined the wheel hub adapters, which appear more robust, and saw no evidence of the white stress marks or deformation that we observed in the original test samples from 2014.

As a result we upgraded the safety score for the stroller, which raised its overall score, moving it from the bottom of our Ratings to the middle of the pack and removed the Don't Buy warning. To compare the Graco to other strollers see our full stroller Ratings and recommendations.