When you shop through retailer links on our site, we may earn affiliate commissions. 100% of the fees we collect are used to support our nonprofit mission.
Learn more.
Parents these days don't let a baby slow them down. Equipping themselves with a versatile stroller is part of the equation. Consumer Reports recently tested a batch of new strollers, three of which we're recommending for parents on the go, whether that's traveling through the sidewalks of New York, jogging in the park, a weekend walk in a nature preserve—or all three.
The Thule company has attempted to capture this trend with its slogan "Bring Your Life" for its baby gear, including the Urban Glide stroller we just tested. The words encourage new parents to continue doing what they love to do, but with baby in tow. Years ago that meant buying two strollers—one for everyday and another for off-road walks or jogging.
Fortunately, many of today's strollers fit both roles, getting you and your baby through the grocery aisles as well as over a woodland trail. Here are three that aced our tests for safety, ease of use, and maneuverability (pushing strollers at a brisk walking pace over pavement, up and down curbs, and on a grass/dirt trail with tree roots and other bumps).

Bumbleride Indie 2016, $530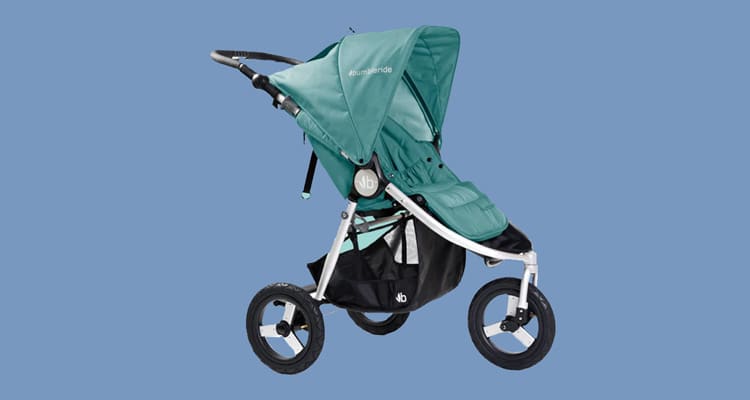 The price may seem steep, but the Bumbleride Indie 2016 can accommodate your baby from birth to 55 pounds. It's a three-wheel design, with large, air-filled tires that contribute to its excellent maneuverability and sturdy, responsive feel. Folding and opening the stroller is a cinch. The seat has a deep recline so that an infant can lie down, and there's a pop-up infant "wall" (a fabric flap that is snapped into place when needed) to enclose the foot area and keep your infant from slipping out.
Even with the wall in place, always use the harness. The Indie's 5-point harness system is one of the best we've seen, with smooth, fluid adjustment (and no re-threading required). The stroller's canopy is very large, to provide shade and protection from the elements. Onboard storage includes a deep, medium-sized basket with a zip pocket on the inside, and pockets on the seat back and canopy. A car-seat adapter is sold separately for $45. An air pump is included, for the occasional maintenance the air tires will need. To switch to jogging mode, just lock the front swivel wheel.
We had a few quibbles: Although it's light for its size, at 22 pounds, the Indie 2016 is large, even when folded, and bulky, particularly when you're lifting it into your trunk or hatchback. Some of our testers disliked the hard rubber cover on the adjustable handlebar. There are no cupholders.

Thule Urban Glide, $400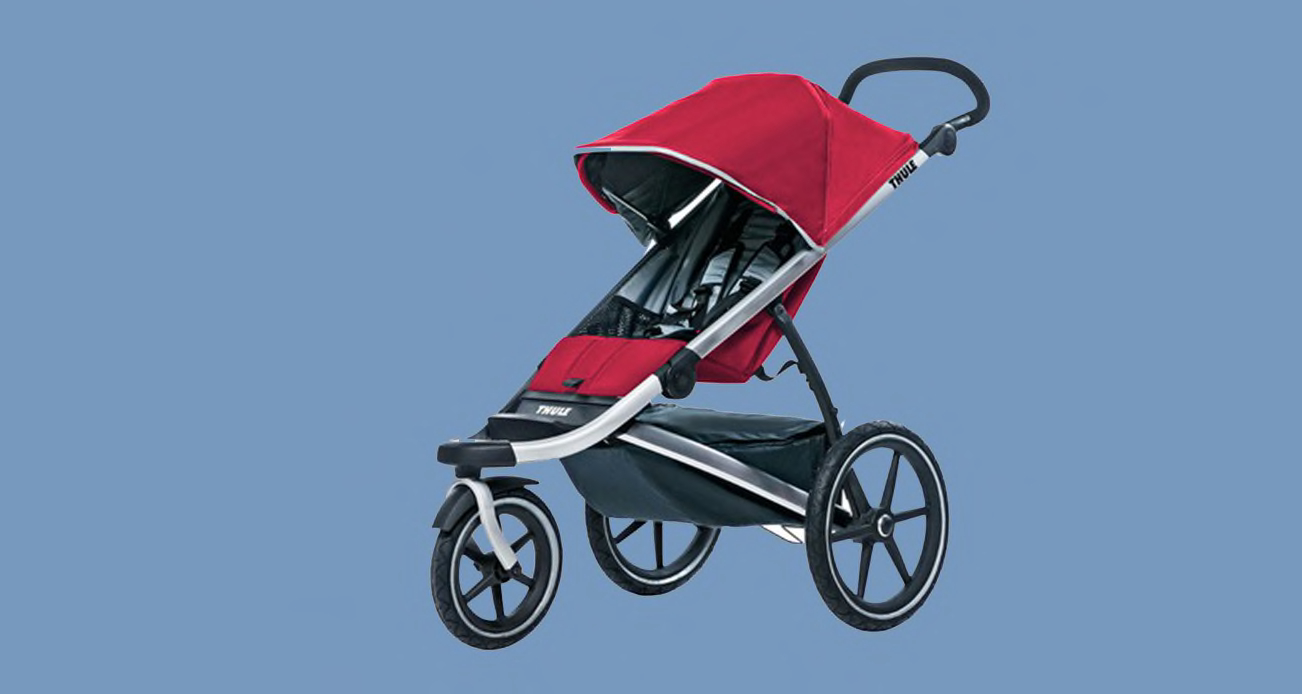 Like the Indie 2016, the three-wheel Thule Urban Glide can be used as a jogging stroller with the front swivel wheel locked. Unlike the Indie, however, the Urban Glide will only accommodate babies starting at 6 months, or when they're able to sit up on their own. To accommodate a baby under 6 months, you'll need a car-seat adapter (sold separately) and your infant car seat.
Urban Glide is a large, sturdy stroller, with excellent maneuverability. The adjustable handlebar was comfortable for pushing. The one-hand fold system is quite easy. The 5-point harness is fluid and easy to adjust. Storage includes a large but shallow basket, with a zippered cover to keep your items secure, a large seatback pocket, and two small seat-corner pockets. The canopy is very large and provides ample shade and protection. It also has air tires, but an air pump is not included. The stroller is large and bulky, so lifting, carrying, and unfolding it are a bit awkward. And there are no cupholders.

Evenflo Invigor8, $195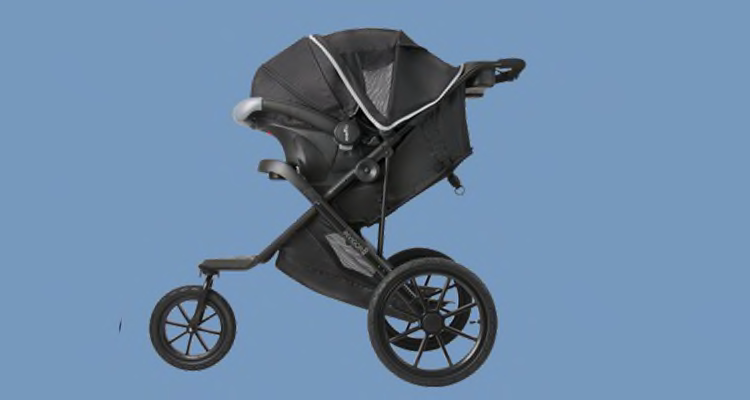 A third three-wheel stroller, the Evenflo Invigor8, can also be used for jogging with the front swivel wheel locked. But unlike the other two, the Invigor8 has built-in car-seat adapters for use with an Evenflo LiteMax infant car seat (the car seat is not included). The stroller itself can be used for ages 6 months and older—you should never run or jog with a stroller with a car seat attached.
Evenflo Invigor8's maneuverability is excellent, and testers liked its sturdy, solid feel. Folding is a very easy one-handed process, but the size and weight of the stroller make it a bit cumbersome to lift and to unfold.
Installation of the car seat is simple. There's a parent console with two cupholders and a child's tray with one. But the storage basket is on the small side, with access only from the rear and, because the handle projects back so far, you'll need to bend to reach any items stowed in it. There's no air pump included for the tires. Still, at half the price of the more highly rated Indie or Urban Glide, the Evenflo Invigor8 is a CR Best Buy.
Safety tip Before jogging with your baby in a stroller, check with your pediatrician. Consumer Reports advises waiting until your baby is a year old or older, with well-established head and neck control, before taking him for a run with you. Younger babies, with less developed spine and neck muscles, may not tolerate bumps and bounces as well.
If you prefer a more sedate lifestyle, check our stroller buying guide and ratings for help in finding a stroller that fits your life and your budget.