FDA Withheld Information About the Safety Risks of Aveeno and Neutrogena Sunscreens Contaminated With Benzene
Johnson & Johnson, which makes the products, said last summer that they posed no health threat. An FDA assessment, not made public until now, said otherwise.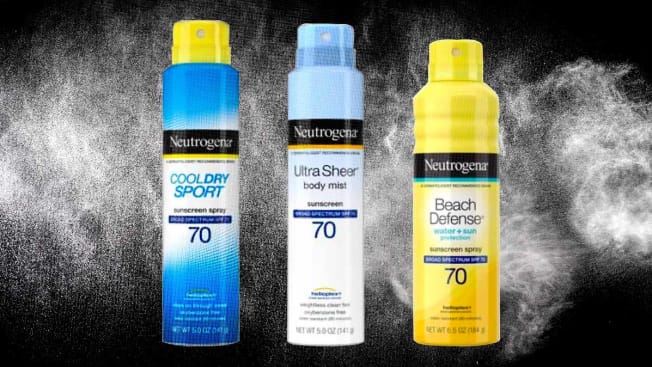 The Food and Drug Administration misled the public earlier this year about the risks posed by aerosol sunscreen products made by Johnson & Johnson that were found to be contaminated with benzene, a known carcinogen, an agency report obtained by Consumer Reports suggests. And while Johnson & Johnson says that the levels found would not be expected to pose a  health risk to consumers, the FDA report and scientists CR spoke with say otherwise. 
The products—including several of Johnson & Johnson's Neutrogena and Aveeno aerosol sunscreens—were recalled in July after tests by the company detected benzene in multiple samples. Short-term exposure to benzene can cause dizziness and headaches, while long-term exposure causes certain types of cancer and blood disorders. 
Concerns about benzene in aerosol sunscreen emerged in the spring of 2021 when an independent testing organization, Valisure, released a study that detected the contaminant in dozens of those products. The Johnson & Johnson products were the first to be recalled after the findings were released. 
The FDA advises that manufacturers should limit benzene levels in consumer products and drugs to no more than 2 parts per million. That's based on independent standards organizations that say daily exposure above that threshold is associated with increased cancer risks. 
It's still unclear why benzene was found in the aerosol products. At the time of the recall, Johnson & Johnson said it was investigating the matter, and a spokesperson last week provided no new information. 
Multiple aerosol personal care products from other manufacturers have since been recalled over the presence of benzene, but a broader explanation for how benzene contamination became so widespread is, for now, a mystery. The FDA confirmed Thursday that it was investigating the issue and directed manufacturers to test their products for the contaminant. 
Johnson & Johnson's Risk Assessment vs. the FDA's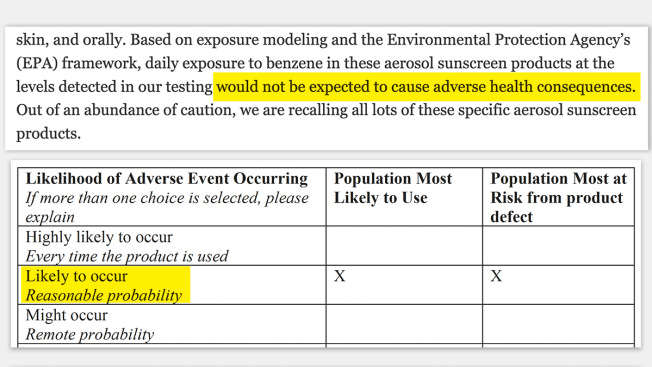 Michael Hansen, PhD, a senior scientist at CR, agrees that the levels of benzene found are alarming. "Research clearly shows that regular exposure to benzene at levels above 2 ppm increases the risk of cancer, and the amount detected in these products was well above that," he says. He notes 2 ppm is many times higher than what is allowed in drinking water. "And remember," he says, "these sunscreens are aerosols, so users are exposed not only when they rub it onto their skin but possibly also if they inhale it while it is being applied."
The FDA completes Health Hazard Evaluations to assess the safety risk of a contaminated product that is being recalled. Johnson & Johnson and the FDA met prior to the recall about the "risk assessment completed by the FDA," according to agency records. 
But Donna Lorenson, vice president of communications for Johnson & Johnson Consumer Health, said in a statement that the meeting was to discuss the company's analysis and not "the content or conclusions of any FDA assessment." Lorenson also said that the agency did not tell the company that it had "concluded that adverse events were likely to occur." She said Johnson & Johnson did not get a copy of the report until late November, and is now "in discussion with the agency about its contents."  
Courtney Rhodes, an FDA spokesperson, would not confirm whether FDA officials had or had not discussed the agency's risk assessment with Johnson & Johnson, saying it doesn't disclose its communications with companies related to product recalls.
Lorenson also said that the FDA reviewed the company's draft press release and urged Johnson & Johnson to issue it as soon as possible.
But experts and consumer advocates say the FDA should've made public details about the agency's evaluation of the issue, especially since it conflicted with Johnson & Johnson's public statement. 
"The FDA needs a reminder that its mission is to protect public health and its own website should not serve as a platform for company misinformation," says Dave Andrews, a senior scientist at the advocacy organization Environmental Working Group who studies issues with contamination in sunscreen products. "These products were recalled, but instead of FDA publishing their health concerns they let Johnson and Johnson publish a misleading press release."
Rhodes, at the FDA, also declined to comment specifically about the agency's internal report. She says the agency continually gains "new knowledge which allows us to identify and quickly address previously unknown risks." 
"When we identify drug quality lapses that pose potential risks for patients, we make every effort to understand the issues and provide our best recommendation to the public as quickly and accurately as possible," Rhodes says. "We will continue to investigate and work to ensure these types of impurities do not exceed acceptable limits."
Brian Ronholm, director of food policy for CR, says the FDA needs to do more. "When the agency seemingly prioritizes industry concerns over public health concerns, it runs counter to its mission and fails to engender confidence that it can adequately protect consumers," he says. "If the level of a harmful chemical in a product exceeds accepted limits, FDA should not allow the company to call the product safe."
Health risks associated with benzene—an industrial chemical that's not an ingredient in sunscreen—have been known for decades, and researchers have raised concerns in particular about its absorption through the skin. 
The FDA's report on the recalled Johnson & Johnson sunscreens noted that the company's test results for benzene found a concentration range of 11.2 to 23.6 parts per million, above limits set by the U.S. Pharmacopeia and the ICH. 
The ICH based its limit on data pertaining to leukemia and exposure of benzene, saying a "daily intake" of 2 ppm was associated with an increased excess cancer risk.
"These levels exceed ICH and USP the guideline value of 2 ppm," the FDA report says.
The agency notes in the report that benzene has a sweet, aromatic, gasoline-like odor. But, the report added, that smell may go unidentified by consumers using the contaminated sunscreens, which are also otherwise scented.
FDA Echoing the Company Line
The conflicting assessments between the internal FDA report and Johnson & Johnson's public-facing recall announcement raise questions about the agency's decision-making process and how it informs consumers about defective products. 
When an issue arises with a product, the FDA typically works with companies so that they conduct a "voluntary" recall. (The agency's ability to force a mandatory recall is limited under federal law to food and controlled substances only.) 
To announce a recall, in many cases the agency publishes a verbatim copy of the manufacturer's statement without providing any additional context, as it did with Johnson & Johnson. The agency says voluntary recalls may be conducted on a company's own initiative or on the FDA recommendation, and that its role is limited to reviewing the proposed approach for the recall and assessing the adequacy of it. 
But the Johnson & Johnson episode illustrates the limitations of that approach. 
Indeed, in recent months, several additional recalls of benzene-contaminated hair and skin products have been announced, including as recently as last Friday. In each case, the FDA has republished the company's statement about the issue, but has not provided any additional information, such as the amount of benzene detected.  
"To build credibility with the public and support their mission of promoting public health, the agency should no longer post company press releases," says EWG's Andrews. Instead, he says, the agency should "make public all of their assessments and announce specific action to ensure that other products are not similarly contaminated with benzene or other chemicals like PFAS," referencing another group of compounds known as "forever chemicals."
It's unclear why benzene is being detected in multiple brands of personal-care products. Johnson & Johnson declined to specifically respond to questions about how many consumers have responded to the recall by requesting a refund or in other ways. 
The FDA says it is continuing to monitor the issue of benzene in products and is focused on ensuring that manufacturers quickly report unacceptable levels of benzene to the agency. Manufacturers are required to test their products to ensure they meet specifications and are free from harmful contamination. 
Dermatologist groups and consumer advocates, including CR, recommend that consumers use sunscreen to protect themselves from risks of skin cancer and skin aging. None of CR's recommended sunscreens are affected by the recalls. 
The Johnson & Johnson products that were recalled include Neutrogena Beach Defense, Neutrogena Cool Dry Sport, Neutrogena Invisible Daily Defense, Neutrogena Ultra Sheer, and Aveeno Protect + Refresh. These products were distributed nationwide. If you still have any of those products, stop using them immediately and throw them away.  
In September, Coppertone recalled certain lots of its Pure & Simple SPF 50 Spray, Sport Mineral SPF 50 Spray, and Sport SPF 50 Spray (travel size) after tests revealed those products contain benzene. (Coppertone also did not say how benzene ended up in its products.) 
Consumers who experience an adverse reaction from the contaminated sunscreens can file a report to the FDA online, mail a pre-addressed form, or submit a fax to 800-FDA-0178. Call your doctor if you are concerned about any potential symptoms.
Editor's Note: This article was updated to reflect additional information received from Johnson & Johnson and the FDA.