When you shop through retailer links on our site, we may earn affiliate commissions. 100% of the fees we collect are used to support our nonprofit mission.
Learn more.
Hyundai is jumping into the popular, ever-expanding subcompact SUV segment with its all-new Kona.
At 164 inches long, the Kona is tiny even for this diminutive category. It's a foot shorter than Hyundai's Tucson compact SUV, and 4 to 5 inches shorter than direct competitors such as the Honda HR-V and Mazda CX-3.
The Kona is available with either front- or all-wheel drive, and it gives buyers two engine choices—many in this class offer just a single, relatively underpowered drivetrain.

Kona pricing begins at $19,500 for a front-wheel-drive SE with the 2.0-liter engine, six-speed automatic combo. The more powerful 1.6-liter turbo starts at $24,700 for a front-wheel-drive Limited.

We rented two versions of the Kona from Hyundai, one with each engine, to get an initial evaluation of the drivability and livability of this new subcompact SUV before we buy our own and subject it to our full road-test treatment. (We rented the cars because Consumer Reports accepts no free samples and we pay retail for products we test.)

What we drove: Hyundai Kona SEL
Drivetrain: 147-hp, 2.0-liter four-cylinder engine; six-speed automatic transmission; front-wheel drive
MSRP: $21,950
Destination fee: $950
Options: $1,500
Total cost: $23,600

What we drove: Hyundai Kona Ultimate
Drivetrain: 175-hp, 1.6-liter turbocharged four-cylinder engine; seven-speed dual-clutch automatic transmission; all-wheel drive
MSRP: $28,700
Destination fee: $950
Total cost: $29,650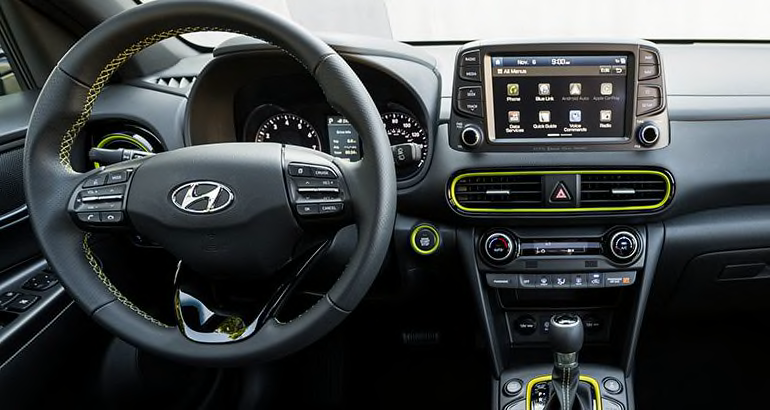 How It Drives
The Kona brings a welcome dose of fun and frolic to the class, thanks to lively driving dynamics and curvy styling. It feels energetic and light on its feet, with a slight bent toward sportiness.
With the base 2.0-liter engine and six-speed automatic combination, drivers get an easy-to-drive vehicle with just enough power for most situations. Highway merges will require everything the engine has to give, and it gets noisy at higher rpm.

The 1.6-liter turbo is not only quicker but also a bit more pleasant to drive. The turbo gives a strong hit of midrange torque, and drivers won't find themselves revving the engine as high as in the 2.0-liter most of the time. Turbo lag causes some hesitation from a stop, but once underway, the seven-speed dual-clutch automated manual transmission makes quick and timely shifts. In fact, the less powerful 2.0-liter produces a more decisive start off the block.

Environmental Protection Agency fuel economy is rated at 30 mpg combined for both engines when paired with front-wheel drive and 27 mpg combined for either engine when mated with all-wheel drive. That's a significant penalty for AWD.

Sharp reflexes make the Kona one of the most responsive cars in the class, taking to twisty roads easily thanks to quick steering and minimal body roll. However, it appears Hyundai didn't pay as much attention to the ride-quality part of the equation; bumpy, undulating back roads really toss this little car about.

There's more cabin noise inside the Kona than most cars, but it's about on par for this class—subcompact SUVs aren't exactly known for hushed interiors.

Inside
A natural step-in height makes it easy to plop yourself onto the Kona's front seats. The seats are nicely shaped and offer good comfort. An eight-way power driver's seat with power lumbar comes standard on the top Limited and Ultimate trims, and it's optional on the second-tier SEL trim. (A power seat is a rarity in this class.) Leather seats come standard on the top two trims, and a leather-wrapped steering wheel is included on all but the base trim. The cloth seats in the SE and SEL feel a bit low-rent. Depending on the trim, the door armrests are either hard plastic or skimpily padded, at best.

Getting into the small rear seat requires some ducking. Headroom will be tight for average-sized adults; knee room is tight for just about anyone. The seat's bottom cushion provides a good level of thigh support, though, and the fold-down center armrest is nicely padded. Cargo space behind the rear seat is limited, but the seatbacks fold down when drivers need to carry extra stuff.

The Kona's cabin has a clean and simple look to it, without feeling spartan, although hard plastic is the dominant material. A 7-inch touch screen sits high on the dash; an 8-inch version comes on models with navigation. As with most Hyundais, the infotainment menu and controls are straightforward and easy to use on first glance.

Rare-for-the-segment, upmarket features available on the Kona include a head-up display. Android Auto and Apple CarPlay compatibility comes standard.
Safety & Driver-Assist Systems
Automatic emergency braking and forward-collision warning are available on the Kona but are standard only on the top Ultimate trim. We think advanced safety features such as AEB and FCW should be standard equipment on all cars, regardless of trim level. Blind-spot warning and rear cross-traffic warning come standard on everything except the base model, and lane-keeping assist and driver-attention warning are also available.
Bottom Line
The Kona is sure to be one of the more fun-to-drive cars in this ever-growing category, but that fun seems to have come at the expense of civility, namely a properly cushioned ride and decent noise isolation.
We'll be buying a Kona of our own soon. Stay tuned for a full road test to see how Hyundai's new subcompact SUV stacks up against the rest of the competition.