2021 Chevrolet Trailblazer Follows Small SUV Path
New, small SUV that was revealed at LA Auto Show has standard key safety features
The all-new 2021 Chevrolet Trailblazer was unveiled this week at the LA Auto Show, revealing a fresh, entry-level SUV that will be positioned between the Trax and the Equinox. There has been explosive growth in the small SUV segment, as underscored by the several unveilings at the show.
With a name like Trailblazer, some might expect it to be an off-road focused vehicle to rival the Jeep Wrangler and upcoming Ford Bronco. Instead, this is a sister vehicle to the Buick Encore GX, a lighter-duty, urban-centric vehicle poised to compete with the Kia Seltos and Mazda CX-30.
Here is what we know so far about this vehicle: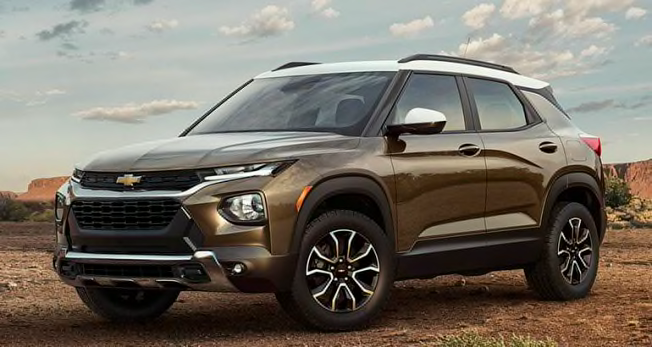 2021 Chevrolet Trailblazer
What it competes with: Kia Seltos, Mazda CX-30, Subaru Crosstrek
What it looks like: With its boxy shape and two-tone roof, it resembles the Hyundai Venue, Kia Seltos, and Volvo XC40.
Powertrains: 1.2-liter and 1.3-liter turbocharged three-cylinder engines; continuously variable transmission; front- and all-wheel drive
Price: Under $20,000
On-sale date: Spring 2020
The Trailblazer plugs a notable hole in the Chevrolet portfolio, giving it a fashionable, small SUV at an approachable price. It notably includes many key safety features that are often optional in this segment. The upright design helps maximize space, while minimizing the footprint, making it well suited to navigating crowded cities and campuses.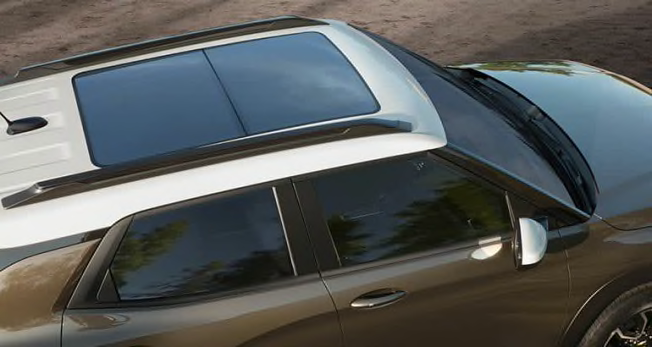 The Trailblazer has visual personality, at least in the RS and Activ trims with cues from the larger Blazer adapted to it boxy, upright design, such as the pinched headlamps. There are five trims, with the Activ and RS dressed up with a two-tone roof, dual exhaust outlets, and more aggressive tires. There are other styling elements that vary by trim, such as grille opening and cover.
The appearance seemed more unique when Chevrolet first teased the Trailblazer earlier in the year, but as is often the case, as it nears production, the design feels similar to other recently designed competitors.
The five-passenger cabin features two large gauges in the instrument cluster, with a display between them. The center stack has traditional climate controls, topped by the latest version of GM's infotainment system, complete with Android Auto and Apple CarPlay. A wireless phone charging pad is available.
Overall, the interior is rather basic, but there are some nice details, particularly on the higher trims, such as contrasting stitching. For a small vehicle, there is decent room front and back.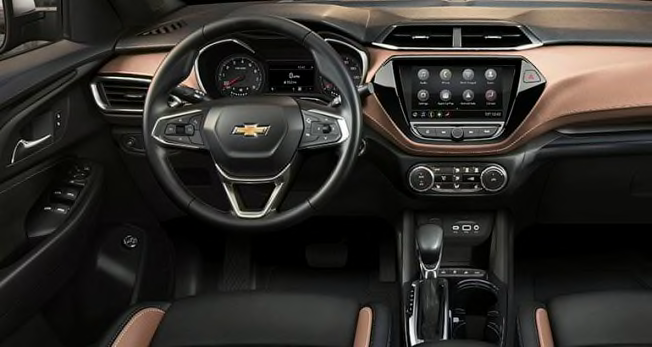 The Trailblazer offers a choice of two, small-displacement, three-cylinder turbocharged engines: 1.2-liters and 1.3-liters. Both come matched to a continuously variable transmission. The 1.3-liter produces 155 horsepower. When fitted to an all-wheel-drive version, the large engine can be had with a nine-speed automatic. Chevrolet has not released the power for the smaller engine.
Driver-selectable modes to tailor the acceleration, steering, and traction include: Normal, Snow (or AWD, if so equipped), and Sport.
Safety & Driver-Assist Systems
All Trailblazers will come with a comprehensive suite of advanced safety features, including forward collision warning, automatic emergency braking with pedestrian detection, lane keeping assist, and lane departure warning. It will also have GM's Teen Driver feature, which allows parents to set certain restrictions on the car and monitor driving behavior. Plus it will have a rear seat reminder, a valuable feature to ensure a small child or pet isn't left behind.
Optional equipment will include adaptive cruise control, rear cross traffic warning, and rear park assist.