Preview: 2022 Land Rover Range Rover Moves Further Upscale
Fresh styling, new powertrains, and a pampering interior build on a storied tradition The next-generation 2022 Land Rover Range Rover is a regal, ultra-luxury SUV that pushes boundaries, with new tech and a streamlined, elegant design. It will be offered with a third row in the long-wheelbase configuration for the first time. 
It launches in the spring with two engine choices, and plug-in hybrid and full-electric versions will follow. For 2023 there will also be an SV edition, offering an even more upscale treatment from the company's Special Vehicle Operations group. 
The Land Rover Range Rover has always been SUV royalty, and the model looks to continue that tradition while facing several redesigned competitors. The outgoing model defined ultra-luxury with strong power, a plush ride, a coddling cockpit, and prodigious off-road prowess. 
The 2022 has a familiar profile, but its styling, features, and engines all promise heightened sophistication. 
Year after year, Land Rover plans to roll out increasingly electric powertrain options; this move is well timed to stave off moves by other brands to emphasize EVs. By 2024, when the pure electric option becomes available, the Range Rover will have fresh competition from the GMC Hummer EV, Rivian R1S, and potentially the Lucid Motors SUV, currently referred to as Project Gravity. 
But all this goodness comes at a price, with a base MSRP being a stunning $12,000 over the 2021 model.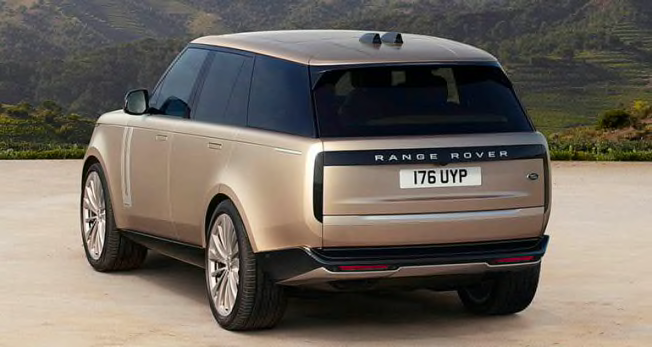 The silhouette is unmistakably Range Rover, but the smooth-side body creates a restrained, modern appearance with a design theme that has a clear connection to the Defender. It almost looks like a clean-sided concept vehicle rather than a production model, festooned with all the trim, chrome, and edges one would expect. Even the door handles are powered and retract when not needed. Instead, there is a tasteful design element with the line under the clamshell hood that runs all along the body. 
The shorter side glass is reminiscent of the Range Rover Sport. Let's hope it doesn't detract from the Range Rover's traditionally great outward visibility. 
Bucking trends seen with other brands, the grille is rather small, with a wide, more subtle air intake doing much of the work below the bumper. At the rear is a split liftgate, true to RR tradition, with a short fold-down tailgate well suited for picnicking on (shown below).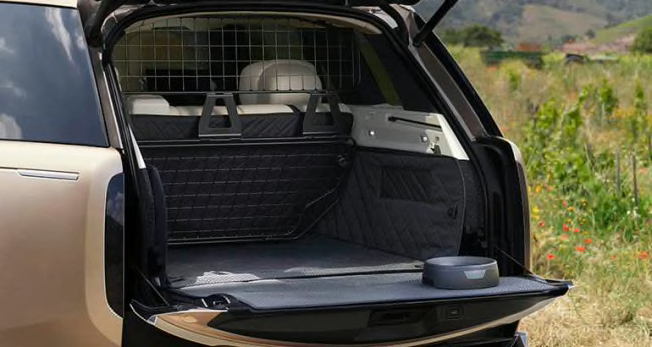 While 21-inch wheels are standard equipment, there are massive 23-inch wheels available for each corner, making us wince at the potential impact on efficiency and the prospect of paying for replacement tires—or hunting for them to replace a flat when road-tripping. 
The coming Ranger Rover SV will be distinguished with a Corinthian bronze roof, unique upper and lower grilles, and Corinthian bronze trim on the front and rear. No word on whether it will use Corinthian leather. (Don't rule it out, because the automaker says it will offer "innovative textiles.")
Based on a new flexible platform, the Range Rover will be offered in standard and long-wheelbase configurations, with seating for four, five, or seven occupants. The 50-percent stiffer body is said to aid in reducing noise and vibration, as well as to benefit suspension tuning.
The interior is likewise minimal and modernist, concealing an opulent roster of pampering features.
For instance, the uplevel audio system uses microphones in each wheel arch to generate opposing white noise to cancel the uwanted sound, broadcast from speakers in the head rests. And cabin air filters for front and back, naturally.
The driver looks at a 13.7-inch curved instrument display, and to the center is a 13.1-inch screen that appears as if it floats ahead of the dash. This features the latest multimedia system from Land Rover, dubbed Pivi Pro. And there's a new trick: The screen will provide haptic feedback, adding a tactile sensation when touched.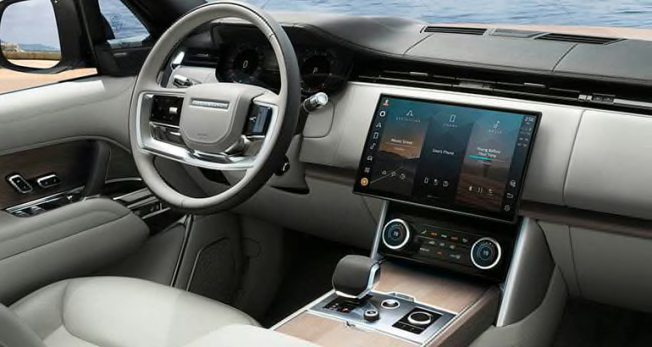 The infotainment system is compatible with wireless Android Auto and Apple CarPlay, with built-in Amazon Alexa controls. Land Rover says it intends to use the vehicle's over-the-air ability to provide software updates. SiriusXM with 360L debuts on the Range Rover, adding an advanced, personalized satellite radio experience with on-demand audio. There's an available 1,600-watt Meridian sound system.
Rear passengers can be entertained with an optional system that positions an iPad-sized screen on the back of each front head restraint. 
The Range Rover will be offered in four-, five-, and seven-seat configurations, marking the first time it has been available with a third row. 
For 2023 the Range Rover will be the first Land Rover to feature available power-assist doors, ensuring that drivers no longer have to do the menial tasks of opening a door like a commoner. All four doors, which can be operated via the center touch screen, will detect hazards and avoid pinching fingers as they motor open and close.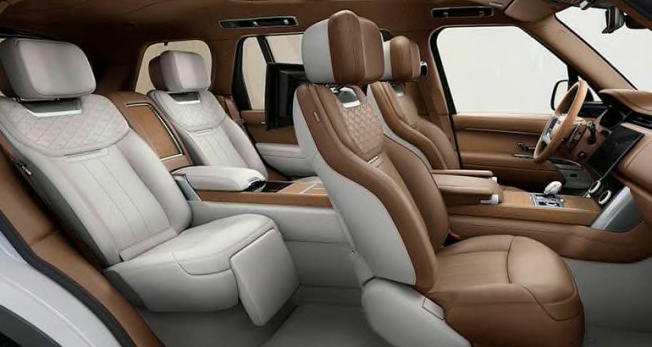 The base engine is a turbocharged inline six-cylinder augmented with a 48-volt mild-hybrid system, which smoothes out the fuel-saving stop/start function. We found this engine quite potent in our Defender. Zero to 60 mph is a claimed 5.5 seconds. The step-up is a 523-horsepower, twin-turbocharged V8 that Land Rover claims can accelerate this nearly three-ton SUV from 0 to 60 in 4.4 seconds. All-wheel drive is standard on all Range Rovers.
For the 2023 model year, the Range Rover offerings expand with a 434-horsepower plug-in hybrid with a 62-mile electric-only range, notably much more than most plug-ins offer despite the vehicle's significant heft. (The outgoing model was also offered as a mild hybrid and a plug-in.)
And in 2024 Land Rover pledges to introduce a pure electric option. 
The new Range will use a new version of the Terrain Response system, allowing the driver to select from six modes to configure the vehicle for different needs and challenges, including the air suspension settings that adjust ride height and stiffness.
The driver can also custom configure the settings. Should the vehicle face water, the Range Rover can ford up to 3-foot depths and use sonar to make sure you don't drive into deeper water.
Aiding maneuverability is a standard all-wheel steering system that can add stability at speed and provide the tightest turning circle of any Land Rover, aiding low-speed maneuverability for this large model.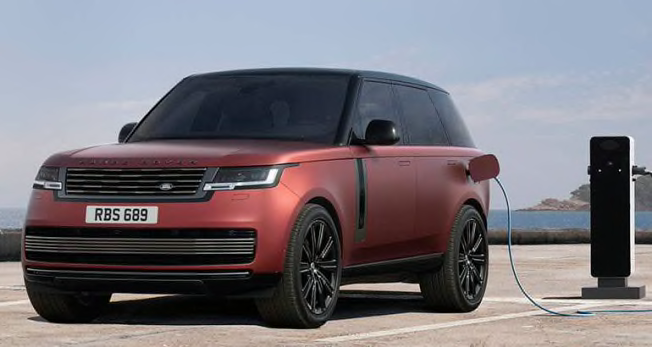 Safety and Driver Assistance Systems
Standard equipment includes forward collision warning, automatic emergency braking with pedestrian or cyclist detection, blind spot warning, lane keeping assistance, traffic sign recognition, and parking obstruction warning. 
Of further note, the 360-degree camera has a night mode that can heighten visibility after dark. And the Range Rover has remote parking via a phone app, allowing it to be parked in narrow spots—a concern with a big, high-dollar SUV.