Preview: 2022 Lexus NX Gains New Engines, Efficiency, Space, and Tech
Familiar design hides the numerous upgrades and new features The all-new 2022 Lexus NX sure looks much like the current model, but beneath that familiar design is a raft of improvements. It moves to the same platform that underpins the Toyota RAV4. The cabin is completely transformed, with a more modern instrument panel, a larger infotainment screen, and increased passenger space. Plus, there are several upgrades offered for the first time, such as a head-up display, a panoramic sunroof, and ambient lighting.
There are four powertrains available—a surprising number. The base engine is less powerful than before, a stronger turbocharged is also available, as are a hybrid, and a plug-in hybrid. This allows the NX to span a wider range of prices and compensate for the decline in sedan sales.
Further, it boasts the Lexus Safety System+ 3.0, which brings a generous roster of active safety and driver assistance features. These go well beyond the usual equipment to include additional, innovative capability on now familiar and appreciated systems.
The NX is considered by the automaker to be the first in a series of 20 all-new or updated Lexus vehicles that will be introduced by 2025. It starts production in the fall, and pricing will be announced closer to the on-sale date.
What it competes with: Acura RDX, Audi Q5, BMW X3, Genesis GV70, Infiniti QX50, Volvo XC60
What it looks like: Little brother to the Lexus RX
Powertrains: 203-hp, 2.5-liter four-cylinder engine with an eight-speed automatic transmission, front-wheel or all-wheel drive; 275-hp, 2.4-liter turbocharged four-cylinder engine with an eight-speed automatic transmission, front-wheel or all-wheel drive (expected); 239-hp, 2.5-liter hybrid four-cylinder engine with an eCVT transmission, all-wheel drive; 302-hp, 2.5-liter plug-in hybrid four-cylinder engine with an eCVT transmission, all-wheel drive.
Price: $38,000-$52,000 (estimated)
On sale: Fall 2021
The outgoing NX is highly ranked among the luxury compact SUV category, with an Overall Score buoyed by a strong reliability record but hampered by below-average owner satisfaction. The redesigned NX doesn't reinvent the wheel, but it adds more luxury and high-tech features.
The choice of powertrains—one for every season and need—gives buyers a wider selection than any peer vehicle. In theory, this allows buyers to get into an NX for less money with the base engine, indulge in some performance with the turbo, and balance cost and efficiency with a hybrid—a combination that works quite well in the Toyota RAV4 Prime.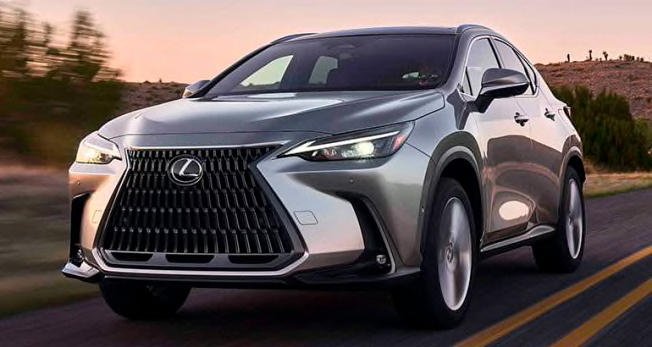 The new NX looks a lot like the old NX. The differences are mostly details. The front headlamps now look more angry, with integrated L-shaped LED elements that were previously below the main light. The large spindle grille is quite similar, although the shapes that flank it are more pronounced. The creases in the side are evolutionary, and the glass shape and chrome trim are strikingly familiar. The wraparound tail lamps have a different shape, and a trendy light bar now connects them across the rear hatch.
F Sport-equipped models feature a unique grille, front and rear bumpers, black-painted 20-inch wheels, black roof rails, and body color trim around the wheel arches.
The styling changes keep the NX in sync with other recently updated Lexus models, but there is no real reimagining of this model. By contrast, the related Toyota RAV4 was utterly transformed from the previous generation to today's model.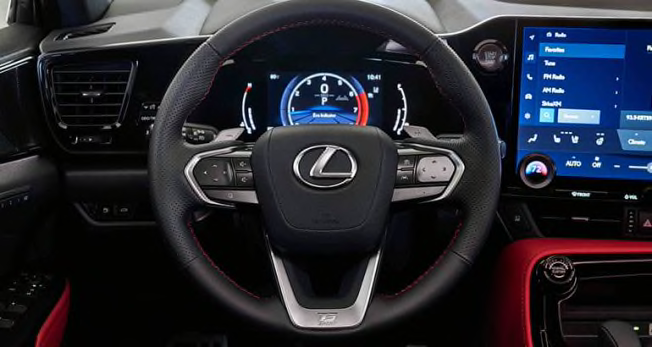 Unlike the exterior, the cabin received a comprehensive makeover. Every facet is fresh. The instrument panel moved from traditional analog gauges to a 7-inch display screen and a redesigned set of steering wheel controls. The lever-type gear selector was replaced with a tidier monostable design that leans forward and back to pick a gear, then returns to its original position.
The center stack design changed, too. The infotainment screen is now much closer to the driver. The NX comes with a 9.8-inch screen, and there is an available 14-inch screen with the new Lexus Interface multimedia system. Lexus' current infotainment system generally lags the competition, and we are excited to try this redesigned version. Wireless Android Auto and Apple CarPlay compatibility is standard across the board, although the wireless phone charger is optional.
An optional 10-inch head-up display is new this year, putting key travel information such as speed, cruise control distance, and compass right in the driver's view. There are still dials for controlling volume and temperature. Heated seats are standard up front, optional for the rear. Lexus claims that headroom and legroom have increased for all passengers.
The cabin can be given a splash of color with the optional ambient lighting. The mood can be set with 14 themes incorporating 64 colors. Another new feature is the availability of a panoramic sunroof.
F Sport version features additional interior details, such as dark aluminum trim, distinct gauges, sport seats, aluminum pedals, and special steering wheel.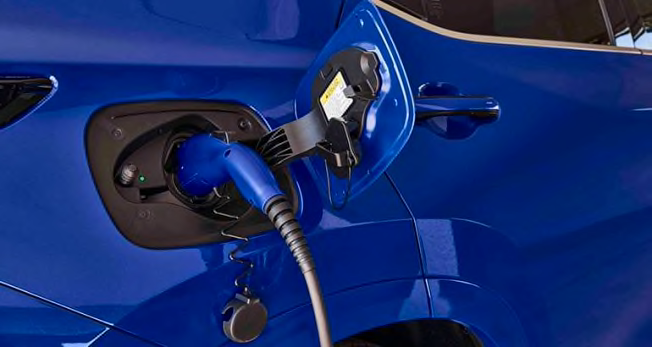 A key differentiator for the new NX is that it offers four distinct powertrains, as reflected in the trim designations. The 2021 NX offered just two powertrains: A 235-hp turbocharged four-cylinder and a hybrid.
The base version of the redesigned SUV is the NX 250. It uses a 203-hp, 2.5-liter four-cylinder engine, matched with an eight-speed automatic transmission. It can be had in front- or all-wheel drive.
Next up is the NX 350, with a 275-hp, 2.4-liter turbocharged four-cylinder engine and an eight-speed automatic transmission. A notable power increase over the previous generation NX 300, the NX 350 shaves a half-second off the 0-to-60-mph time, according to Lexus, clocking in at a spritely 6.8 seconds.
The NX 350h has 239 hp, marking a 20 percent increase over the previous hybrid. The hybrid comes standard with all-wheel drive. Lexus claims the 0-to-60-mph acceleration for the hybrid is 1.5 seconds quicker than before. And the automaker estimates that it will be rated at 36 mpg for the highway, a 6 mpg increase.
The top configuration is a 302-hp, 2.5-liter plug-in hybrid with all-wheel drive, the same drivetrain used in the Toyota RAV4 Prime. Lexus claims that the NX 450h+ has a 36-mile electric-only range. (The RAV4 Prime has an Environmental Protection Agency-rated 42-mile range.) With the standard 3.3-kilowatt onboard charger and a 240-volt power source, the NX 450h+ can replenish the battery in 4.5 hours. The optional 6.6-kW charger drops that time down to 2.5 hours. An F Sport package can be added to turbo and hybrid versions, bringing cosmetic and handling enhancements. The key upgrade is the active suspension, which can adapt to driving conditions, better balancing comfort and road holding.
Safety and Driver Assistance Systems
The 2022 Lexus NX will come with the Lexus Safety System+ 3.0 suite of active driver assistance features. As with most Lexus models, the NX will come with forward collision warning and automatic emergency braking with pedestrian detection, blind spot warning, lane departure warning, and adaptive cruise control. The NX will also have low-light pedestrian and cyclist detection, the ability to detect pedestrians and cyclists through a turn, steering and braking collision-avoidance assistance, road sign recognition, and automatic high beams.
Other high-tech features include Safe Exit Assist, which can warn if a door may be opening into traffic or a cyclist, and an optional digital mirror that provides an unobstructed rearward view in the mirror, allowing the driver to essentially see through passengers, head restraints, and cargo.