Preview: 2023 Kia Sportage Grows in Size and Edges Upscale
Redesigned small SUV offers panoramic roof, curved screen, and new adventure-themed trim levels The redesigned 2023 Kia Sportage grows in size and features, with a significant styling change and a longer roster of available equipment. And at the LA Auto Show, the automaker introduced the hybrid version, giving this redesigned SUV a much broader portfolio than it offered with previous generations. The hybrid boasts 226 hp and promises up to 39 mpg in the city, based on EPA tests.
There are three new adventure-focused trim levels (X-Line, X-Pro, and X-Pro Prestige) joining the familiar LX, EX, and SX, plus the fancier SX Prestige.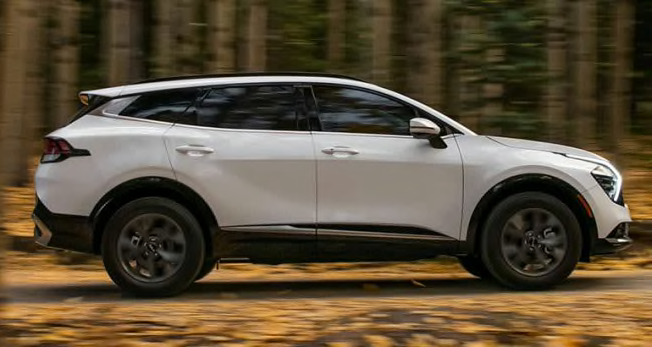 The current Sportage performed well in our tests, being a handy size with a relatively roomy interior and responsive handling that made it sportier to drive than most rivals. But styling hampered side and rear visibility—a shortcoming that may be addressed with the new Sportage. Interestingly, owner satisfaction among surveyed CR members was below average, with value being a key criticism. 
But the 2023 Sportage looks to be quite a different vehicle, one that is larger, better equipped, and likely more efficient. It has a good pedigree. We quite like the larger Sorento and from Kia's corporate cousin, Hyundai, the redesigned Tucson. 
It appears that Kia sized up the competition and really made a concerted effort to put the Sportage on shopping lists, alongside the extremely popular Toyota RAV4 and Honda CR-V.
The broad trim portfolio should help, as will the hybrid and possibly another powertrain. (A plug-in hybrid seems likely, but we'd welcome the turbo from the Santa Fe and Santa Cruz, as well.) We just hope the Sportage maintains the sporting flair alluded to in its moniker. 
The previous Sportage looks peculiar, like a melted bar of soap, among more sharply creased current competitors. Significantly, its styling impacts outward visibility, with short side glass. This new Sportage looks much more traditional, aside from its striking front fascia. The dramatic boomerang daytime running lights give a modern flourish to an otherwise me-too shape. 
The X-Pro and X-Pro Prestige are dressed for exploring with a more squared-off lower front fascia, all-terrain tires, 17-inch black wheels, LED fog lights, and heated windshield and wiper-washer nozzle. A two-tone roof is available on the X-Pros.  
The Sportage has grown 7.1 inches in length, now riding on a 3.4-inch-longer wheelbase. Height and width each gained about a half inch. 
All-wheel-drive versions boast 1.5 inches more ground clearance than the 2022 model.
The X-Pro cabin (shown) looks like it belongs to a more upscale vehicle, as it showcases the available 12.3-inch curved center dashboard screen and 12.3-inch digital instrument panel under a continuous piece of glass. Together, they look like a single, massive screen. 
Separate climate controls under the center screen are a welcome sight, as fully digital controls can be tricky to operate while driving. Likewise, the traditional gear selector, rather than a space-saving dial or buttons, is a familiar touch that promises to be intuitive.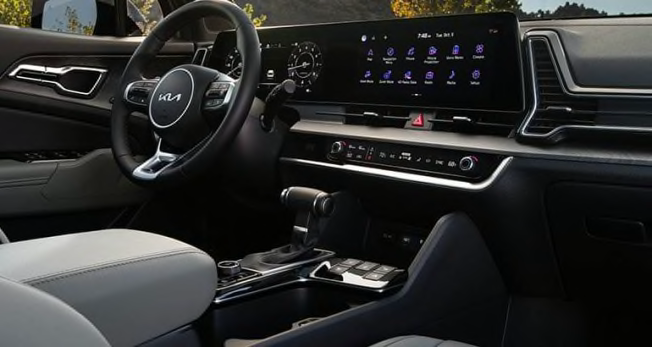 Android Auto and Apple CarPlay are standard on all trims, along with the ability to connect two phones via Bluetooth. There is a new touchpad for controlling the infotainment system; something we will approach with skepticism. There are several upgrades available, such as a Harman Kardon stereo, surround-view camera, and wireless charge pad. 
Available Kia Connect adds a WiFi hotspot to connect up to five devices, over-the-air map updates, stolen vehicle tracking, Amazon Alexa and Google Assistant connectivity, and an Android- and Apple-compatible smartwatch app to control functions like remote climate control and door lock/unlock.
With so many trim levels, there is a range of finishing touches, with higher versions benefiting from accent stitching and synthetic leather upholstery. The front seat backs feature USB ports, ensuring that all occupants can charge their devices. 
Kia states that rear seat room has improved, and the automaker claims the cargo space is now best-in-class and boasts a two-level floor.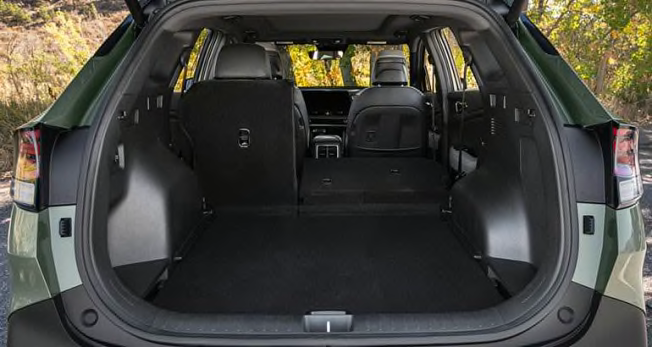 A 2.5-liter four-cylinder engine with an eight-speed automatic transmission replaces a 2.4-liter four-cylinder engine and six-speed automatic combination, raising output just six horsepower to 187 hp.
We found this combo to be adequate but rather unremarkable in the mechanically related Tucson we tested. Fuel economy figures haven't been released, but the automaker aims for an 8 percent increase. We recorded 23 mpg overall in our last Sportage test, putting the new one around 24 to 25 mpg—despite the increase in size.
The hybrid uses a 44-kW motor and a 1.6-liter engine for a combined 226 horsepower. Kia claims it will have more than 500 miles of range and achieve up to 39 mpg in a front-drive configuration. Like other Sportage versions, the hybrid will be available with all-wheel drive, too.
The X-Pro and X-Pro Prestige have driver-selectable modes that include Normal, Sport, Smart, and Snow.
Kia stated that, like the Sorento, the Sportage will be available with other electrified powertrains. Now that the hybrid is official, the next iteration will presumably be a plug-in hybrid. 
Safety and Driver Assistance Systems
Each Sportage comes with forward collision warning, automatic emergency braking with pedestrian and cyclist detection, intermittent and sustained lane keeping assistance, automatic high beams, driver attention monitoring system, rear occupant reminder, and rear parking obstruction warning.
The optional features read like a brochure from a prestige automaker, with such offerings as blind spot monitor (shows video feed of adjacent roadway in the instrument cluster when signaling), blind spot warning and collision avoidance, adaptive cruise control, rear cross traffic warning and rear automatic braking, and forward parking obstacle warning.
Plus, it can provide speed limit warnings, and cruise control adjustment, based on GPS navigation information and a forward camera. Like other Kias (and Hyundais), the Sportage is available with a feature that can warn if the SUV senses a vehicle or bicycle approaching from behind as a passenger attempts to open a door and exit into the traffic.