Preview: 2023 Maserati Grecale Promises Elegance and Performance
This new model enters the luxury small SUV market with high-performance flair
The new Maserati Grecale SUV expands the Italian automaker's lineup this summer, fitting in below the Levante. It moves the brand into a growing luxury SUV segment, where it will compete by combining upscale driving with potent powerplants and an air of exclusivity.
At 191 inches, bumper to bumper, the Grecale is sized between its Stellantis cousin, the Alfa Romeo Stelvio, and the Maserati Levante. This sizing makes it a bit of a tweener, falling between key small SUVs (BMW X3, Porsche Macan) and midsized models (BMW X5, Porsche Cayenne). 
What it competes with: Alfa Romeo Stelvio, Audi Q5, BMW X3, Jaguar F-Pace, Mercedes-Benz GLC, Porsche Macan
What it looks like: Every inch a Maserati
Powertrains: 296-hp, 2.0-liter mild-hybrid four-cylinder engine; 325-hp, 2.0-liter mild-hybrid four-cylinder engine; or 523-hp, 3.0-liter turbocharged V6. All are paired with an 8-speed automatic transmission and all-wheel drive.
Price: $60,000-$100,000 (estimated)
On sale: Fall 2022
The Grecale moves Maserati into the vibrant small luxury SUV segment, where there are many desirable competitors. The combination of elegance, exclusivity, and performance may distinguish it from some rivals.
The unmistakable Maserati design draws a direct connection to current models. The styling is pitched as timeless, but it may also date quickly as the market continues to rapidly evolve with provocative shapes.
The last Maserati we tested, the Ghibli, was quick and nimble, although packaging made access difficult and rear-seat comfort less than ideal. But that is an older design, launched in 2014 under different corporate ownership—Fiat Chrysler Automobiles. This is a new decade; a new corporation, Stellantis; and an all-new model. 
We look forward to driving this intriguing new SUV, with its blend of flash and dash. 
From the trident emblem in the trapezoidal grille, down the soft-curved fenders with three portholes per side, and around the smooth rear quarters, the Grecale looks every inch like a Maserati. There is a clear connection with the Ghibli and Levante, although the Grecale comes across as a kinder, gentler model because of the more ovoid headlight shape that resembles those on the MC20 sports car, and lack of muscular bulges in the rear fenders. Those other Maseratis have a much more intimidating appearance, with angry-looking headlights.
The Modena and Trofeo trim levels look more aggressive, with a wider track that pushes the tires outward compared with the GT. The shift from chrome accents to black on those higher trims further declare their sporty intentions.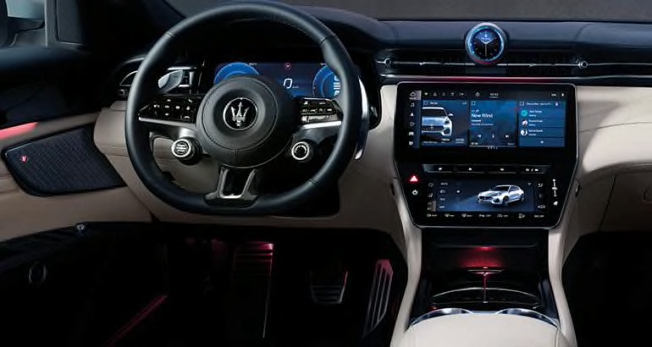 The cabin is decidedly modern, being dominated by screens. There is a digital instrument panel, and a head-up display is available. To the center are two stacked screens for the infotainment and climate functions. These measure 12.3 inches on top, with an 8.8-inch screen below. They run a Maserati-specific version of Stellantis' new uConnect5 system. The gear selector is made up of individual buttons positioned between the two displays.
A common fixture in prestige models is a center-dash analog clock, meant to evoke a fine wristwatch. The Grecale takes this concept into the digital age with a small, circular screen that can change from clock, to compass, and even g-meter to measure acceleration forces. Think of it as the smartwatch alternative to the more common chronograph stylings seen from other brands. 
Each of the three trims has a distinct interior design suited to the target driver. 
The base GT emphasizes warm hues, offset with contrasting stitching and a leather dash insert. 
The Modena is dressed with embroidered graphics and finished with bold black, red, or gray upholstery, and choice of open-pore wood trim. 
The high-performance Trofeo is the most bold, with carbon-fiber trim, perforated leather, and chevron designs to underscore the sporty intent. Two-tone upholstery is available, along with yellow and red contrasting stitching. 
Rear passengers can dial in their temperature with an optional three-zone climate system, controlled via a touch screen.
The premium Sonus faber sound system is available with up to 21 speakers.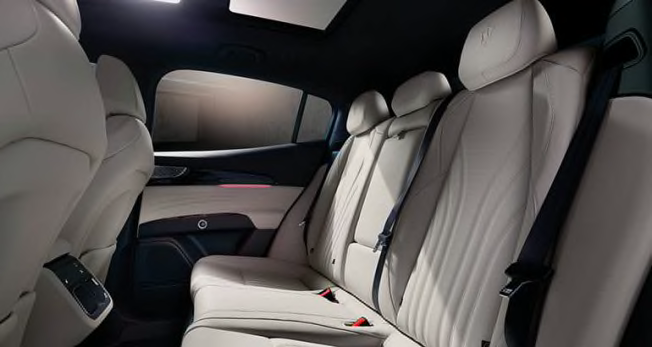 The Grecale uses a modified version of a rear-drive-based platform that is shared with the Alfa Romeo Stelvio, the newly redesigned Jeep Grand Cherokee, and other Stellantis models.
There are three distinct powertrains at launch, each mapped to a trim level. 
GT: A mild-hybrid four-cylinder engine that delivers 296 hp.
Modena: This ratchets up the performance with a 325-hp, mild-hybrid four-cylinder engine.
Trofeo: A high-performance 523-hp V6 derived from the Nettuno engine used in the MC20 sports car. Maserati claims this twin-turbo engine can propel the Grecale from 0 to 60 mph in a scant 3.6 seconds—far quicker than even a conventional muscle car. 
Folgore: A pure electric version will join the ranks in late 2023. It is based on a 400-volt system and uses a 105-kilowatt-hour battery. 
All gas-powered versions use an eight-speed automatic transmission and come with all-wheel drive.
An air suspension is optional on the GT and Modena and standard on the Trofeo, allowing the vehicle to adjust ride height and suspension compliance as desired. Active suspension dampers are also available. There are six settings, with a 3-inch range for adjustments. Drive modes include Comfort, GT, Sport, Race, and Off-Road. They affect throttle response, transmission shift speeds and gear holding, suspension height and ride, pedal sensitivity, exhaust sound, and steering response, allowing the driver to shape the SUV's personality to the task at hand. The Trofeo also has a Corsa mode suited for driving that's even more spirited.