When you shop through retailer links on our site, we may earn affiliate commissions. 100% of the fees we collect are used to support our nonprofit mission.
Learn more.
Within the popular small SUV category, the Honda CR-V and Toyota RAV4 are two of the sales leaders year over year. And it shouldn't be a big surprise why consumers choose these models over their competitors.
Both are roomy, comfortable, and versatile vehicles that come from trustworthy brands with a well-deserved reputation for fuel economy and reliability. As is common in the small SUV segment, either front- or all-wheel drive is available, meaning consumers in both the Snow Belt or the Sun Belt can get the added security of all-weather traction, or the benefit of slightly better fuel economy in front-drive only.
Though there are many worthy small SUVs on the market—and with all due respect to the highly ranked Subaru Forester—one of the most common questions we receive from Consumer Reports readers is whether they should go with the Honda or the Toyota.
How They Match Up
When comparing them side by side along specs and dimensions, the CR-V and RAV4 match up very closely. Even in terms of acceleration (about 9 seconds in 0 to 60 mph acceleration), fuel economy (24 mpg overall), and stopping distances as measured in our testing, they're right on top of one another. But these two stalwarts diverge quite significantly in the real world.
The CR-V's transmission is a continuously variable type that tends to amplify engine noise. By contrast, Toyota uses a conventional six-speed automatic in the RAV4 that makes the driving experience feel more natural. Incidentally, the RAV4 is also available as a hybrid, which got an impressive 31 mpg in our testing. It will use between 110 and 125 fewer gallons over 12,000 miles than the either the CR-V or the regular RAV4.
Both models have received a midcycle freshening, which for the Honda turned out to be less successful than it has for the Toyota. Whereas the CR-V's suspension became stiffer, the RAV4's got more comfortable. Quite a bit of road noise gets into the CR-V's cabin, making it the louder car between these two.
It's easier to get a power seat with lumbar support adjustment in a midtrim CR-V EX. In the RAV4, you'd have to opt for the top-line Limited to get that feature. Otherwise, the standard seat is not very supportive. And young parents should note that we had difficulty getting some child seats to fit correctly and securely in the RAV4. The CR-V has a neat trick up its sleeve: a button that folds down a section of the rear seat in one fell swoop.
With the CR-V, the EX and above trims come with Honda's infuriating and complicated touch-screen infotainment system. By contrast, the RAV4's infotainment touch screen is much easier to use.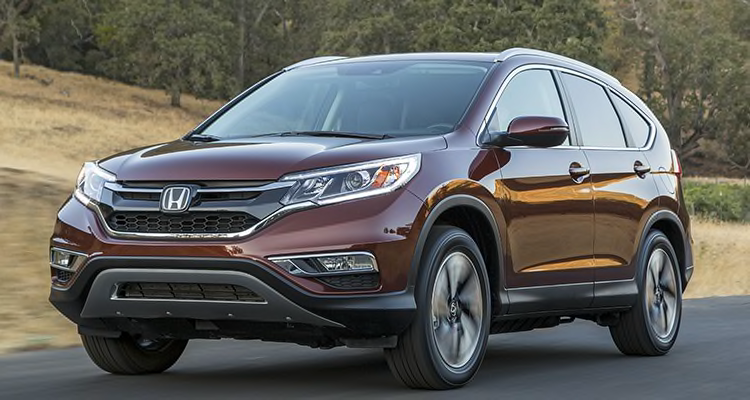 On the safety front, both SUVs are awarded a Top Safety Pick by the Insurance Institute for Highway Safety. However, for 2017 Toyota has made it easy to get advanced safety systems by including the Toyota Safety Sense P package standard on all versions of the RAV4. This package includes forward-collision warning and automatic emergency braking. Honda forces buyers to choose the Touring trim in order to get forward-collision warning and automatic emergency braking on the current 2016 model.
In addition, you can't get a conventional blind-spot monitoring system on any CR-V. With EX and above, you're forced into the LaneWatch system, which shows you—on the center screen—a video feed of what's in your right-side blind spot. That novelty is no substitute for a full blind-spot monitoring system that covers both sides of the vehicle.
Though the CR-V starts at an enticingly low price, Honda is very rigid with its options structure. There is no à la carte optioning here. So you're forced to decide whether you want to hold firm to your budget—and possibly forgo a feature—or spend more money and move up to a pricier version to get the features you want.
Base pricing is similar, with a front-drive CR-V starting at $24,745. Add all-wheel drive and that jumps to $26,045. The RAV4 with front-wheel drive is about $25,850, and all-wheel drive brings the price to $26,690. The CR-V tops out at $34,395 for the AWD Touring trim; the top RAV4 Platinum starts at $37,090. The RAV4 Hybrid starts out at $29,970, with standard all-wheel drive and XLE trim.
Because the CR-V is an older design that is well into its model cycle and the 2017s arrive in December, the leftover 2016 models have a good deal of negotiating room based on a recent Consumer Reports analysis of transaction prices. The loftier asking price for the RAV4 reflects that it has more shelf life left.
One thing to keep in mind when shopping: Toyota includes a two-year/25,000-mile, no-cost maintenance plan on every new model. Honda doesn't offer anything similar. That can go a long way toward offsetting the price difference.
Last—and what might be the knockout punch for many potential buyers—taking reliability into account, the RAV4's record has been much better than average, and the CR-V's record has bounced between average and above average.
In the end, the RAV4 outscores the CR-V to the tune of 76 vs. 69. If it were our choice, we'd be heading to the Toyota dealership.
Keep in mind that there are also other highly competitive small SUVs you shouldn't rule out, including the Subaru Forester, Kia Sportage, Mazda CX-5, Hyundai Tucson, Nissan Rogue, and Ford Escape.