Hybrid SUV Face-Off: Honda CR-V vs. Toyota RAV4
We look at the pros and cons of each and suggest which one is right for you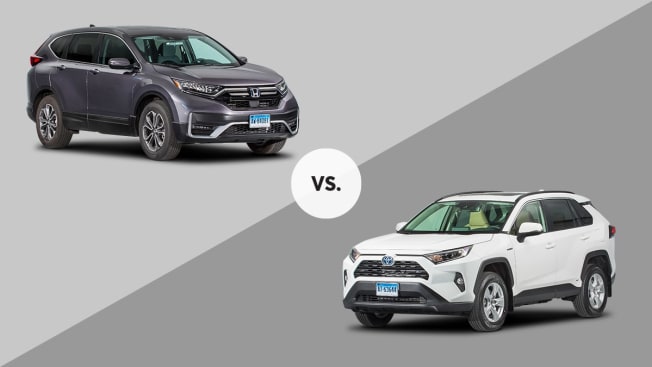 The Honda CR-V and Toyota RAV4 are both well-rounded, reliable, and fuel-efficient. That's why they're historically among the top-performing compact SUVs and two of the most-searched vehicles on CR.org. They match up closely in price, performance, dimensions, and available equipment. But they differ in personality and proportions.
When the current RAV4 went on sale in the 2019 model year, it was the only compact SUV available with a hybrid powertrain. But in early 2020 Honda introduced a hybrid version of the CR-V. (Since then, Ford reintroduced a hybrid version of its Escape compact SUV, the Hyundai Tucson Hybrid arrived for 2022, and the Kia Sportage has debuted as a 2023 model, including a hybrid version.)
In our previous face-off between the nonhybrid versions of the Honda CR-V and Toyota RAV4, the Honda came out on top. While not much changed for the Honda, Toyota also has a PHEV (plug-in hybrid electric vehicle) version, the Toyota RAV4 Prime. We'll discuss it below, although the main comparison is between the regular hybrid versions.
Become a member to read the full article and get access to digital ratings.
We investigate, research, and test so you can choose with confidence.