When you shop through retailer links on our site, we may earn affiliate commissions. 100% of the fees we collect are used to support our nonprofit mission.
Learn more.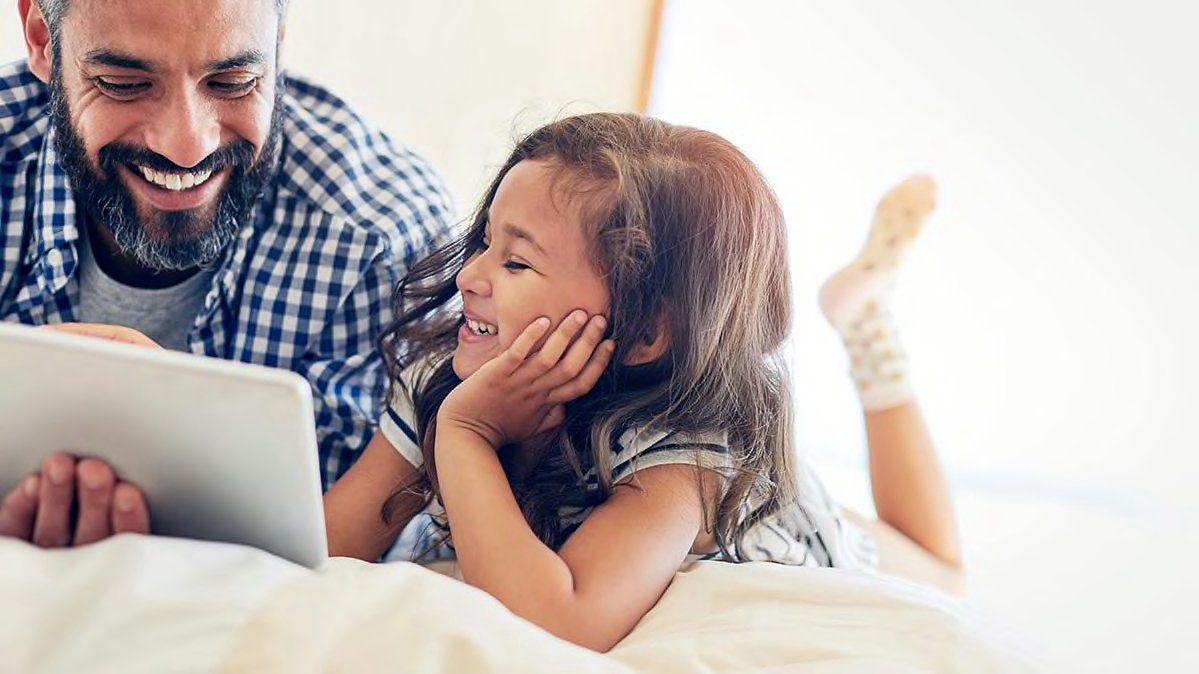 When it comes to tablets, it's hard to beat an iPad.
Apple's offspring loom large on our ratings chart, routinely outscoring the competition in performance and display quality, while leading the way in predicted reliability and owner satisfaction, based on survey data from Consumer Reports members.
"Apple controls the hardware, the software—they pretty much have a handle on the entire ecosystem," says Antonette Asedillo, who oversees tablet testing in our labs. "So they're able to make sure everything works together well."
But picking the right iPad can be tricky, especially if you don't spend every day reading gadget news. Take the recently announced iPad Pro, which starts at $799 and is scheduled to ship in the second half of May.
While we haven't yet tested it in our labs, the model will almost certainly be the most powerful iPad in Apple's lineup, offering consumers the ability to run pro-level photo- and video-editing apps without breaking a sweat.
The display uses a technology called Mini LED, also present in some high-end TVs, that produces brighter, more vibrant images than what's possible with traditional LCD tech.
There's also an improved webcam (welcome now more than ever in this age of Zoom) and even built-in 5G wireless networking, which may provide much faster downloads than you're used to seeing—assuming you're in range of a decent 5G signal.
In any event, we'll have a better idea of the iPad Pro's real-world performance in just a few weeks.
For many consumers, though, there's no reason to wait around for the new iPad Pro, because the entry-level iPad, $329 and up, is a great place to start for everyday "iPad-y" things like streaming video, reading Kindle books, playing casual games, and following the ever-evolving world of comic books without spending a lot of money.
Spend a bit more and you'll run into the iPad Mini, $399 and up, which may be appealing to folks who want the smallest and lightest tablet possible.
And then there's the iPad Air, $599 and up, which may be thought of as sort of a middle ground between the entry-level model and the higher-end Pro: It's light and powerful, and it has a great display. If you're the type of shopper who gravitates toward "prosumer" models, the Air, which was last updated in September, may be worth considering.
Of course, if you're okay with snagging an older model, you may be able to find a good deal on a previous-generation iPad.
Whatever your budget and needs, we can help you find the right iPad for you. That's in part because we buy at retail and test every model that Apple releases, measuring performance across a variety of metrics including ease of use, the quality of the display, and how fast the model does the things you ask it to do, like load web pages and apply filters to photos.
Read on for our picks on which iPad is right for you.

Best Value
Apple's entry-level model, known simply as "iPad," provides lots of bang for your buck, especially when you take into account the number of high-quality apps and services available for the iPad operating system. It was last updated in September 2020.

The Apple A12 Bionic processor found in the latest model is significantly faster and more efficient than the A10 Fusion chip in the older option. That means apps load quicker, games run smoother, and websites don't get bogged down as often by sluggish ads.
The battery life improved quite a bit, too. The 2020 model logged 11 hours in our web-browsing test and 13 hours in our video playback test. By comparison, the 2019 model lasted a little under 6 hours for web browsing and 9 hours for video screening.
And as with the 2019 iPad, the 10.2-inch screen on the new tablet is large, sharp, and bright, even in direct sunlight. It produces accurate colors, making it a good choice for video streaming. And the front-facing camera shoots video in HD, making it ideal for Zoom and FaceTime calls.
The model supports the first-generation Apple Pencil stylus, sold separately for $99, and Apple's Smart Keyboard, $159, which magnetically clips onto the iPad, doubles as a protective cover, and doesn't require charging or Bluetooth pairing.
In short, the model does almost everything you want an iPad to do while keeping the price somewhat close to Earth.
The 32 gigabytes of storage space may be limiting, especially if you're really fond of taking photos, downloading apps, and using the Apple Arcade video game subscription service. In that case, you may want to upgrade to the 128GB version, priced at $429.
If you need constant connectivity, the iPad with WiFi and 4G LTE cellular data connectivity and 32GB of storage retails for $459.

Best Performance
The iPad Pro is a top-tier machine for power users, and it delivers the level of performance you'd expect from a laptop. But if you're the type of person who's automatically drawn to the latest and greatest—and you just might be if you're considering buying the iPad Pro—it might make sense to hold off on buying this particular model to see how it compares with the upcoming Mini LED-equipped model.
Still, this earlier model is no slouch, especially if you can find it on sale as stores clear out inventory to make way for the new one.
The tablet was introduced in March 2020 and has an 11-inch display that has a faster refresh rate than the Air's. That makes the animations in everything from video games to simply scrolling around iPadOS appear more smooth. Instead of the Home button on the entry-level iPad, this one uses Face ID to unlock your device.
The Pro has an exceptional camera and a Lidar scanner, which helps enhance the depth perception on augmented reality apps. It delivers 13.7 hours of web browsing in our battery-life tests. And it supports the Apple Pencil stylus, Apple's Smart Keyboard cover (allowing you to use a physical keyboard without needing to charge or pair it via Bluetooth) and the Magic Keyboard, $299, which features a cantilevered design that lets you raise and lower the screen to get a better viewing angle.
The iPad Pro 11 starts at $799 for a WiFi-only model with 128 gigabytes of storage and $949 for a model with WiFi and 4G cellular data connectivity. There's also a 12.9-inch model, which is almost identical in every other respect. It starts at $999 for a WiFi-only version with 128GB of storage and $1,149 for a 128GB model with WiFi and 4G cellular data connectivity.
Note that these are suggested retail prices, and we expect some fluctuation as stores make way for the Mini LED model. In other words, now could be a good time to snag a deal.
Best Upgrade
The current iPad Air was released in September 2020 and offers a good middle ground between the entry-level iPad and top-of-the-line iPad Pro.
Aimed at "prosumers," the iPad Air has a higher-quality 10.9-inch display, more storage space (64 gigabytes or 256GB), and a more refined, modern design than the entry-level model. How refined? Gone is the familiar Home button, shrinking the size of the bezel and giving the tablet a sleeker look.
We don't take design into account when evaluating tablets, but we do consider performance, and this is a powerful tablet. You won't have any issue running demanding photo- and video-editing apps with the Air.
So what do you give up by going with the Air instead of the new Pro? The Pro is more powerful on paper, has more storage space options (all the way up to 1 terabyte), and can be configured to connect to 5G wireless networks. The new Pro also has a camera feature named Center Stage that Apple says will automatically keep you pictured in the middle of the frame during video calls, even if you move about the room.
Best Portability
Apple hasn't updated the iPad Mini since mid-2019, but it's still our pick if you want the ideal traveling companion. A Kindle Fire may also be a good choice if you're looking to save money.
The 7.9-inch iPad has a bright, sharp display with a large viewing angle, meaning you don't need to hold it dead center in front of your face to see it clearly. The processor is blazing fast, so web browsing and watching movies feels smooth and stutter-free.
The battery life is impressive. Our testers clocked it at 10.1 hours for web browsing and 9.3 hours for movie playback.
The smaller size and lighter weight (just 0.7 pound vs. 1 pound for the iPad Pro and iPad 9.7-inch) make the tablet easier to hold for extended periods, too.