When you shop through retailer links on our site, we may earn affiliate commissions. 100% of the fees we collect are used to support our nonprofit mission.
Learn more.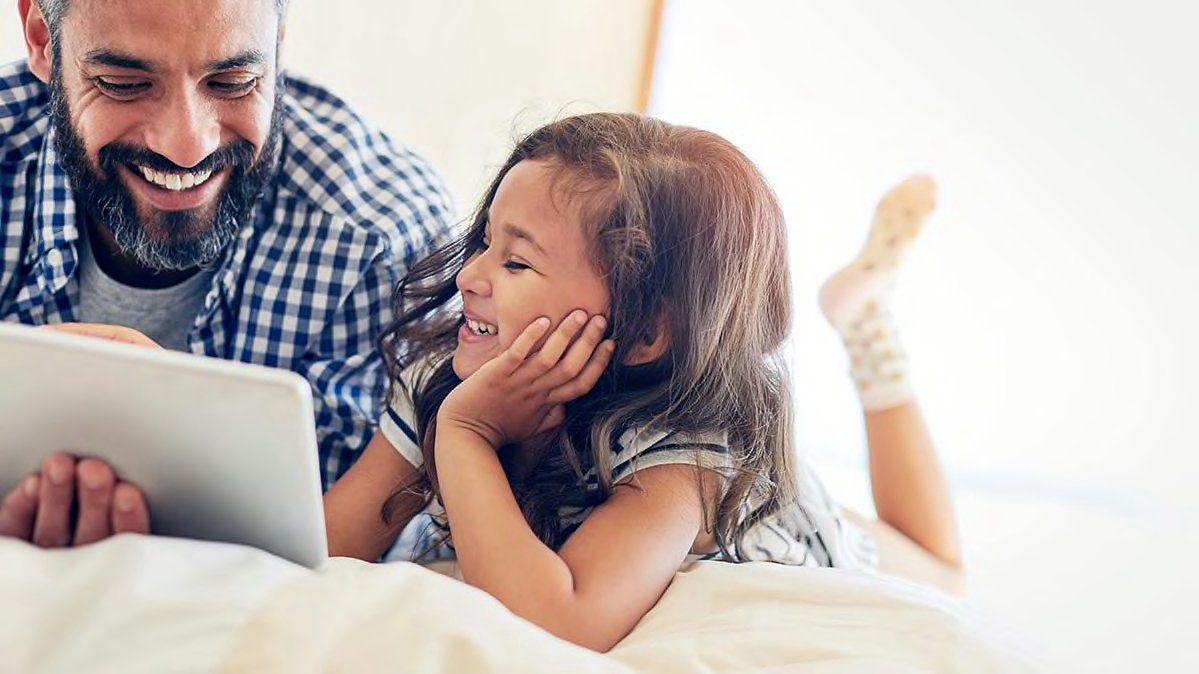 When it comes to tablets, it's hard to beat an iPad.
Apple's offspring loom large on our ratings chart, routinely outscoring the competition in performance and display quality and leading the way in predicted reliability and owner satisfaction, based on survey data from Consumer Reports members.
"Apple controls the hardware, the software—they pretty much have a handle on the entire ecosystem," says Antonette Asedillo, who oversees tablet testing in our labs. "So they're able to make sure everything works together well."
But picking the right iPad can be tricky. What's the difference between the iPad Air and the iPad Mini, for example? How about the iPad and the iPad Pro? And why do the models in our ratings range in price from $330 to more than $1,000?
This week Apple announced two big updates to its lineup, which only makes things more complicated, especially as retailers begin to cut prices on older models to make way for the new ones.
When shopping for an iPad, you can usually step back a product generation or two without much thought. Year-to-year improvements tend to be smaller than they are for the iPhone, Asedillo says. But the changes are more extensive this time around, particularly for the iPad Air.
It will be a few weeks before we get the new iPads in hand, but we do have detailed test results on the older models, which we will use to walk you through the decision-making process.
As with every other product we test, from lawn mowers to automobiles, we bought the tablets below at retail stores to ensure we're getting the exact same product as you, the consumer. We test the tablets on a variety of elements, including ease of use, the quality of the display, and how fast the model performs calculations.
The best iPad to get depends on your needs. Are you looking for a model with lightning fast processor speeds? Or something small enough to slip into a purse or backpack? Or do you want a big screen without a massive price tag?
Here are the models ideally suited to those needs.
Best Value
Apple's entry-level model, known simply as "iPad," provides lots of bang for your buck, especially when you take into account the number of high-quality apps and services available for the iPad operating system. We don't expect this to change with the 2020 update—even the price holds steady at $330—but you can save up to $50 by opting for the 2019 model instead.

What are you passing up? The Apple A12 Bionic processor installed in the new model is likely to be faster and more efficient than the A10 Fusion chip in the older option.
But the 2019 model is no slouch. The 10.2-inch screen is large, sharp, and bright, even in direct sunlight. The front-facing camera shoots video in HD, making it ideal for video calls or using FaceTime. And the A10 Fusion chip is fast enough to handle not only basic web browsing and media consumption but also more processor-intensive tasks, such as 3D gaming.
The model supports the first-generation Apple Pencil stylus, sold separately for $100, and Apple's Smart Keyboard, $160, which magnetically clips onto your iPad, doubles as a protective cover, and does not require charging or Bluetooth pairing.
The battery lasted 5.8 hours in our web-browsing tests and 9.2 hours during video playback, enough to handle many an airline flight. And 30 minutes of charge gave it an additional hour of operating time.
For some people, the 32 gigabytes of storage space may be limiting, especially if you're really fond of taking photos, downloading apps, and using the new Apple Arcade video game subscription service. In that case, you may want to upgrade to the 128GB version priced at $430.
If you need constant connectivity, the iPad with WiFi and cellular data connectivity and 32GB of storage retails for $460.
Bottom line: If you can find a 2019 model for less than you would have paid just a week ago, it's an even smarter buy than it was before.
Best Performance
The iPad Pro is a top-tier machine for power users—which won't change even if it ends up being overshadowed by the 2020 iPad Air (below). But just to be safe, you may want to wait to see how the Air performs before deciding between the two models.

Thanks to a design with slim bezels and no Home button, the Pro tucks an 11-inch screen into a body barely larger than a base iPad with a 9.7-inch screen. It uses Face ID to unlock your machine.
Apple introduced the latest model in March, but you may want to consider snapping up the third-generation version released in 2018 if you can still find it in stores. Our testers give it a slight edge over the new one, mostly because it offers 13.7 hours of web browsing in our battery life tests vs. 8.7 for its sibling.
But the fourth-generation iPad Pro gets a big thumbs-up, too. It has an exceptional camera and a LiDAR scanner, which helps enhance the depth perception on augmented reality apps.
Either way, you're looking at a tablet with lots of muscle, one capable of not only tackling heavy-duty chores such as high-resolution video editing but also serving essentially as a laptop.
The Pro currently supports the second-generation of the Apple Pencil, which sports additional gestures to make using the stylus feel more seamless. It also supports Apple's Smart Keyboard cover (allowing you to use a physical keyboard without needing to charge or pair it via Bluetooth) and the new Magic Keyboard, $300, which features a cantilevered design that lets you raise and lower the screen to get a better viewing angle.
The new iPad Pro 11 starts at $800 for a WiFi-only model with 128GB of storage or $950 for a model with WiFi and 4G cellular data connectivity. If you're planning to do graphic or video work where large file sizes are a concern, a WiFi-only iPad Pro with 256GB sells for $900, a 512GB model for $1,100, and a 1TB model for $1,300. A 4G-enabled version with 128GB sells for $950, a 256GB model for $1,050, a 512GB model for $1,250, and a 1TB model for $1,450.
For those willing to pay for more screen real estate, there's also the iPad Pro with a 12.9-inch screen, which is almost identical in every other respect. It starts at $1,000 for a WiFi-only version with 128GB of storage and $1,150 for a 128GB model with WiFi and 4G cellular data connectivity.
Best Upgrade
The last time we published this story, the old iPad Air was barely worth a mention. It scored just one point higher than the $330 iPad, yet cost $170 more.
But the updated Air (due to arrive in October) has us questioning the wisdom of springing for the top-of-the-stack iPad Pro. Right now, at least.
Why? Because the new iPad Air will feature Apple's latest processor—the A14 Bionic—and Apple claims this one is roughly 40 percent faster than the A13 chip found in the iPad Pro.
That's a big leap in processing power.

It means you may want to hold off on purchasing the Air or the Pro until we run the Air through our labs to test that claim. We're hoping to do that right after it goes on sale.
In the meantime, keep an eye on the price of the Pro. Who knows? Retailers may lower it in the coming weeks to make room for the new Air.
Best Portability
Apple refreshed the iPad Mini in mid-2019. The new 7.9-inch tablet is our best-scoring sub-8-inch model, and it wins by a large margin—the iPad Mini scores an 82, while its nearest competitor, the Samsung Galaxy Tab A 8.0, scores a 77.
There's a lot to love about the iPad Mini. It has a bright and sharp display with a large viewing angle, meaning you don't need to hold it dead center in front of your face to see it clearly. The processor, an Apple A12 Bionic chip, is blazing fast, so web browsing or watching movies feels smooth and stutter-free. It also means the iPad Mini can support some of Apple's newer innovations, like augmented reality apps.
The battery life is also impressive. Our testers clocked it at 10.1 hours for web browsing and 9.3 hours for movie playback.
The smaller size and lighter weight (just 0.7 pound vs. 1 pound for the iPad Pro and iPad 9.7-inch) make it easier to hold for extended periods, too.