When you shop through retailer links on our site, we may earn affiliate commissions. 100% of the fees we collect are used to support our nonprofit mission.
Learn more.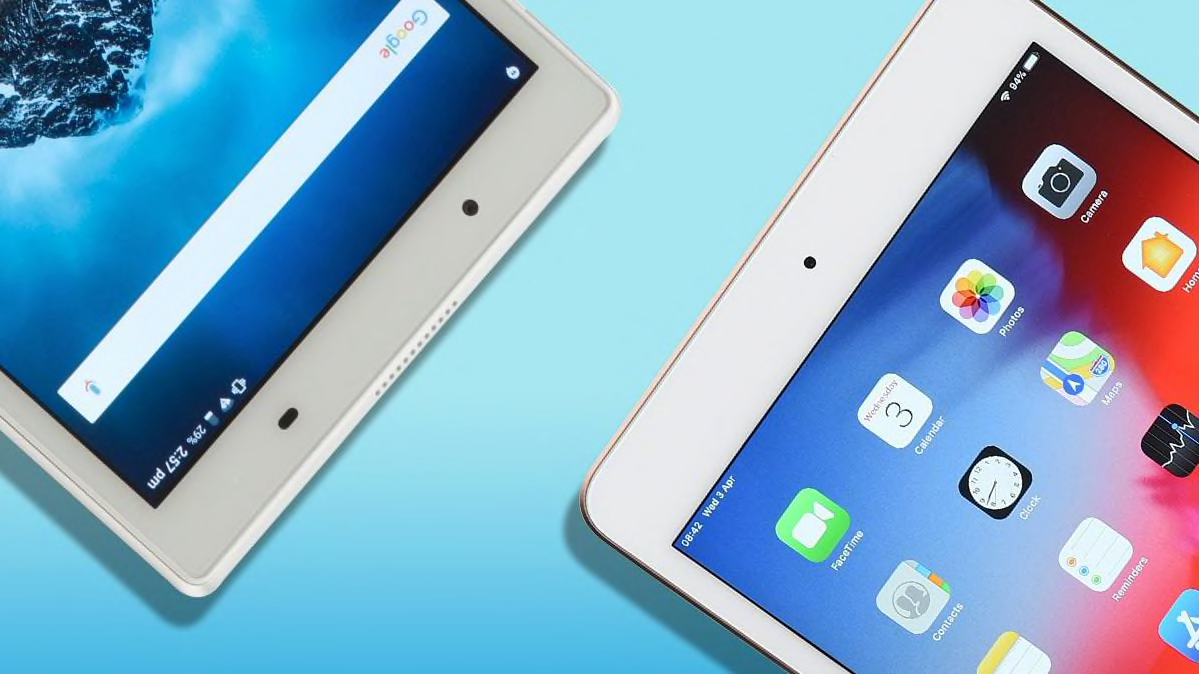 People buy tablets for very different reasons these days.
In our tablet ratings, for example, you'll find $50 to $100 devices from Amazon that are great for content consumption: browsing the web, streaming video, reading e-books, that sort of thing. But the list also includes $1,000 models (see the new Apple' iPad Pro) so powerful you can pretty much use them as a lightweight laptop.
And, as you might imagine, there are many things to consider in that gulf between $50 and $1,000. With that in mind, we've compiled the list below to help you navigate the decision process.
All tablets that pass through our labs are tested for battery life, performance while running complex apps, and the color accuracy of the display. We also factor in reliability and owner satisfaction data collected through reader surveys. Apple, which jump-started the tablet market in 2010 with the original iPad, is well represented here, in part because of the company's high reliability score.
As with every other product we test, from lawn mowers to mattresses, we bought the tablets below at retail stores to ensure that manufacturers don't try to influence our testing.
Amazon Fire 7
If you're simply looking to add another screen to the house, a device to keep you and the kids occupied, this $50 Amazon Fire is a great value.
The processing power is totally adequate for everyday tasks like streaming Netflix and playing simple games such as "Fortnite," though the colors on the 7-inch display may get washed out in direct sunlight. The device offers robust parental controls, too. And the battery life stretched to nearly 9 hours in our testing.
One thing to keep in mind, though, is that the tablet is built to support Amazon's app store. While you'll find popular options such as Disney+, Netflix, and Pluto TV available there, common productivity apps like Google Docs, Excel, and Word are not. You have to use Amazon alternatives instead.
Samsung Galaxy Tab A 8.0
If you prefer the app selection in the Google Play store, the Samsung Galaxy Tab A 8.0 may be a better choice. Priced to start at $150, it performs a little more like a high-end tablet—without the high-end price.
By comparison, Apple's iPad Mini, the top-scoring tablet in this size range, starts at $400.
What does Samsung give you that the Fire 7 tablet does not? A higher-resolution, 8-inch display and 14 hours' worth of battery life, which may come in handy if you plan to take the tablet on the road with you one day.
Apple iPad
Apple refreshed its entry-level iPad in late 2019, which increased the size of the screen from 9.7 to 10.1 inches.
The new model also supports Apple's Smart Keyboard cover, a physical keyboard that magnetically clips onto the tablet. Unlike a Bluetooth keyboard, this one doesn't require charging or pairing, which comes in handy when you frequently use your iPad for emailing and word-processing tasks.
Beyond those useful additions, this is the prototypical iPad. It has an excellent display, viewable even in sunlight, and harbors enough power to handle all but the most demanding tasks (think editing hi-res photos and videos). The battery lasts as much as 9 hours on a single charge.

Apple iPad Pro
Available in two sizes (11 and 12.9 inches), the iPad Pro aces just about every test we subject a tablet to, from performance to display quality to battery life (14 hours on a single charge).
The only quibble our testers had is that—like all iPads—this one doesn't have a built-in card reader, which helps you quickly and inexpensively expand the memory. You may also have to buy an adapter if you want to load photos or documents onto the device.
But pairing the iPad Pro with an external mouse and keyboard does allow you to effectively use this as a laptop, and a powerful one at that. Apple's new Magic Keyboard with a built-in trackpad could make this an even more attractive pick.