When you shop through retailer links on our site, we may earn affiliate commissions. 100% of the fees we collect are used to support our nonprofit mission.
Learn more.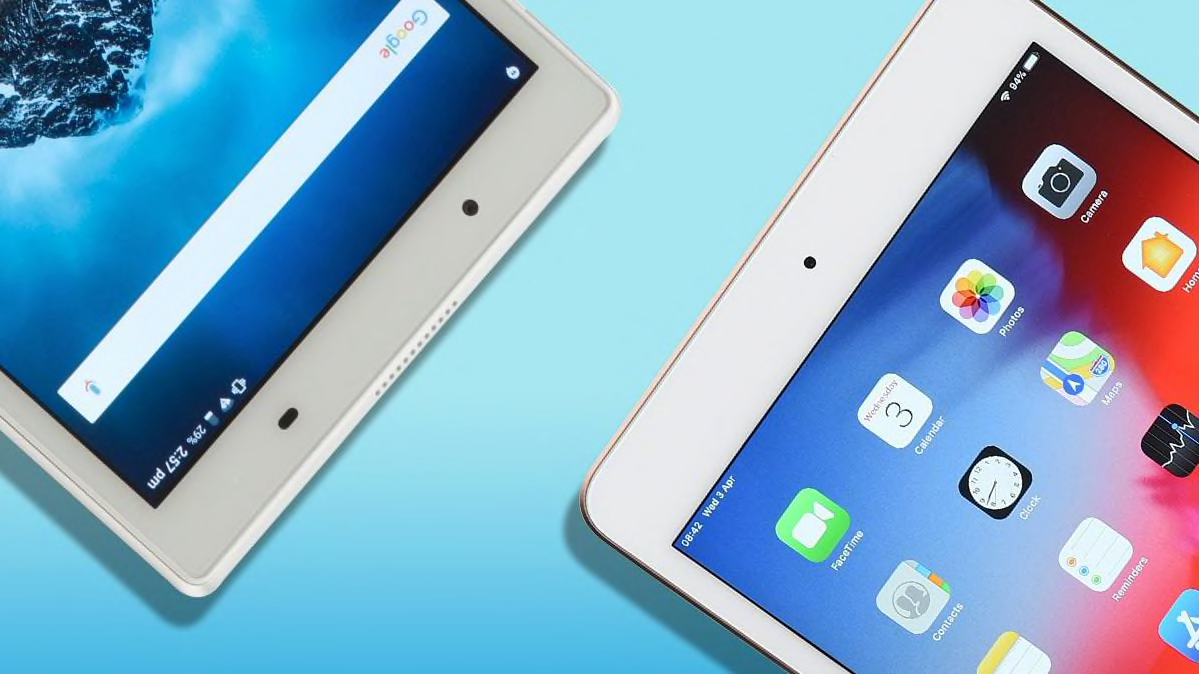 People buy tablets for very different reasons.
In our ratings, you'll find $100 devices great for browsing the web, streaming video, and reading e-books. But the list also includes $1,000 models so powerful you can even use them to edit high-res video.
But not everyone has the need to edit video on a tablet, or $1,000 in disposable income to buy one. So let us help you find a model that best suits your needs.
Every year we buy and test all the major tablets released by companies such as Amazon, Apple, and Samsung. The models that pass through our labs are tested for battery life, performance while running complex apps, and the color accuracy of the display. What good is a tablet with a subpar screen?
We also factor in reliability and owner satisfaction data collected through Consumer Reports member surveys. Apple, which helped popularize tablets with the launch of the original iPad in 2010, is well-represented here, in part because of the company's high reliability score.
Below we've selected a few highly rated picks at various prices, starting with the least expensive option.

Amazon Fire HD 8
If you're simply looking to add another screen to the house, a device to keep you and the kids occupied, the Amazon Fire HD 8 is hard to beat.
Released last summer, it's more than powerful enough for everyday "tablet-y" things, such as watching Netflix and Disney+, playing simple games like Minecraft, and scrolling through your various social media feeds. It weighs less than 1 pound and has a battery that lasted around 15 hours in our tests, making it a decent travel companion, too. It has 32 gigabytes of built-in storage alongside a microSD slot, which lets you add more as needed.
And in a boon for families, the tablet supports robust parental controls that allow you to set limits on when your child can use the device and which types of apps are accessible for social networking, web browsing, etc.
One thing to keep in mind: The Fire HD 8 uses the Amazon Appstore instead of the Google Play store. While that's not a huge drawback, it does mean that common productivity apps such as Google Docs, Excel, and Word are not available. You have to use Amazon alternatives instead.
If you're looking for an even cheaper tablet, consider the 2019 Amazon Fire 7, still available in stores for around $50. That's another good pick, especially if you don't mind a slightly smaller display and slightly slower performance.

Samsung Galaxy Tab A (2019)
This 10-1 inch Android-based tablet earned a CR Best Buy designation from our testers. That means it combines very good performance with an attractive price.
In addition to the large, bright, accurate display, it features 32 gigabytes of built-in storage (expandable with a microSD card) and a battery that lasted around 11 hours in our tests. Unlike the Amazon Fire, this tablet uses the Google Play app store, so you shouldn't have trouble finding Gmail, Google Photos, and other favorites.
It also features robust parental controls, so you can control the content and services your child has access to.

Apple iPad
Apple has refreshed the entry-level iPad (known simply as "iPad") for the past two years, and it's a good choice for consumers who prefer the iPadOS ecosystem of apps and services.
The iPad starts at around $330 with 32 gigabytes of built-in storage. That is not a lot of space if you plan to play games and use other large apps, but it's fine for browsing the web and streaming video. And jumping to a much more breathable 128GB adds only $100 to the price.
The iPad's 10.2-inch display is among the best in our ratings, and it gets bright enough to be legible in direct sunlight. The device weighs very little (especially considering its size) at 1.1 pounds and has a battery that lasts between 10 and 13 hours, depending on how demanding the task is (video playback vs. simply web browsing), according to our testers.
The iPad also supports Apple's Smart Keyboard cover, a physical keyboard that magnetically clips onto the tablet. Unlike a Bluetooth keyboard, this one doesn't require charging or pairing, which comes in handy when you frequently use your iPad for emailing and word-processing tasks.
Apple iPad Air
The newest model in this article, the powerful 10.9-inch iPad Air was introduced in September and costs around $600 with 64 gigabytes of built-in storage. It might be overkill if you're simply looking to watch Netflix and read e-books, but it's a good choice if you plan to regularly edit audio and video, and play demanding games.
The device weighs 1 pound on the dot, the display is big, bright, and accurate, and the battery lasted between 8 and 13 hours in our labs. As our testers noted, that 8-hour figure is not super-impressive for a tablet, but that's just about the only knock here.