When you shop through retailer links on our site, we may earn affiliate commissions. 100% of the fees we collect are used to support our nonprofit mission.
Learn more.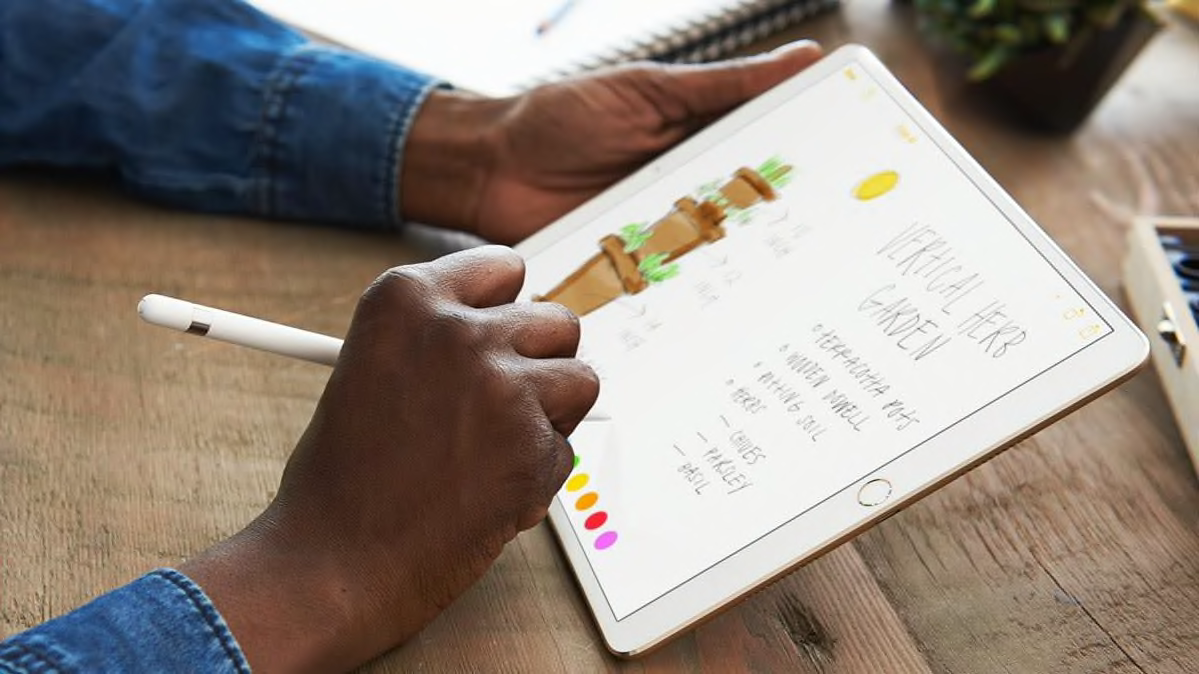 Tablets today largely fill one of two roles: They can be a content consumption device, useful for streaming Netflix and reading e-books and the like, or, because they're so powerful, they can just about replace your laptop.
Consider Apple's iPad Pro and iPad Air. These are models that are very powerful, with specs—including processor speed and display resolution—that match or even exceed what you might find on a laptop, with the added bonus of generally being lighter and having better battery life. Coupled with a Bluetooth keyboard or a keyboard case, you can write email or edit text documents and presentation slides as easily as you can sit back and binge "Stranger Things."
Apple's iPad will become even more laptop-like this fall with the release of updated software called iPadOS, which adds features like the ability to use a mouse, and a more robust windowing system so you can have multiple apps and windows open side by side.
Other tablets, like the Amazon Kindle Fire and iPad Mini, are better thought of as media consumption devices. Bigger than all but the largest smartphones, these tablets aren't hugely powerful but are a good choice if you're merely looking to stream YouTube or Netflix or read an e-book in bed. They may also be a good choice if you're looking for a tablet for your kids because they're still powerful enough to run popular mobile games like "Minecraft," "Clash Royale," and "Dota Underlords."
The iPad Pro cited above performed very well in our labs but costs $950. The list below features four more moderately priced tablets taken from our ratings. Each was tested for battery life, performance while running complex apps, and color accuracy of the display. We also factor in reliability and owner satisfaction data collected through reader surveys. Apple, which jump-started the tablet market in 2010 with the original iPad, is well-represented here, in part because of the company's high reliability score.
As every other product we test, from lawn mowers to mattresses, we bought these tablets at retail stores to ensure that manufacturers wouldn't try to influence our testing.
Apple iPad Mini
Apple updated the iPad Mini this spring after nearly four years of all but ignoring its existence. The unexpectedly long wait paid off, however, with Apple delivering a 7.9-inch tablet that not only tops our ratings of sub-8-inch tablets but does so with a huge amount of daylight between it and its nearest-scoring competitors (which we'll address shortly).
So why did our testers recommend this latest version of the iPad Mini? Across just about every metric we test, the iPad Mini scored exceedingly well. The display, arguably the single most important part of a tablet, is bright, accurate, and has a large viewing angle. That means you don't need to look at the dead center to see the clearest image, handy if you intend to use the Mini in bed where awkward angles abound. Battery life (10 hours) and performance while doing things like browsing the web and copying files are also best in class.
If there's one area where the iPad Mini falls short—and that's a big if—it's that you'll have to buy adapters to connect common peripherals like SD cards (for loading digital photos) or connecting to a big screen TV via HDMI. Our testers also noted that, unlike with certain Android tablets, there's no way to have multiple accounts on a single iPad Mini (or any other iPad, for that matter). That could be annoying if you intended to share the tablet with a spouse or child, for example.
While the iPad Mini is by some distance the best sub-8-inch tablet in our ratings, you might also consider the Lenovo Tab 4 8 and Amazon Kindle Fire. These are roughly the same size as the Mini but run Android and Amazon's own customized version of Android. That's useful if you already spent time and money in the Android or Amazon ecosystem and don't want to buy apps you already own again.

Lenovo Tab 4 8
This 8-inch tablet didn't crack our recommended list, but it scored reasonably well compared with the iPad Mini above for less than half the price, which makes it a good value for consumers interested in buying an Android model.
The display produces accurate colors and remains visible under bright light, the battery lasts more than 15 hours, and the device carries out common tasks like browsing the web and streaming video without slowdowns in performance.
The built-in camera, however, is less impressive, producing photos with unnatural colors.

Samsung Galaxy Tab S4
Galaxy Tab is Samsung's long-running series of higher-end tablets, and it has done well in our ratings over the years. This is technically the 2018 model, which, like the iPad, scores well in just about all of our tests, including important metrics like display quality and portability. If you're looking for a high-end Android tablet, this is the way to go.
It's worth addressing for a moment why this 2018 model performs better than its 2019 counterpart, the Galaxy Tab S5e. According to our tests, the S5e has a problem with WiFi connectivity that's seriously degraded while the tablet is held horizontally, likely because of the way the antennas are arranged internally. The S5e is still a good tablet, but its specs are so close to the 2018 model (which you can still find in stores) that it may make more sense to spring for the older model.

Apple iPad Air
Apple in 2019 resurrected the name "iPad Air" for its 10.5-inch tablet that sits just below the iPad Pro in terms of features and performance. As with the Pro, our testers had very little to complain about when it comes to the Air. It's fast, light, and has a display that's sharp and accurately reproduces color.
So what makes the Air an Air instead of a Pro?
For starters, it's ever so slightly smaller than the 11-inch Pro, but that's not a difference you'll likely notice while immersed in apps like Netflix or Safari. The Air has two built-in speakers to the Pro's four. Again, you're almost certainly better off with a decent pair of headphones than relying on a tablet's built-in speakers. The Air's display also runs at a slower refresh rate than the Pro, which means that certain animations (particularly scrolling text) may appear to be smoother on the Pro. But everyday consumers may not consider these relatively minor differences to be worth the extra money.