When you shop through retailer links on our site, we may earn affiliate commissions. 100% of the fees we collect are used to support our nonprofit mission.
Learn more.
Sure, it doesn't seem like the Kia Sportage small SUV and Jaguar XF luxury sports sedan have much in common, except that Consumer Reports recently purchased both for our test fleet. And probe a bit deeper, and it turns out that each vehicle highlights some industry trends.
Kia shares basic vehicle structure and components with corporate parent Hyundai. But Kia usually introduces its version about a year after the Hyundai version rolls out.
As our "Talking Cars with Consumer Reports" podcast has pointed out before, Kia benefits from this delay. Its cars wind up being better to drive and more reliable than their Hyundai siblings. The Kia Sorento/Hyundai Santa Fe and the Kia Optima/Hyundai Sonata pairs set this trend and the Kia Sportage/Hyundai Tucson follow suit. While we complained about the engine and transmission pairings in the otherwise pleasant Tucson, the Sportage gets it right from the start.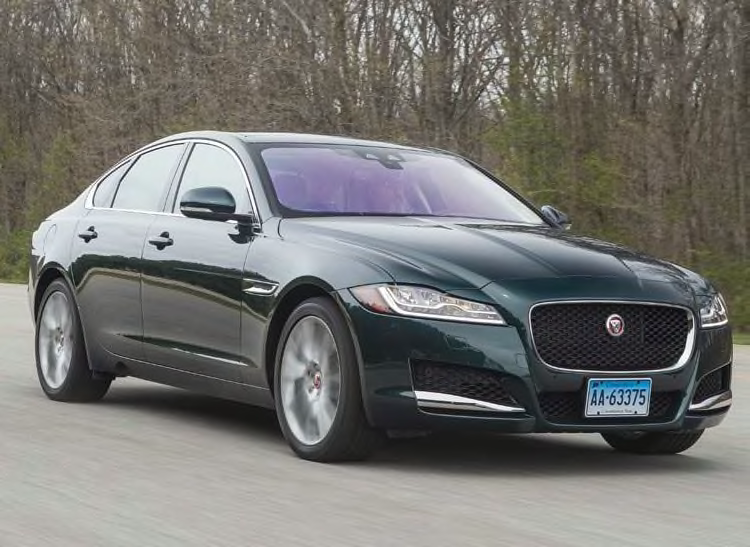 With the XF, Jaguar follows a script shared with fellow luxury brand Volvo. Once part of Ford, the fabled British automaker is now owned by the large Indian conglomerate Tata. Thanks to an infusion of cash, Jaguar is rolling out a spate of new cars to compete with the much more popular German brands.
Likewise, Volvo, also once owned by Ford and starved for development resources, has been rebuilding its product line under new ownership. While Volvo jumped into a totally clean-sheet design with their XC90 SUV, Jaguar is taking a more cautious approach.
Jaguar's attention to getting the basic bones right is showcased by the XF's impressive ride and handling. Indeed, we note that Jaguar and Cadillac are at the forefront of building sporty-driving luxury sedans, odd given that each brand historically pushed soft-edged "luxomobiles."
But some things are missing from the XF, both objective and subjective; the infotainment system feels behind the times, and the car lacks a bit of the specialness that made previous Jaguars endearing.