Choosing the Best Tire Pressure Gauge
CR's tests point to the right tool for the job
When you shop through retailer links on our site, we may earn affiliate commissions. 100% of the fees we collect are used to support our nonprofit mission. Learn more. It's important to keep your car's tires properly inflated to get the optimum performance, safety, and tread life. Without the proper pressure, tires can wear faster and unevenly, waste fuel, and hurt your vehicle's handling.
Monitoring your tires is a simple task you should do once a month. It's especially important to check tire pressure in the fall and winter because it often lowers in cooler weather. Underinflated tires build up excess heat as you drive, which can lead to tire failure.
Picking the Best Tire Pressure Gauge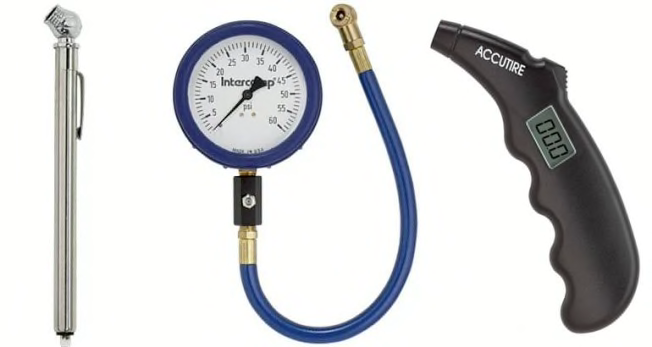 Stick gauges (above left) can be hard to read and finicky to use, our testers found. Among the stick gauges, the Victor 00876-8 stood out for accuracy, durability, and price. These are the cheapest type, at an average price of just under $5.
Dial gauges ranged in performance in our tests. Some of the cheaper gauges were dinged for poor accuracy, ease of use, or durability. The Intercomp 360060 is a standout model, but it is pricier than many alternatives. Dial gauges cost around $22, on average.
Digital gauges are generally very accurate and easy to read, our testers found, particularly those models with an illuminated display to read in dim light—such as in the shadow of a car. The Accutire MS-4400B shines in our ratings. Digital gauges cost about $12, on average.
Tips for Checking Tire Pressure
Check tire pressure when the tires have been cooled to the ambient temperature, typically after sitting parked for 3 hours or more. Tire pressure increases when the tire is driven.

Set air pressure based on the tire information placard, usually found on the driver's doorjamb, and not to the maximum pressure indicated on the tire's sidewall.

Check the inflation pressure of your spare tire.

Remember that a tire pressure monitoring system (TPMS) isn't a maintenance reminder—it's a system to alert you that one or more tires is significantly low on air pressure and needs immediate attention. Just because the TPMS warning light isn't illuminated, don't assume your tire pressure has been set correctly.

Store the tire pressure gauge in a secure, clean, accessible spot. Dirt and grime can affect the scale slide on a stick gauge, and battery life is a concern for digital gauges. Keep a tire pressure gauge in the glove compartment of every car you own.