When you shop through retailer links on our site, we may earn affiliate commissions. 100% of the fees we collect are used to support our nonprofit mission.
Learn more.
When you shop through retailer links on our site, we may earn affiliate commissions. 100% of the fees we collect are used to support our nonprofit mission. Learn more.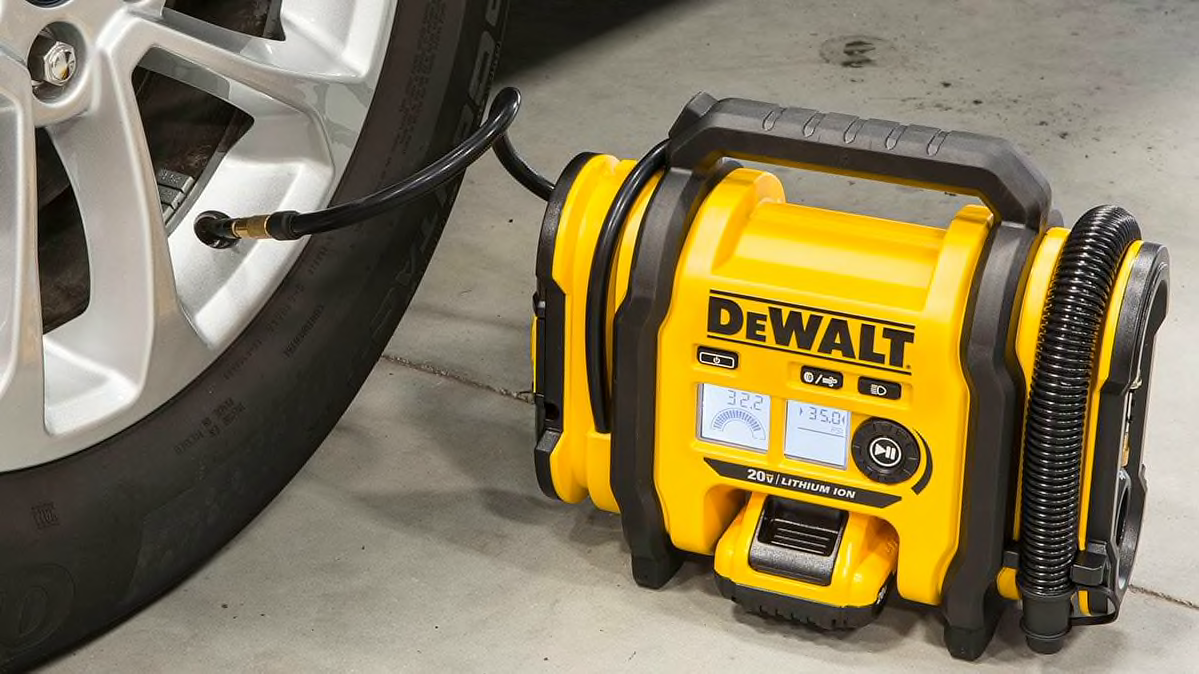 Proper tire inflation is key for optimal fuel economy and safety, and to maintain even treadwear. Monthly tire pressure checks are quick and easy to do at home, but adding air pressure requires an air compressor.
For many drivers, this means running down to a local service station, but cordless air inflators for home use can tackle this chore with ease. These inflators work with the battery from a cordless toolkit and can even be used to inflate other things, like air mattresses and bicycle tires.
We bought five cordless air inflators from popular brands: Bauer, Craftsman, DeWalt, Makita, and Milwaukee.
We evaluated smaller, handheld cordless tire inflators in 2017—the kind that look much like a cordless drill. These were inexpensive and easy to use, but they were short on features and took a long time to do their job.
Most of the inflators in our latest tests are bigger than handheld units (the Makita in this group is more like a handheld than the others), and most share batteries with cordless toolkits from those companies. These models are versatile and easy to use, and save you from tethering to a car outlet, dragging around an extension cord at home, or handling a filthy hose at a gas station.
All five units we bought came with adapters for inflating sports balls and bicycle tires. These models typically have backlight digital displays, and all have an auto shutoff feature to prevent overinflation. Only three of them came with an extra ability to utilize a high volume/low pressure hose that can be used to fill an air mattress or other large inflatable, a feature that adds value and versatility.
For our evaluation, we used a midsized car tire. Our technician timed how long it took to inflate from 0 to 35 psi, representing a freshly mounted tire or one that has gone completely flat, and he also timed inflating from 30 to 35 psi to simulate a common need to top off a tire.
All models did well in both situations, with one taking as little as 4 minutes for a full 0 to 35 psi inflation. By contrast, the handheld tire inflators took longer and some overheated performing that sustained task.
A real advantage for these larger compressors is that most allow you to set the target psi, then walk away and let it do its job—you don't need to remain crouched, holding the air nozzle in place.
A more typical use is topping off tires—adding a few psi to bring them up to the proper setting. Times ranged from around 40 seconds to a little over a minute, a reasonable range, though longer than a plugged-in compressor found at a service station. It's more convenient to be able to top off at home, however. We think drivers would be more likely to maintain the proper tire inflation if they owned one of these models.
For many consumers, the choice will be dictated by which cordless tool set they own or plan to purchase. (See our test results for cordless drills for insights into compatible tools.) Of course, these can also be bought as stand-alone items, with a battery and charger.
As you will see below, there is a tire inflator for all needs and budgets.
If you're shopping for a cordless toolkit and prize having a great inflator, we would choose the DeWalt for its combination of overall good performance, simple-to-use features, quiet operation, and use of logical hose storage. Consumer Reports has found DeWalt heavy-duty cordless drills to be strong performers, as well.
None of these inflators are intended for heavy work like a dedicated compressor with an air tank would be, but they are good in a pinch and may be a helpful addition to your emergency roadside kit.
We present the five cordless tire inflators we evaluated below, ranked by preference, starting with our favorite.
DeWalt 20V Max Inflator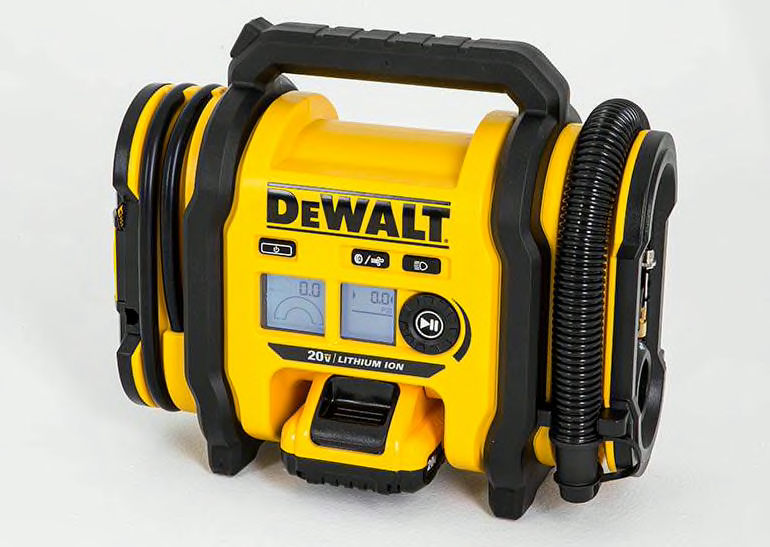 The DeWalt 20V Max Inflator mimics a radio design for controls. A simple "play" button turns on the compressor, and a spinning knob lets you set a desired pressure.
This model is among the quickest models we tried. It can be powered from a 12-volt power point in the car—handy during travel and when its battery is run down. Factor in a surprisingly quiet operation, and this DeWalt is one of our favorites. However, it commands a steep price, coming in at around $200 total for the inflator, battery, and charger, making it and the Craftsman the most expensive compressors we bought.
The DeWalt is especially appealing if you already have a toolkit that uses compatible 20-volt batteries.

Price paid: $100 for the inflator, $120 for the battery and charger
Where to buy: Amazon, Home Depot, Lowe's

Highs
• 12-volt car-plug capable
• Auto set feature with accurate gauge
• Quiet
• High-volume hose
Lows
• Price
• Battery and charger sold separately
Milwaukee M12 Compact Inflator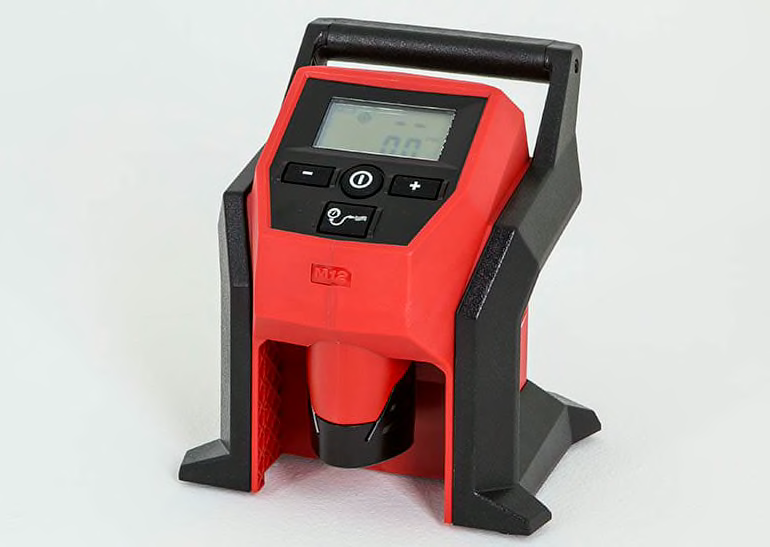 The Milwaukee is a small inflator, but it proved very capable in our evaluation. It is the quickest to inflate a flat tire. The biggest downside to the unit is the lack of a high-volume hose, which would add versatility for inflating other things, like air mattresses.
Price paid: $100 for the inflator, including battery and charger
Where to buy: Amazon, Home Depot, CPO Milwaukee
Highs
• Quickest inflation time
• Easy-to-read illuminated gauge
• Auto set pressure with accurate readings
Lows
• No high-volume capability
Craftsman Multipurpose Inflator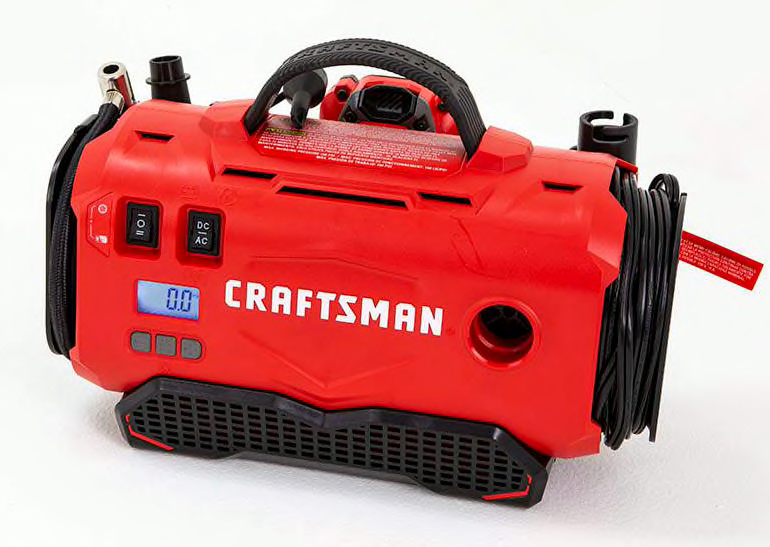 The Craftsman is among the most versatile units, capable of operating from a 12-volt car plug and a 120-volt wall plug, in addition to the battery pack. It has a fast top-off time and operates quietly. However, it is the most expensive model in the group if the inflator and battery/charger system are purchased separately.
Price paid: $75 for the inflator, $95 for the charger and battery
Where to buy: Amazon, Lowe's
Highs
• 12-volt car plug and 120-volt AC wall plug compatible
• Auto set feature works well and gauge is accurate
• High-volume hose
Lows
• Battery and charger sold separately
Makita 12V Max CXT Lithium-Ion Inflator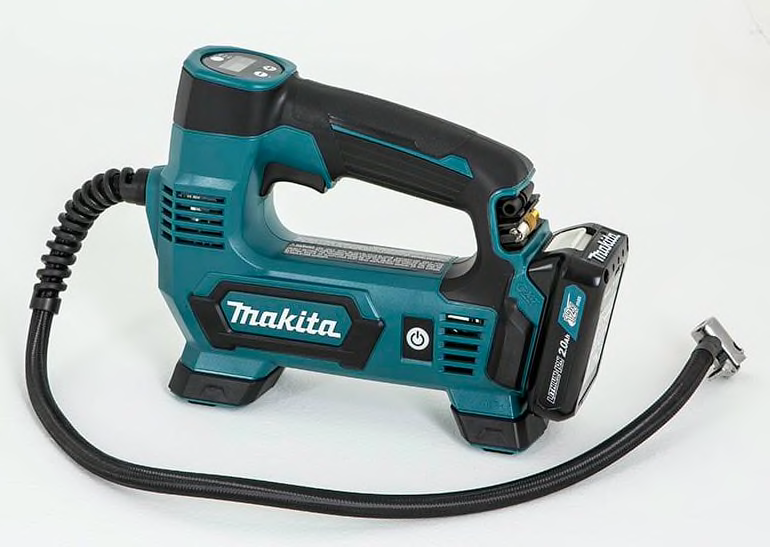 The Makita inflator is a nice, small tool with good performance. It is particularly well-suited as part of a car emergency kit. We favor the size, simple design, price, and performance, but it is slightly noisier than others and lacks a high-volume hose, and you'll have to hold the trigger to operate it.
Price paid: $79 for the inflator, $69 for the battery and charger
Where to buy: Amazon, Home Depot
Highs
• Compact handheld compressor
• Auto set pressure with accurate readings
Lows
• You must continuously hold the trigger while using it, despite the auto shutoff feature
• Battery and charger sold separately
Bauer 20V Cordless Inflator/Deflator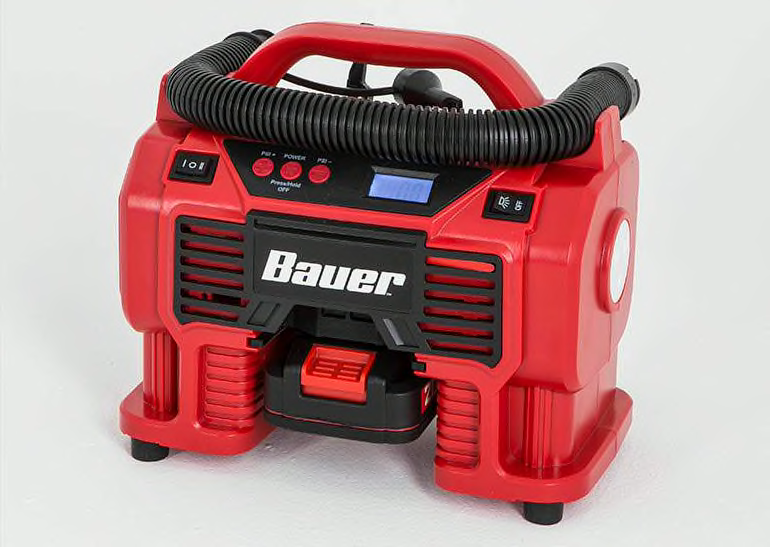 The Bauer inflator competes in this category as the bargain brand. Slightly longer-than-average fill times put this unit behind the others. It comes with a high-volume hose and a simple design, along with a 12-volt car plug, which make this unit worth considering.

Price paid: $50 for the inflator, $25 for the battery, $23 for the charger
Where to buy: Harbor Freight Tools

Highs
• 12-volt car plug
• Auto set feature
• Cheapest if you don't need cordless ability
Lows
• Clumsy hose storage
• Louder than most others
• Battery and charger sold separately