When you shop through retailer links on our site, we may earn affiliate commissions. 100% of the fees we collect are used to support our nonprofit mission.
Learn more.
Consumer Reports research shows that price is the primary factor for tire shoppers. But it's just as important to consider how long a tire is expected to last so that you can understand the total cost of ownership over the life of your tires.
This comes through loud and clear in our testing. In our last test of all-season tires, we found that the inexpensive GT Radial Champiro VP1 wears only half as long as the top-rated Michelin Defender. And while at $64 per tire, the GT Radial Champiro VP1 seems to cost half as much as the Michelin Defender at $120, the cost per mile for each tire is almost the same thanks to the excellent projected tread life of the Michelin. Replacing tires less frequently will also save you money on installation costs. (Our tests show the Michelin Defender also provides better handling and winter-driving performance.)
By looking at the complete cost and performance picture, you might find that you can get a better tire without higher long-term costs.
However, if you don't plan to hold on to your car for years to come, saving money now might be more important. The key is to make a purchase decision that addresses your needs today and down the road. (Check here to find out how long your tires will last.)

Tire Cost Comparison
The chart below shows the how all-season tires compare, based on the models tested by Consumer Reports. The prices listed are what we paid for each tire in the 215/60R16 size.
As the chart illustrates, the Pirelli P4 Four Seasons Plus presents a high value as a result of its $100 cost and its projected tread life of 100,000 miles based CR's test. In contrast, the Kumho Solus TA11 cost just slightly more at $108 apiece, but its projected 55,000-mile tread life hurts the overall value.
The best tires offer a strong balance of performance and tread life. Click on the tire names below for complete ratings of each model.
| | | |
| --- | --- | --- |
| All-Season Model | Price Paid | Cents/Tread Life Miles |
| | $100 | 0.10 |
| | $93 | 0.10 |
| | $78 | 0.11 |
| | $92 | 0.13 |
| | $80 | 0.13 |
| | $120 | 0.13 |
| | $102 | 0.14 |
| | $90 | 0.14 |
| | $91 | 0.14 |
| | $64 | 0.14 |
| | $121 | 0.15 |
| | $119 | 0.16 |
| | $94 | 0.17 |
| | $106 | 0.18 |
| | $98 | 0.18 |
| | $108 | 0.20 |
Tire Value by Category
The value story differs from category to category. Each tire type is engineered for specific purposes, with known strengths and limitations. All-season tires aim to perform well in a wide range of conditions and achieve a long tread life. With many performance all-season tires, grip is improved to bolster handling, but this takes its toll on longevity. The trend continues to ultra-high-performance all-season tires and UHP summer tires, which deliver the ultimate in road-holding in just fair weather and for a relatively limited tread life.

The general rule is: Higher-performance tires cost more and wear faster, leading to a higher cost per mile, as shown below. Replacing tires is expensive, but when faced with a large bill for tire replacement, installation, and possible service to the tire-pressure monitor, resist the temptation to downgrade your tires. Doing so will shortchange you and your car by potentially reducing its braking and handling performance.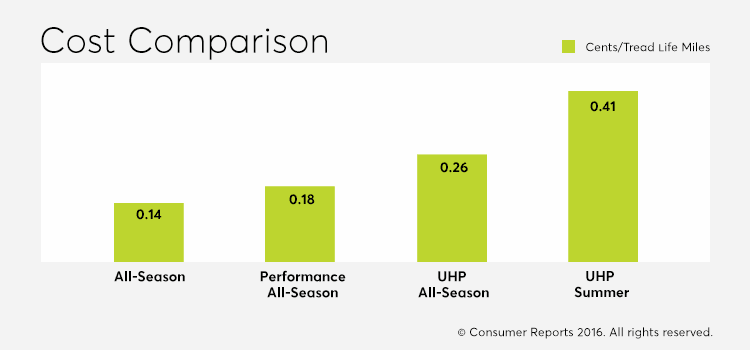 On the other hand, do be aware of the tires fitted to your next car, so you can better understand this ownership cost. If the ultimate in handling is not a priority, consider a version of the car with all-season or performance all-season tires, if available.
The relative tire performance is indicated on the sidewall in the speed rating. On the sidewall is a code that refers to the size, speed rating, and load capacity for the tire. In 225/40R18 92Y, the last letter "Y" is the speed rating. This indicates the tire's maximum speed when carrying the load defined by the load index (in this case, the 92)—not how fast you should drive!
Regular all-seasons are usually rated S (112 mph) or T (118 mph). Climbing up the scale to performance all-seasons are H (130 mph) and V (149 mph). UHP tires are rated ZR (149+ mph), W (168 mph), and Y (186 mph). And winter/snow tires may carry the letter Q (99 mph) or higher.
Learn more about how to decode a tire size.
Bottom Line
It's important to shop around. The performance and treadwear data in our tire ratings are great for discovering relative value, but there are plenty of discounts to be found that can adjust the math in favor of one tire or another.
As an example, we recently found free shipping, a 6 percent discount, and even a $70 rebate—all of which can sweeten the deal on a set of tires. It pays to surf both the manufacturer and local retailer sites to scout out discounts. Don't feel bashful to ask your local dealer if they can match an online deal, or at least include some freebies like road hazard insurance, mounting, or balancing.