When you shop through retailer links on our site, we may earn affiliate commissions. 100% of the fees we collect are used to support our nonprofit mission.
Learn more.
Americans spend billions of dollars on toilet paper every year. Sales of luxury rolls—whether quilted, lotioned, perfumed, or ultra-soft—alone totaled $1.4 billion in 2014, according to the Wall Street Journal. So brands like Georgia-Pacific and Procter & Gamble probably aren't too bothered by the announcement from Japanese toilet maker Toto that it sold its 40 millionth Washlet, a bidet-inspired wand that, with the press of a button, extends from the beneath the seat to provide a warm flow of cleansing water. Still, if the device does catch on in the U.S., as Toto hopes, it could save consumers money, not to mention forests of trees.
We haven't tested the Toto Washlet, though we've seen it in action at plenty of trade shows. The remote-controlled wand has five spray settings, including rear cleansing, front cleansing, and oscillating, and the water temperature is adjustable. There's also a warm-air drying cycle, which all but eliminates the need for toilet paper. The Washlet isn't cheap, starting around $600, so it will be some years before you start recovering the cost. The environmental benefits of less paper would be immediate, but the Toto Washlet does use a small amount of energy, so it's not a total win-win compared with toilet paper.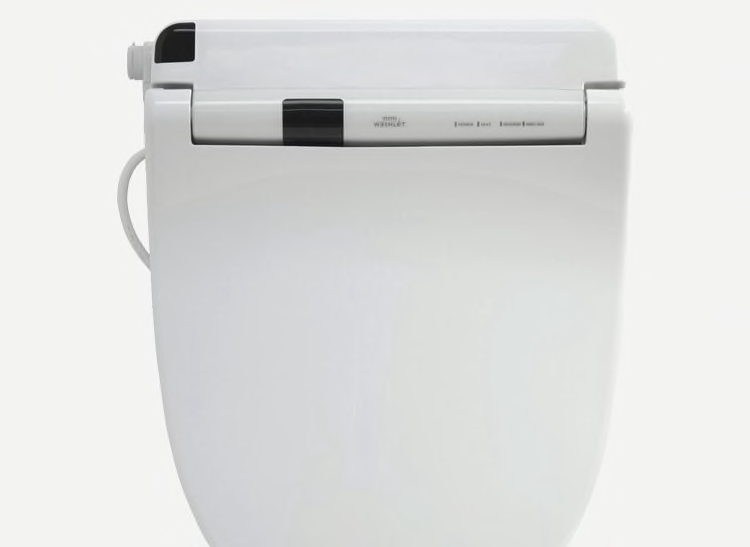 Using the provided mounting bracket, the Toto Washlet can be retrofitted to any standard toilet (though the color and design might not match as seamlessly as with a toilet made by Toto). There are a few high-end models with an integrated Washlet, but they're very expensive. The Toto NeoRest 750H, for example, is listed at $9,800. You can save thousands by choosing a top-rated Toto from our toilet Ratings and pairing it with a separate Washlet.
The Toto Drake CST744S, $250, is a 1.6-gallon toilet with top-notch solid-waste removal, fairly quiet flushing, and superior cleaning. And it performed well in our drain-line carry test, which measures how far flushed water and simulated waste travel when flushed. If you'd prefer a comfort-height toilet, consider the Toto Drake II CST454CEFG toilet, $320. It uses just 1.28 gallons per flush and still manages superb flushing power.
Not quite ready to give up on toilet paper? We have Ratings of that too, including details on the White Cloud Ultra Soft & Thick, a luxury roll that sells for just 25 cents per 100 sheets at Walmart.

High-Tech Bathroom Upgrades