Best Travel Backpacks
I evaluated 10 packs that can be stuffed under the seat in front of you on most airlines. The best of them do double duty as daypacks once you land, too.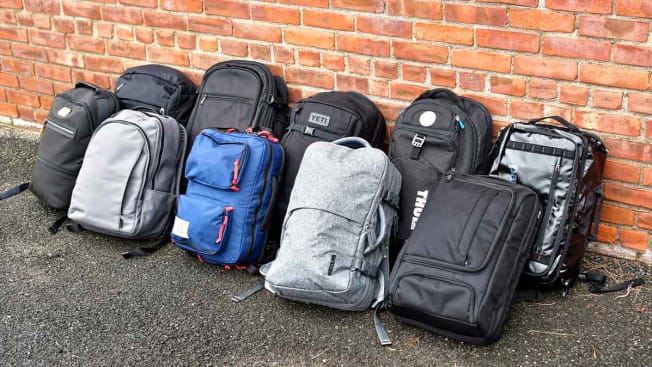 According to United Airlines, I have over 700,000 lifetime miles aboard their aircraft. Most of them have not been for pleasure, alas, but for work as a freelance journalist. 
If there's any benefit to all those hours (months? years!) flying, it's knowing how to pack and what to bring. Rule No. 1: Merino wool, because it's comfy, not scratchy, and doesn't retain body odors, which is key because the clothes you pack probably won't see a washing machine for a while. Rule No. 2: Lay everything out beforehand. This allows you to "edit" what you pack—by sacrificing wants in favor of needs—and strategize about what to put where within your bag of choice, so it's easier to locate that eyeshade, Nyquil, or novel when you're exhausted and the cabin lights are out on your red-eye. 
Which brings me to Rule No. 3: Never check a bag. Ever!
That means everything you take with you should fit in two bags—a roll-aboard and a "personal item," airline parlance for the purse, briefcase, shoulder bag, or backpack that stays with you during the flight. Pulling off proper two-bag travel requires a combination of tactical savvy and the right gear. I've managed trips as long as two weeks by wearing hiking boots onto the plane (so they eat less room in my bags) and taking only one other pair of footwear—running shoes, which do triple duty for exercise, daily use, and slightly more "formal" wear when matched with jeans and a blazer.
As for the gear? A good roller bag is important, but it's ultimately the personal item that can make or break your trip. That bag needs to offer maximum utility and flexibility, and to that end nothing beats a travel backpack. The genius of these bags is that they can accommodate way more stuff—and in a much more organized way—than a purse or briefcase. But some backpacks make better travel companions than others. That's why I took a look at 10 of them. (See how I evaluated each of these travel backpacks, below.)
So what are the qualities of a hard-working travel backpack? All the bags we chose for this evaluation had to:
Accommodate and logically organize everything you'd need to be comfortable/productive/entertained onboard the plane and whatever spillover there might be from your carry-on.

Function as the go-to bag when you get to your destination, whether that be day hikes into the mountains or business meetings in a boardroom.

Do double duty as a quick overnight bag, fitting a change of clothes and a second pair of sneakers or slippers.

Wear comfortably on the back for long stretches of time.

Fit (with a bit of creative shoving and squishing) within the roughly 9 x 10 x 17-inch space underneath the typical airline seat. (More on this later.)
In terms of price, the most expensive pack costs $300, while the AmazonBasics crept only slightly above $50. But the mean price of roughly $150 suggests that you don't have to spend a fortune. Materials, carrying comfort, internal organization, and structure also varied widely among backpacks and did not necessarily correlate to price.  And bigger isn't necessarily better: Filling the largest pack to capacity could just leave you with a bag that is impossible to straight-jacket under the seat.
The Results: Which Travel Backpack Should You Pick?
While this very much depends on your personal priorities, I think there are a few things most people would agree that they look for in a travel backpack. It should be well organized, with lots of slots for smaller items. A bag that's one empty maw can leave you constantly frustrated trying to retrieve what you need.
Likewise, it should have enough structure so that it's not just a sack with shoulder straps; structure helps stabilize the pack, so you're not using your muscles with every step to prevent the load from squishing around. And it should be fairly burly, with oversized zippers and handles, so you can open and close compartments just by feel and with operational ease. 
All of that pointed me toward one backpack: the Patagonia Black Hole Mini MLC for its winning combination of size, utility, comfort, and sturdiness. Though they didn't quite measure up to the Patagonia, other standouts were the Incase EO Travel Backpack for the business traveler and the ebags Pro Slim for strong value and right-sized comfort.
Incase EO Travel Backpack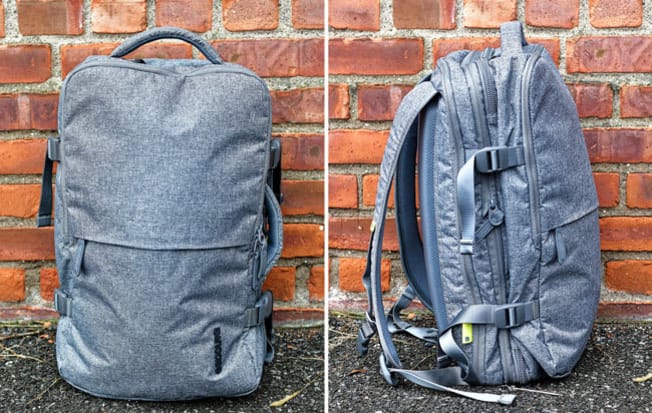 Price: $179
Where to buy: Amazon, InCase
Specs: 15 x 5 x 21.5 inches; 2.62 pounds
Claimed capacity: 24 liters. 
Quick take: Comfort, organization, and thoughtful construction married to an elegant design that says "I deserve a promotion." 
Price: $99.99
Where to buy: Amazon, eBags
Specs: 18 × 12.75 × 8.5 inches; 4 pounds
Capacity: 21.6 liters.
Quick take: Excellent organizational guts and a very comfy carry, but a wee bit too wee to fit all my stuff. 
Read my full review of the eBags Pro Slim.
The Other Bags We Evaluated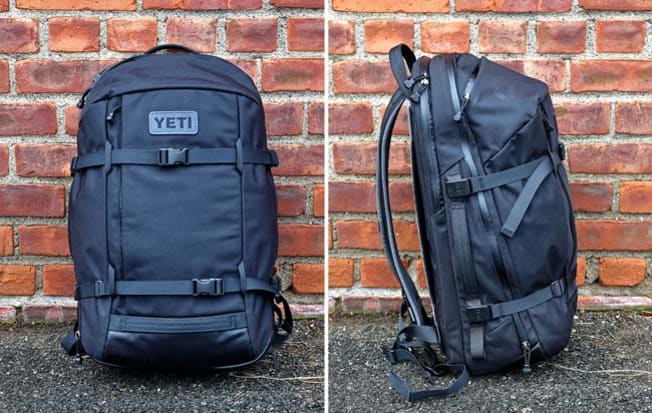 Price: $229.99
Where to buy: Yeti.com
Specs: 19¾ × 12 × 9 inches; 3.6 pounds
Claimed capacity: 27 liters.
Quick take: More for pleasure than business, but one of the most comfortable bags for carrying.
Topo Designs Global Briefcase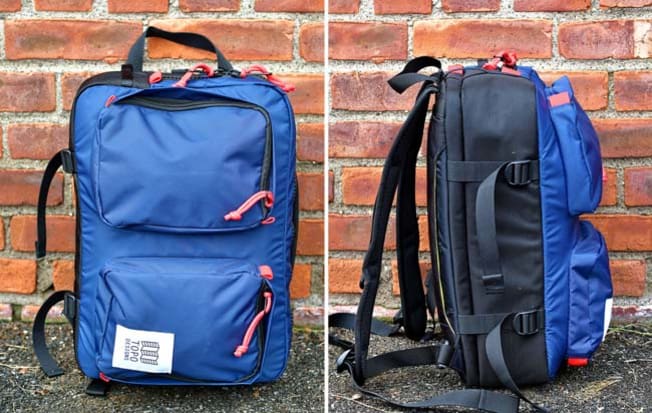 Price: $129
Where to buy: Topodesigns, Amazon
Specs: 15.5 x 11.5 x 4 inches; 2.2 pounds
Capacity: 14 liters.
Quick take: Cute and lightweight, but not quite up to the task of a heavy load.
Thule Crossover Backpack 32L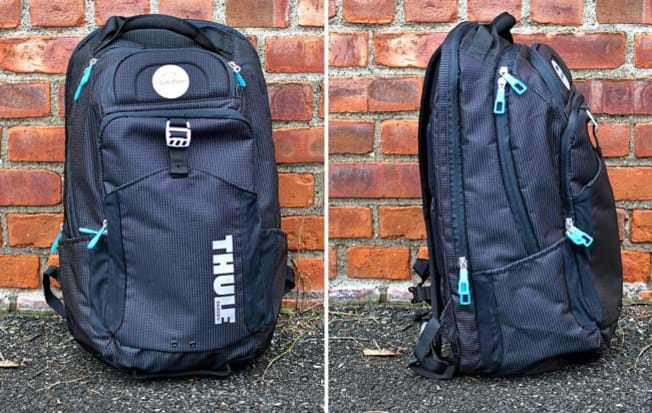 Price: $149.95
Where to buy: Thule, Amazon, Best Buy
Specs: 18.5 x 12.5 x 12.4 inches; 2.2 pounds
Claimed capacity: 32 liters.
Quick take: A business traveler's friend, with exceptional organization and comfort.
Pacsafe Vibe 28L Anti-Theft Backpack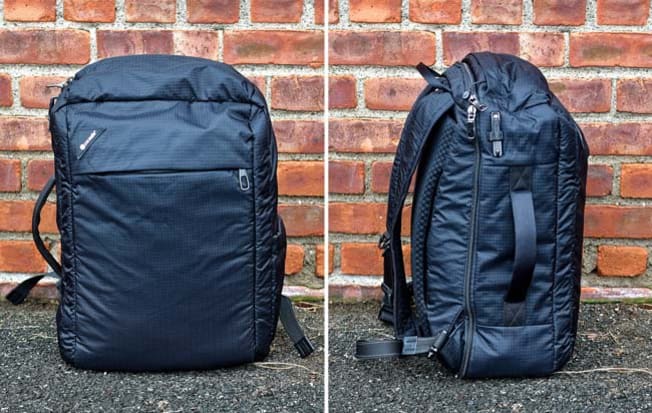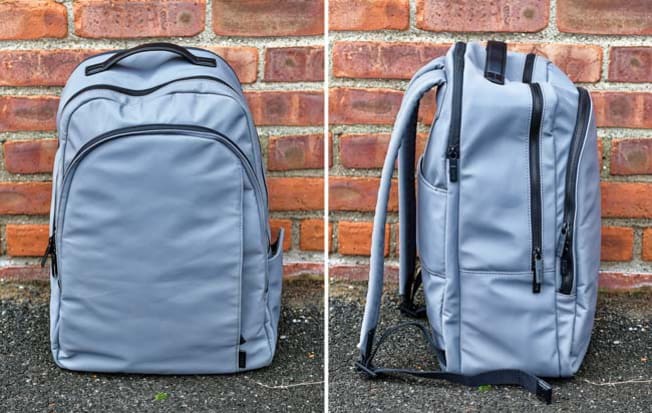 Price: $165
Where to buy: Away.com
Specs: 12.4 x 7.2 x 17.5 inches; 2.57 pounds
Claimed capacity: 25.5 liters.
Quick take: An ideal commuter tote—and a decent choice for lighter travel demands.
Read my full review of Away, The Backpack.
AmazonBasics Carry-On Travel Backpack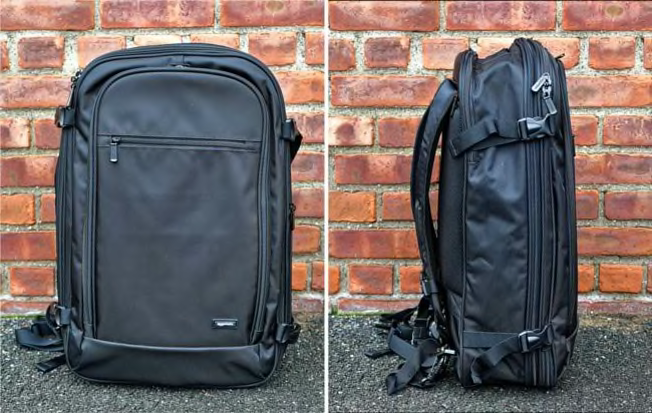 Price: $53.83
Where to buy: Amazon
Specs: 21.5 x 15.75 x 8.25 inches; 3.83 pounds
Claimed capacity: N/A.
Quick take: It has all the design elan of a Soviet housing block. But it's very affordable and certainly sizable. (Don't pack it too full or it may not fit under the seat.) 
Read my full review of the AmazonBasics Carry-On Travel Backpack.
Tumi Essential Backpack Alpha Bravo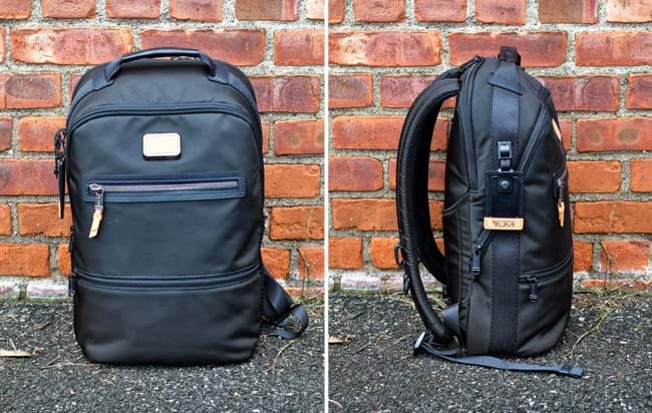 The Process: How I Evaluated These Packs
Because these bags are meant to sneak aboard an airliner as your personal item, my editors and I felt it was important to check their "stowability" in a typical underseat area. The thing is, unlike with carry-on bags meant to fit in an overhead compartment, there is no standard measurement for the space under coach airline seats. It varies from airline to airline, as well as from plane to plane within an airline's fleet.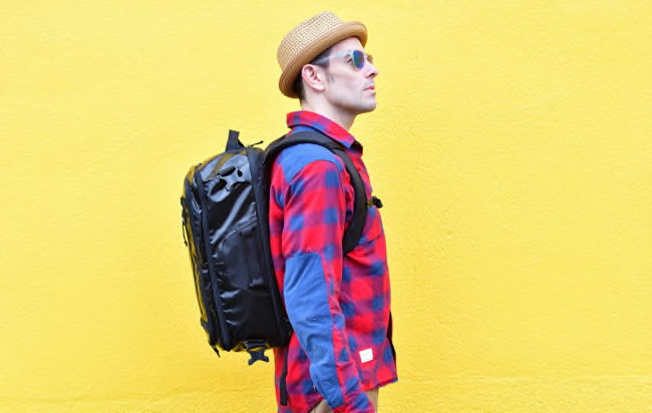 But we needed something, so we used United's regulations, which permit a maximum of 9x10x17 inches, and built a plywood box to those dimensions. We also thought it was important to simulate the in-flight experiences of fitting the bags beneath the seats and removing them, propping them in a lap, retrieving contents, and stowing them again. So we also fashioned a wooden facsimile of a seatback using the pitch measurements from this diagram on the FAA website that an FAA spokesperson confirmed is representative of the coach seating configuration on many planes. The rough average is about 30 to 32 inches between seats when measured from the top of one seatback to the top of the next (which is how the airlines measure such things). This can amount to as little as a meager 2 inches or so of kneeroom depending on how long your legs are. 
I'm calling my fledgling carrier Plywood Air. I think the honest tagline "Exactly What You're Expecting" is very refreshing!
The way airlines squeeze rows so tightly together means your feet are frequently invading that space meant for luggage—because there's really no choice. In my evaluations of packs ranging between 15.5 and 21.5 inches in length, only the shortest ones completely fit in the plywood bin, and even so, my shoes still overlapped the box. The FAA spokesperson warned that it's up to the airlines to enforce egress space that allows passengers to retreat to the aisle, and you'll see in my reviews mentions of bags that a flight attendant might ask that you stow in the overhead bin instead. 
We also considered comfort. Does the backpack dig into your spine or mold to your body so you barely notice it's there? These things matter, whether you're traipsing through airports or using it to stash souvenirs and carry a map, raincoat, and sweater once you've arrived. 
To find that out I spent a few weeks carrying these backpacks, plus pedaling them around on an e-bike, sometimes in the rain to see if they did okay with downpours (short answer—yes, mostly) plus playing tourist in my own town of Hudson Valley, New York, by shopping at the greenmarket and using the packs to carry groceries, and strolling the supermarket and the local Lowe's. How is that any different from being stuck during a 2-hour delay at JFK? For one thing, nobody's nearly as cranky. Also, nobody's wrapped your fruit in 15 layers of plastic or wants to charge you $12 for a beer.
Capacity and Functionality
Below you can see the items I typically pack, and also an alternative, a tidier packing list from my wife, an academic who doesn't have to bring as much as I do on the road. Her contents fit without drama into every pack I evaluated. My contents? Not so much. Literally. The total heft of what I chose to carry tipped the scales at 17.5 pounds. That shocked me, because nothing on my list felt particularly porky. But it all adds up, which is precisely the point of doing this sort of evaluation.
Among our specs we've included whether or not a pack includes an external water bottle holder (because that's just handy), a dedicated spot for glasses, and niceties like a key hook and exterior grab handles, as well as available waist and sternum straps that really help distribute weight.
No bag is perfect; some had extra capacity but were a difficult squeeze, piling out over my shoes. Others were likewise plenty capacious but shimmed into that cubby a little more artfully, typically because they weren't too wide, just long. And some couldn't hold everything but slid easily into the underseat storage area. I've noted these observations in the reviews. Whether it's better to have a smaller bag that can't hold all your stuff but is easy to cram in front of your Converses or take a larger bag that will hold everything but might end up in the overhead is a personal choice every backpack-toting traveler has to make on their own.
Medications and Personal Care Products
I like to have an over-the-counter pain reliever handy. (Prescription meds should always go in a carry-on because checked bags can go missing.)
Dopp kit 
Ear Plugs
Eyeglasses
Eyeshade
Hand sanitizer
Lip balm
Masks (one isn't enough for comfort reasons alone) 
Moisturizer
Tissues
Clothing and Accessories
Dress shirt (in case you're forced to gate-check that roll-aboard and for whatever reason it's not there when you land)
Fleece
Slippers/spare shoes (on a really long flight I like the option of changing footwear)
Sunglasses
Tech
Camera
Charging cables/converters/USBs/adapters (I carry all these in a single pouch) 
Laptop
Noise-canceling headphones/in-ear buds
Portable battery pack for charging devices
Tablet
Food/Drink
Chocolate
Snacks
Water bottle

Reading and Writing
Book/guidebook
Magazine
Notebook
Pens and pencils
Miscellaneous
Gum
Passport
Tiny headlamp, which can work better than the overhead one for reading on flights
Tiny TSA-safe multitool
Umbrella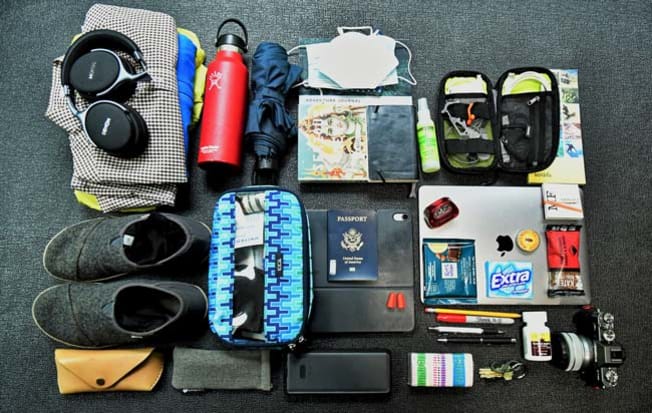 Personal Care Products
Basic makeup kit
Computer glasses
Hand sanitizer
Toiletries kit
Clothing and Accessories
Sunglasses
Wrap
Tech
Chargers
Ear buds
Laptop 
Phone
Food/Drink
Snacks
Water bottle
Reading and Writing
Book
Filofax
Legal pad
Pens
Miscellaneous
Gum and mints
Knitting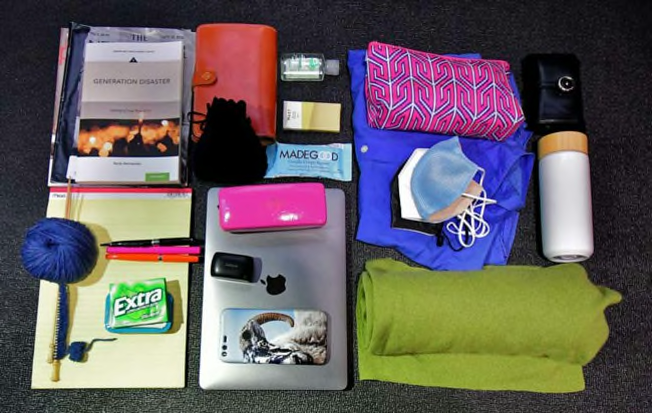 This product evaluation is part of Consumer Reports' "Outside the Labs" reviews program, which is separate from our laboratory testing and ratings. Our "Outside the Labs" reviews are performed at home and in other native settings by individuals, including our journalists, with deep subject matter experience or knowledge and are designed to offer another important perspective for consumers as they shop. While the products or services mentioned in this article may not currently be in CR's ratings, they might eventually be tested in our laboratories and rated according to an objective, scientific protocol.
Like all CR evaluations of products and services, our "Outside the Labs" reviews are independent and free from advertising. If you'd like to learn more about the criteria for our lab testing, please go to the Research and Testing page on our website.
Would you like to see travel backpacks become part of the product-testing program in CR's laboratories? If yes, please press the vote button above.
When you shop through retailer links on our site, we may earn affiliate commissions. 100% of the fees we collect are used to support our nonprofit mission. Learn more.