When you shop through retailer links on our site, we may earn affiliate commissions. 100% of the fees we collect are used to support our nonprofit mission.
Learn more.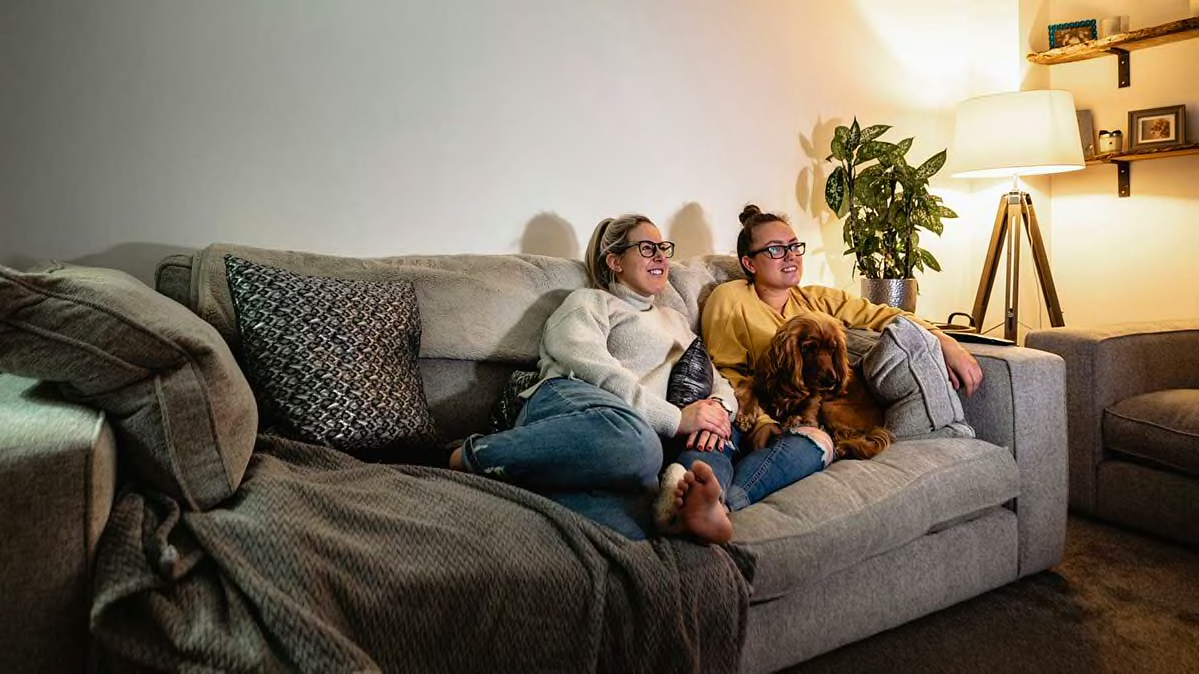 Antennas and over-the-air broadcasts are the biggest bargain in entertainment. You can watch a lot of TV shows free of charge, even with an inexpensive indoor antenna. The drawback is that you can't get cable channels, such as CNN and HGTV, or streaming services such as Disney+ or Netflix.
But that's going to change over the next few years—or in just a few days if you live in Boise, Idaho. That's where a new TV service called Evoca is hitting the airwaves first. Using a new over-the air TV standard called NextGen TV, it will marry traditional over-the-air TV channels with a handful of lifestyle networks you'd typically get from a cable TV package, or a streaming service such as Sling TV or YouTube TV.
But unlike all the programs you've watched to date using an antenna so far, it won't be free. Instead, Evoca's package of about 60 live and on-demand channels, including local sports, news, and weather, plus a smattering of cable-type channels, will cost $20 per month when it launches Sept. 1, eventually rising to about $50 for a plan that has more than 80 channels.
While Evoca is currently available only in Boise—the company says it will expand to other cities and rural areas starting next year—it provides a glimpse of what new types of services and TV plans to expect once the new over-the-air standard becomes more widely available. Some broadcasters are also starting to use the new technology with old-fashioned free programming.
Here's how the new services will work. The programming comes over the air, just like any broadcast you now get with an antenna. In fact, you can pull in the new signals using your current antenna. But there are a few important differences.
One is that you'll need a set-top receiver, which Evoca is calling a Scout; the other is that an internet connection is required. The Scout includes the tuner needed to receive the new types of signals. Evoca, like all other NextGen TV systems, uses a new over-the air standard, technically called ATSC 3.0, that won't work with the tuners found in almost all current TVs. You'll need a separate set-top receiver for every TV you want to connect. These will also have an ATSC 1.0 tuner, so you can keep receiving standard broadcasts.
One benefit of ATSC 3.0 is that it can carry a lot more data than the older ATSC 1.0 standard, so Evoca is able to offer ultra-high definition (4K) programs and movies—something not possible with regular over-the-air broadcasts. While support for high dynamic range (HDR) content won't be available from Evoca at launch, it is on the company's road map for the future.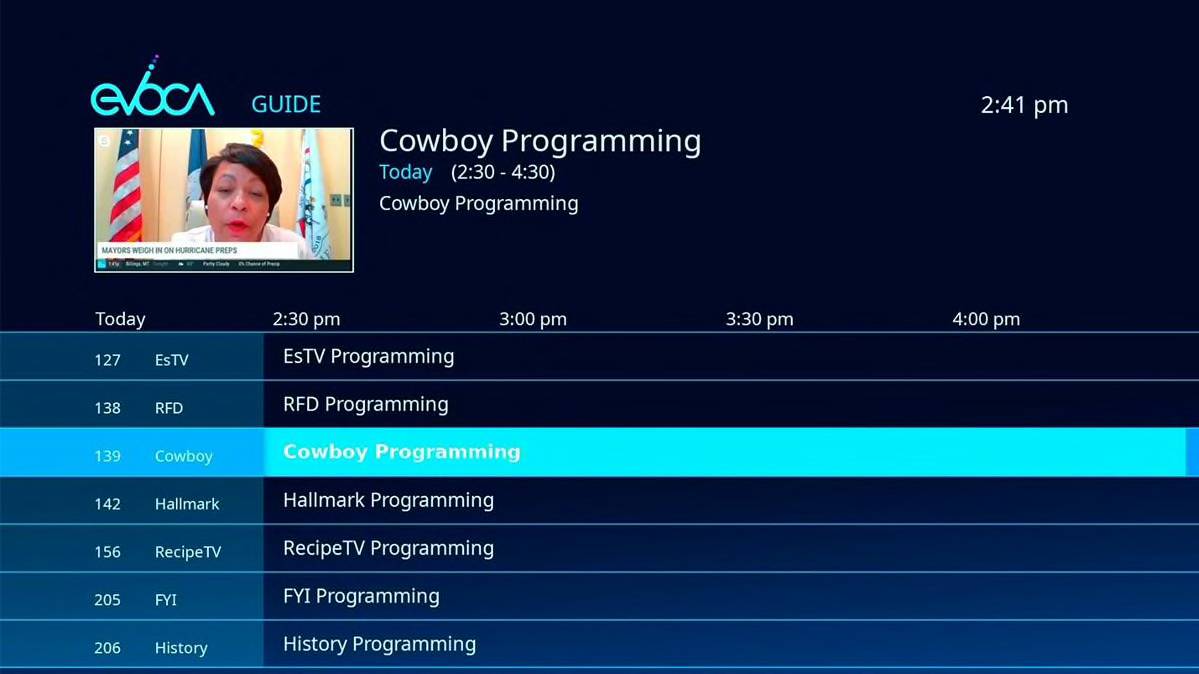 Although Evoca requires an internet connection, it doesn't need a very fast one, because most of the programming is beamed over the air. Mainly, the internet is used for communications between the receiver and the company and for some on-demand services. In fact, Edge Networks, which owns Evoca, recommends a minimum speed of just 5 megabits per second, far below the 25 Mbps speeds typically needed for households that use streaming services such as Hulu + Live TV or YouTube TV.
That makes Evoca an appealing solution for people in small cities or rural areas where fast broadband speeds either aren't available or are too expensive, Edge Networks CEO Todd Achilles tells CR.
"Using ATSC 3.0, our signal doesn't affect, and isn't affected by, internet bandwidth in the home," Achilles says. That means that anyone watching TV doesn't have to compete for bandwidth with other people in the household who are playing games, videoconferencing, or streaming video from the internet.
What Evoca Provides—and What's Missing
To promote its launch, Evoca is giving early subscribers service for $20 per month until the end of the year, a free Scout and remote control, and a free antenna. After the promotional period ends, the service will cost about $50 per month. The Scout receiver costs $100, or customers will be able to rent one for a small monthly fee. But unlike cable TV users, Evoca customers won't encounter a contract or any hidden fees.
Initially, subscribers will be able to get local channels from ABC, CBS, Fox, and NBC, plus PBS and Telemundo; cable lifestyle networks, including A&E, Hallmark Channel, History Channel, and The Weather Channel; and programming from both free ad-supported and subscription services such as Acorn, Bloomberg, Crackle, Curiosity Stream, and Sesame Street. (You can see the full channel lineup on the Evoca website.) Program choices can be viewed in a grid-style program guide, and more channels will be added in the future, the company says.
Right now, the service is missing a few features beyond support for HDR. One is the ability to record shows, because Evoca doesn't have its own DVR or support third-party models, such as those from TiVo or Tablo. Achilles tells CR that adding DVR capability is a top priority for the company. Also planned are the ability to customize the program guide with favorite channels, and to add premium channels such as HBO or a streaming service such as Disney+ or Netflix.
NextGen TV Rollout Just Starting
Evoca is offering a paid service, but broadcasters can also use the new technical standard to improve free broadcasts. The new standard could let people receive TV shows on smartphones, tablets, and other portable devices, and even in cars speeding along streets and highways.
The signals are more robust than current over-the-air broadcasts, so reception should be better for many people in their homes. The new standard will also improve emergency alert systems, according to its proponents, so you could receive more precise, localized warnings during natural disasters or fast-moving weather events.
NextGen TV is just starting to roll out, but that could change quickly. "I would expect ATSC 3.0 to reach about half of the U.S. population by next summer, which is excellent progress," says Madeleine Noland, the president of ATSC, an organization that develops technical standards for television.
Once NextGen TV broadcasts start in your area, you might not be able to receive them, however. TVs sold before 2020 don't have the tuner you'll need to receive NextGen TV broadcasts built in—and many of the new TVs coming on the market this year don't have them, either.
However, your TV won't suddenly stop working with an antenna. To ensure a smooth transition and not leave consumers scrambling to buy new equipment, the Federal Communications Commission is requiring stations to continue offering ATSC 1.0 broadcasts for at least five years.
The big question for many of us is whether over-the-air TV will remain free for most consumers, or whether everyone who wants to use an antenna will eventually have to pay for an Evoca-style service. Consumer Reports and other advocacy groups believe that people should continue to have access to some level of free over-the air high-definition TV reception.
"We're looking for the Federal Trade Commission to hold broadcasters to the same public interest obligations with ATSC 3.0 broadcasts they had with ATSC 1.0," says Jonathan Schwantes, senior policy counsel at Consumer Reports.
That would mean antenna users could choose to pay for premium over-the-air services, but they wouldn't have to.