When you shop through retailer links on our site, we may earn affiliate commissions. 100% of the fees we collect are used to support our nonprofit mission.
Learn more.
After sifting through all the new Verizon FiOS packages for TV, I'd hate to see what things would look like if the company were to try any harder to confuse customers.
Earlier this week, Verizon split its original Custom TV offer—a "skinny" Verizon FiOS package that combined about 35 channels with genre-based, add-on programming packs—into two separate services: Custom TV Essentials and Custom TV Sports & More. The move was seen by some as a way to placate ESPN—which had sued Verizon for relegating the channel to an add-on sports TV bundle in order to create a lower cost plan for those not so interested in college basketball and Monday Night Football.
But when I started to compare the new Verizon FiOS packages to the old one to see which provided the best deal, the dizzing array of offers made it incredibly difficult to do the math.
In the screen grab below, the most basic offer for Custom TV Essentials or Sports & More costs $55 a month. Essentials features a lineup devoted to entertainment, kids programming, lifestyle and news. Sports & More includes some general interest channels, plus ESPN and Fox Sports. If you'd like to add a pack of six to 12 channels tailored to kids, teens, movie lovers, or global sports fans, you can do that for an extra $6 a month each.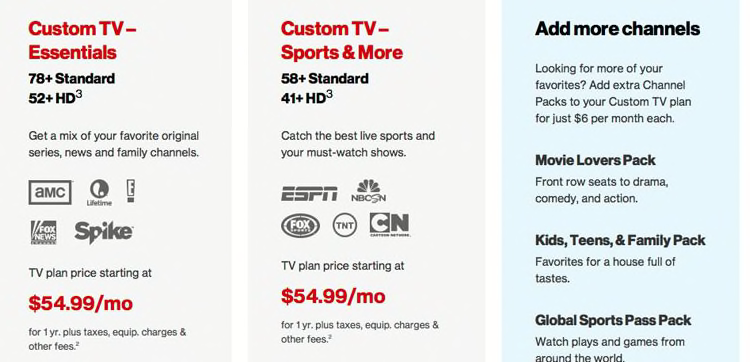 But while reviewing the shows offered in each package, I came across the promotion below, which lists the price for the basic TV service at $65 a month. UPDATE: After this article appeared, Verizon reached out to us with this message: Some of the confusion you referenced in your story was based on outdated information on one of our vendor's websites – information that has now since been corrected. For example, you referenced two screen grabs quoting different prices - $55 vs. $65 – for the standalone Custom TV service. The correct price is $65 and we've corrected the other website.
For the original Verizon FiOS TV package, we recommended a bundle that combined the TV service with broadband, since it cost only $20 more each month. So we decided to look into that option once again.
The triple-play ad below promises Custom TV plus 50Mbps broadband and phone service for $80 a month. But right next to it, there's a bundle with faster 100Mbps broadband for only $70. You have to look carefully to see that the offer for the faster-speed bundle lasts only one year, while the other stretches to two years.
To determine the overall cost of the $80-per-month plan, though, you have to factor in the $300 Visa gift card that comes with it and then consider that the monthly rate jumps to $100 in the second year of the deal.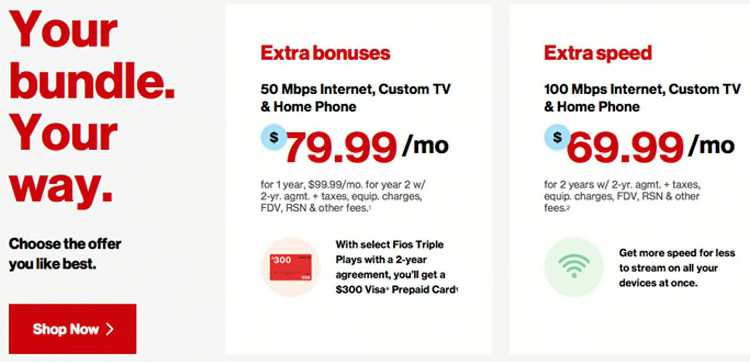 As you can see in the screen grab from yet another Verizon website promo, you can also get a double-play deal—TV and fast 100Mbps broadband—for $65 a month, provided you're willing to sign up for two years. There's even an $80 per month double-play deal somewhat similar to the $80 triple-play offer above.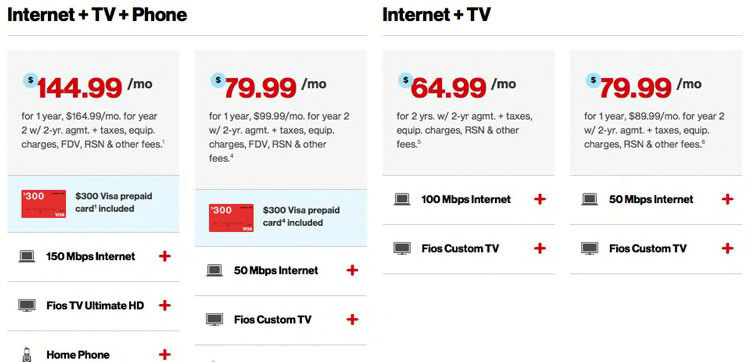 After doing enough math to rival an accountant, we found that the $65-per-month TV and 100Mbps Internet Verizon FiOS TV package would cost $1,560 over two years, excluding Verizon's add-on fees (see below). Oddly, the same plan would set you back $2,040 with the slower 50Mbps service.
The triple-play plan with the faster Internet service is also the better deal. At $70 per month, it costs $1,680 over two years. Once you subtract the $300 Visa gift card from the $2,160 total of the other plan, you end up with $1,860.
And, oh, remember those add-on fees we mentioned earlier? You might be in for a shock when your first bill arrives. Based on the fine print, Verizon charges up to $150 as a "set-up" fee, $12 per month for an HD settop box, and $10 per month for a router fee. There's also a $5.85 regional sports network fee, a $2.99 per month broadcast fee, and $.95 a month fee for something called an "FDV Admin," which is apparently a Verizon-imposed surcharge for voice service.
If you divide the $150 set-up fee over 12 months and add in the other charges, you'll be paying $44 a month on top of the stated cost of the plan. Suddenly, that $65 deal has ballooned to nearly $100. Try not to have any misgivings, though. If you decide to cancel your service after the second month, Verizon can charge up to $230, depending on the plan, as an early-termination fee.
Our Take
After doing all the math, you might still find that one of the Verizon FiOS packages for TV makes sense for your family. But, frankly, we don't think it should be this hard to determine that. You have the right to know exactly how much you'll be paying each month, and Verizon seems to be going out of its way to make it hard for you to make an informed choice. It doesn't have to be this way.