When you shop through retailer links on our site, we may earn affiliate commissions. 100% of the fees we collect are used to support our nonprofit mission.
Learn more.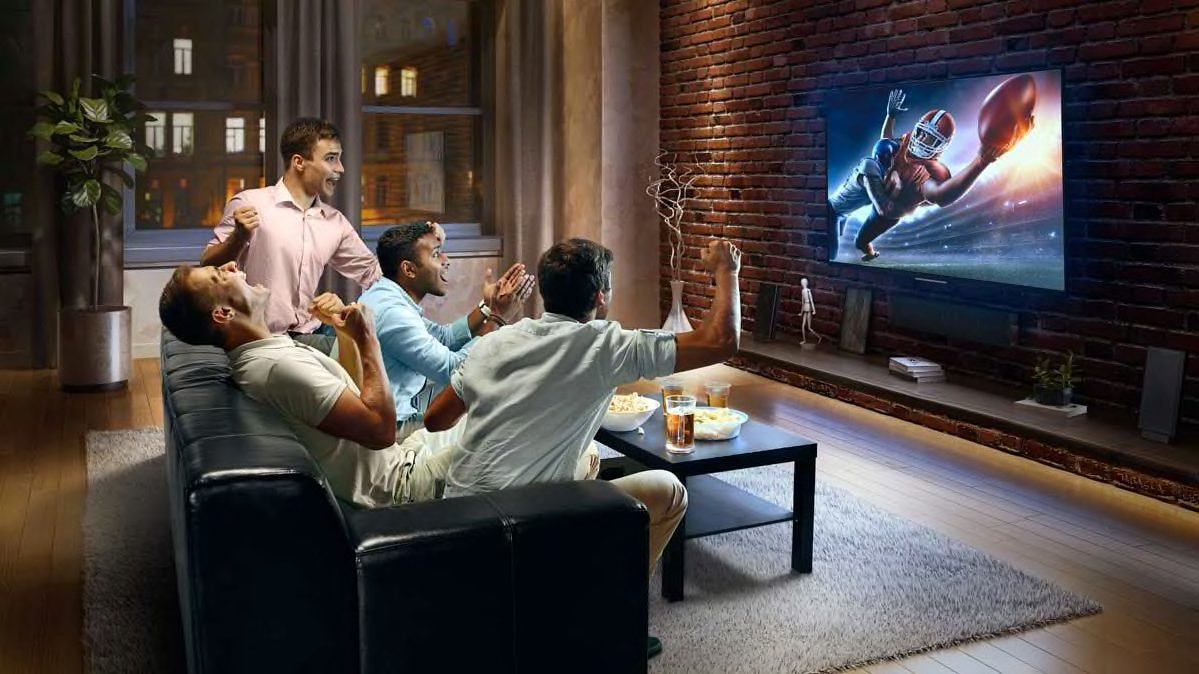 With Super Bowl LIII almost here, you're probably making plans to watch the Patriots-Rams game on CBS. You're all set if you have a pay-TV service, use an antenna, or are attending a Super Bowl party.
What if those options aren't available to to you? Below, we describe three easy ways to catch all of the action on TV.
Before you sit down for the pregame show and tuck into your favorite Super Bowl nosh, give your TV a tuneup—CR's settings advice is easy enough for a tech rookie to follow.
And if you're a Consumer Reports member, use our exclusive Screen Optimizer, which provides the best settings for thousands of TV models. These are the settings we arrived at after calibrating each TV in our labs to get it looking its best.
Streaming Via CBS
You'll have several options for watching the big game through CBS, even if you normally don't get that network.
First, Super Bowl LIII will be streamed live for free on the CBS Sports website. You can also watch the game via the CBS Sports app, which is available on phones, tablets, and many streaming players, including Amazon Fire TV, Apple TV, Google Chromecast, and Roku devices. (On Roku, go to the Featured Free section on the left side of the main menu, and then select the Super Bowl LIII tile on game day.) There's no sign-in requirement this year, the network says.
Other options for mobile users: Verizon and the NFL. Verizon will stream the games on phones and tablets via several of its sites and services, including Yahoo Sports, Yahoo, AOL, Tumblr, and Complex. The game is also available via NFL.com, and on the NFL app on mobile app on phones and many tablets.
Streaming Via Locast
One new option for many people this year is watching the game on Locast, a service that streams over-the-air broadcast channels for free via the internet.
Sound too good to be true? It might be. The company streams these stations without paying fees for the content. It's not the first time this has been tried—Aereo and FilmOn did the same thing, capturing broadcasts using antennas and streaming the signal to consumers. Those two operations eventually shut down after the companies lost legal challenges from broadcasters.
The difference, though, is that Locast is a nonprofit company that argues it is operating under an exception in federal copyright law. Sign up for the service and you'll see that instead of charging consumers directly, Locast asks for donations.
Locast has been available in seven major markets, including Boston, Chicago, Dallas, Denver, Houston, New York, and Philadelphia. But just this week, in time for the Super Bowl, it added Baltimore and Washington, D.C.
To use the service, go to the Locast website, click on Live TV, and choose a location from the available cities. (You'll need to enable geolocation in your browser's settings.) You have to create an account before you can start streaming.
Streaming Via a Free Trial
Several cable-style streaming services, such as DirecTV Now, FuboTV, Hulu With Live TV, Sony PlayStation Vue, and YouTube TV, offer CBS in many markets. (CBS is still notably absent from the Sling TV service.) Most of the services cost about $45 a month, but all offer some type of free trial, typically for seven days. (YouTube TV has an especially generous three-month free trial period.)
In addition, CBS has its own streaming service, CBS All Access. The ad-supported service costs $6 a month—or you can pay $10 a month for an ad-free version—and it, too, has a free seven-day trial.
Two things to remember, though. One, CBS isn't available in every market on every service, so check to see if it's included in the channel lineup in your area. The other is that you generally have to give a credit card number for the free trial, and your card will get charged if you don't cancel before the trial period expires.
But who knows: Maybe you'll find one of these streaming services satisfying enough to join the legion of cord-cutters who have abandoned their traditional pay TV packages.