What Works Best to Remove Stains? Bissell Little Green Carpet and Upholstery Cleaners vs. Resolve Sprays.
Find out which type of stain remover prevailed in CR's tests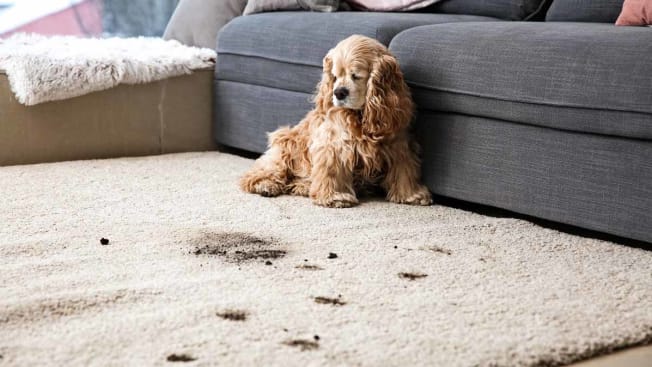 So your dirty little secret is that you like to eat dinner on the couch while watching "Jeopardy!"
And maybe, just maybe, you let slip a bit of sauce or some crumbs here and there. What to do? Well, you can use an inexpensive fabric spray to deal with stains. But for a small investment, you can buy a portable carpet and upholstery cleaner to rid the fabric of any tell-tale signs of sloppy eating. And nobody will ever know.
In addition to sneaking a snack on the sofa, there are a number of reasons you might want a small upholstery cleaner. Say your dog jumps on the couch the moment you leave the house. (You know that happens.) Or frequently tracks muddy paw prints across the rug.
Consumer Reports bought and tested two Bissell Little Green Portable Carpet Cleaners and compared them with two Resolve fabric-cleaning sprays to determine whether you can truly remove a stain with a little elbow grease or if a dedicated appliance makes a difference.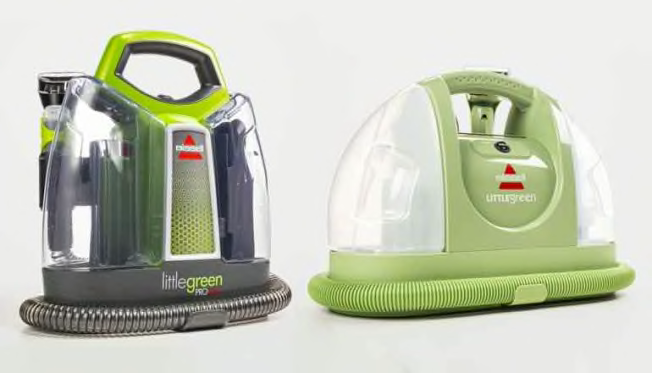 Like full sized-carpet cleaners, the portable Bissell machines work by spraying a mixture of hot water and cleaning solution from an onboard tank onto the surface of the fabric. Following the directions in the owner's manual, you apply the solution for the recommended amount of time, then vacuum it up. Dirty water is collected in a second onboard tank that you dump out when the deed is done.
Sprays, by comparison, are more for spot cleaning—rather than your entire couch. For best results, blot up any excess moisture caused by the spilled food, spray stained areas with Resolve, and blot again with a clean damp cloth or sponge. Then blot gently until the water in the cloth or sponge runs clear.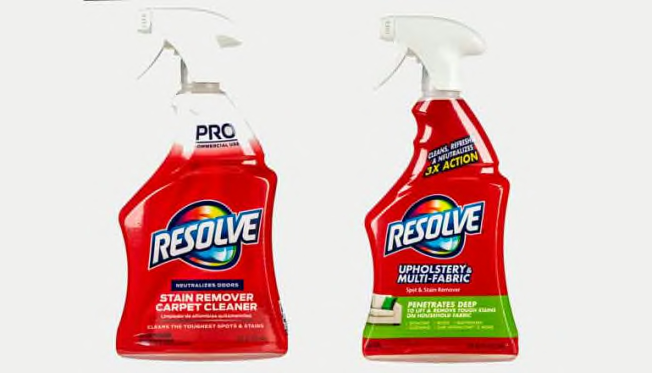 To test the Bissell cleaners and the sprays, we cleaned some grungy office chairs and the, ahem, icky front seats of a colleague's truck. We also conducted a carpet-cleaning test in which we try to remove coffee, ketchup, orange juice, tea, mustard, soy sauce, chili oil, and egg yolk from a piece of untreated, light-colored carpet.
What You Get With the Bissell Little Green Carpet Cleaners
Each Bissell is equipped with:
• A 15-foot-long power cord.
• A 4½-foot-long flexible hose with a handle and spray trigger.
• An onboard tool, a hose, and cord storage.
• A tough-stain tool.
• Two tanks (one for clean water and one for dirty).
• A carrying handle.
• A sample of Bissell cleaning solution.
Each weighs just under 10 pounds when empty. The ProHeat version, which costs 10 bucks more, adds a three-in-one stair-cleaning tool for carpeted stairs; it has a rotating head for cleaning treads, risers, and edges.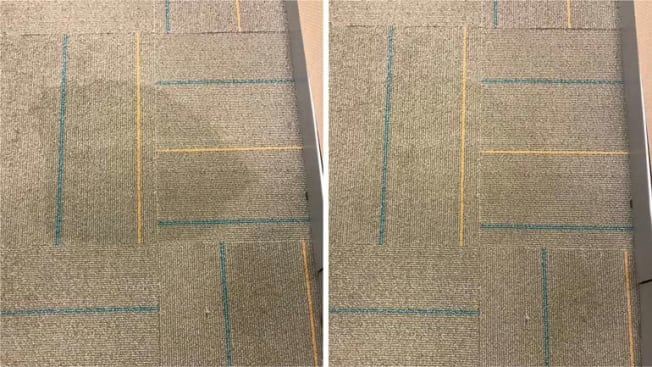 Spot Cleaning With the Resolve Sprays Was Spotty
Deitrick wasn't that happy with the results using the Resolve sprays because they typically leave behind a lot of soil and cleaning solution. "The recommended blotting technique is simply ineffective at removing the cleaning solution from the upholstery and padding beneath it," he says. "So some small amount of the soil is removed by the blotting, but the majority of it remains behind or is driven deeper into your furniture or seat."
The good news is, if spraying the Resolve fails, you can follow up with an upholstery cleaner. "You can reclean the area to improve it," Deitrick says. "I did that with the car upholstery."
Results With the Bissell Little Green Carpet Cleaners Were Clean As a Whistle
The thing about upholstery cleaners is if you try to spot clean, you'll end up with a clean spot and a dingy area surrounding that spot. So plan on cleaning an entire cushion or section at once. "Spot cleaning doesn't really work well, unless the rest of the fabric is very clean to begin with," Deitrick says. "Otherwise, you get a clean spot on a less-clean cushion. Overall, cleaning large fabric areas is much easier with either of the Bissells."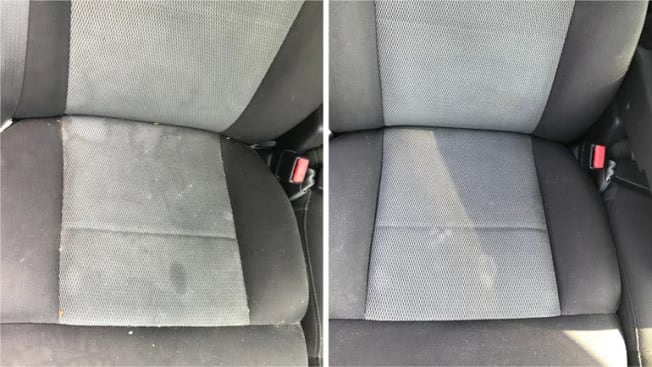 In our tests, both of the Bissell Little Green Portable Carpet Cleaners worked better than the Resolve sprays. Hands down. And there were few differences between the two machines—beyond the fact that the Bissell ProHeat has a stair-cleaning tool and looks a little more modern. Both are about as noisy as a standard vacuum, but the ProHeat is a smidge quieter. The added cost of the ProHeat may be worth it if you have carpeted stairs or if you prefer a slightly quieter appliance. 
Where to Buy
Bissell Little Green Portable Carpet Cleaner 1400B: Amazon, Bissell, Walmart
Bissell Little Green ProHeat Portable Carpet Cleaner 2513G: Abt, Amazon, Best Buy, Bissell, Target, Wayfair
When you shop through retailer links on our site, we may earn affiliate commissions. 100% of the fees we collect are used to support our nonprofit mission. Learn more.