Need new wheels but have a specific budget? Buying a used car can be a way to get the biggest bang for your buck. It's simple: After one year, a new car on average depreciates 27 percent from its sticker price; after three years, it's worth barely half.
Picking out a good used car from a sea of bad ones has never been easy. You want a vehicle that's reliable, affordable, and equipped with modern safety features. And you want to avoid one that's been damaged in an accident. The whole process can sometimes feel overwhelming, but it doesn't have to.
We've created this guide to help you find the small cars, sedans, and SUVs that are most likely to fulfill your needs, without breaking down and soaking you with ­repair bills.
The group performed well in CR road tests when they were new and each had consistent above-average reliability for multiple years. In addition, the models offered electronic stability control as a standard or optional feature.
At CR, we know that ESC can save lives. It's so important that it has been required on all new cars since the 2012 model year. If you're looking for a car, pickup, or SUV older than that, look for models that have the feature.
Even among the used cars we recommend, there can be stinkers—because of a bad day at the factory or a neglectful owner who didn't care much for car maintenance. Make sure to pay for a thorough inspection by a certified mechanic before you sign on the dotted line.
Click through the model names below for road test, reliability, owner satisfaction, pricing, and more.
Once you're ready to shop, go to our Used Car Marketplace to browse local vehicle listings along with predicted reliability and owner satisfaction scores.
Under $10,000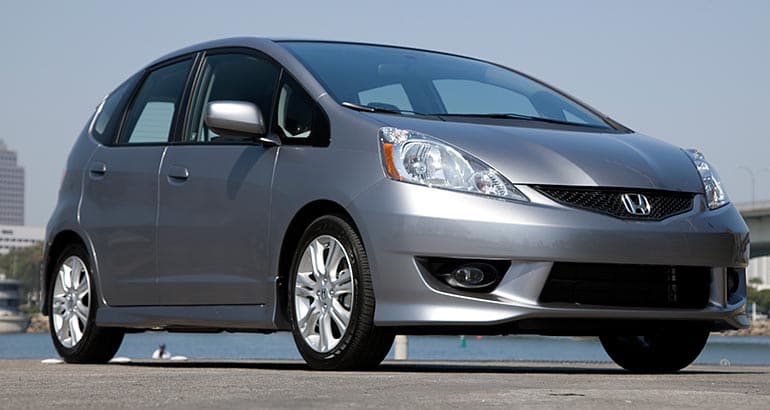 Subcompact
Honda Fit 2007-2011
The Fit is roomier on the inside than you might expect, with an interior that is unusually versatile and flexible. The 2011 model year has stability control.
Compact
Pontiac Vibe 2007-2010
Toyota Matrix 2007-2008, 2010
The Pontiac Vibe and its corporate twin, the Toyota Matrix, are reliable and spacious compact hatchbacks. Both have fairly nimble handling, with rides that are borderline jittery. AWD was available as an option.
Other good choices:
Toyota Corolla 2007-2011
Toyota Prius 2007-2009
$10,000-$15,000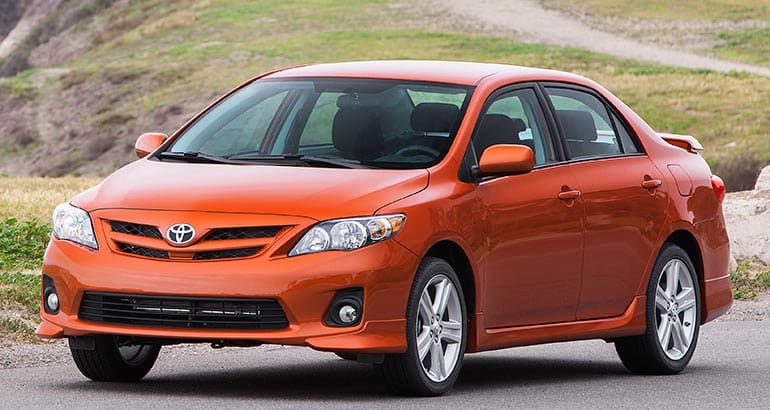 Subcompact
Honda Fit 2012-2013
Although it's a bit noisy, the Honda Fit is a standout for reliable, fuel-efficient transportation. Its flexible interior makes it a practical choice among subcompact cars.
Compact
Toyota Corolla 2012-2014
Dependable, fuel-efficient transportation is the Corolla's strength. There isn't anything flashy, but the interior is comfortable and roomy. ESC and curtain airbags were standard after 2010.
Other good choices:
Toyota Prius 2010-2012
Sedans
Acura TSX 2007-2010
Buick Verano 2012-2013
You can stick to your budget and still get a reliable premium car if you choose the slick-handling TSX, which is a sporty car based on the European version of the Honda Accord. The Buick Verano features responsive handling, a good ride, and standard ESC and curtain airbags.
Other good choices:
Acura TL 2007-2009
Honda Accord 2008-2012
Infiniti M 2007-2008
Lexus ES 2007-2009
Lexus GS 2007
Toyota Avalon 2007-2010
Toyota Camry 2009-2012
SUVs
Honda CR-V 2007-2010
This SUV is one of the most popular, thanks to its strong resale value, agile handling, excellent reliability, and fuel-efficient powertrains. Curtain airbags and ESC are standard.
Other good choices:
Lexus RX 2007
Toyota Highlander 2007-2008
Toyota RAV4 2008-2009
$15,000-$20,000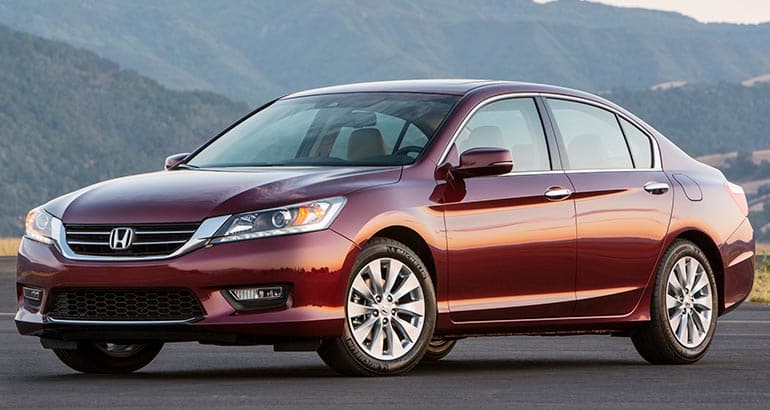 Subcompact
Honda Fit 2016
The redesigned, third-generation Fit added a lot more creature comforts, better crash-test performance, and a new engine and transmission that help to improve fuel economy.
Compact
Toyota Prius 2013-2015
The Prius has always proved that you don't have to give up space or ride comfort to get stellar gas mileage—its 44 mpg is better than that of any vehicle that doesn't plug in.
Other good choices:
Toyota Corolla 2015-2016
Sedans
Honda Accord 2013-2014
Lexus ES 2010-2011
With its cavernous backseat, Honda's typically responsive suspension, and impressive fuel efficiency, the Accord is a dependable choice among used sedans. If you want a bit more luxury for your money, the ES takes the platform of the reliable Toyota Camry and adds luxury appointments, road-trip-worthy front seats, and a quiet cabin.
Other good choices:
Acura TL 2010
Acura TSX 2011-2013
Buick Verano 2014-2015
Lexus CT 200h 2011-2012
Lexus GS 2008
Lexus IS 2008, 2010
Toyota Avalon 2011-2012
Toyota Camry 2013-2014
Sporty
Mazda MX-5 Miata 2012-2013
The Miata received standard ESC in 2012, making this nimble and fun sports car even better. Its 2006 redesign brought more interior and trunk space, and an available power hardtop.
Wagons
Toyota Venza 2009-2011
Part wagon, part SUV, the Venza has a quiet interior, a roomy rear seat, and a generous cargo area. Handling is secure though not sporty. Reliability is rock-solid, making this a wise choice.
Other good choices:
Toyota Prius V 2012-2013
SUVs
Toyota RAV4 2010-2012
Toyota 4Runner 2007-2008
These models are two different takes on SUVs. The RAV4 is available with four- and six-cylinder engines, both of which are very fuel-efficient. It is great for urban and suburban families, and its nimble, secure handling is a plus. On the other hand, the 4Runner is a serious off-roader with a well-finished and quiet interior, smooth V6 or V8 engine, and an available third-row seat.
Other good choices:
Honda CR-V 2011-2013
Lexus RX 2008-2009
Subaru Crosstrek 2013
Toyota Highlander 2009-2010
$20,000-$25,000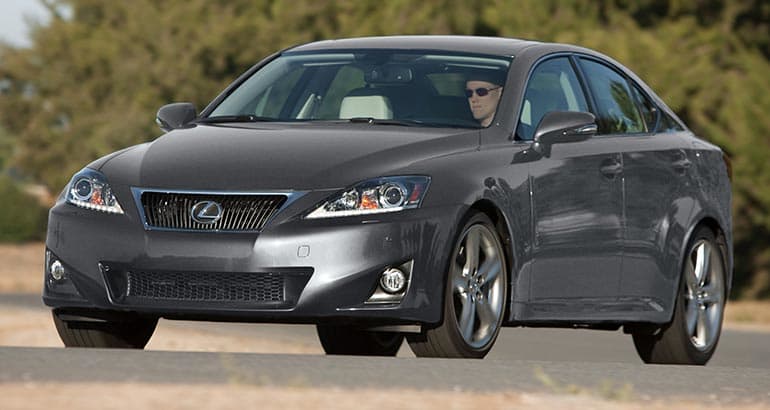 Sedans
Toyota Avalon 2013-2014
Lexus CT 200h 2013, 2015
Lexus IS 2011-2012
For less than the price of a new sedan, you can buy one of these slightly older models. The Avalon features a generously sized cabin, luxury features, and an available hybrid powertrain for an un-luxury price. The Lexus CT is based on the very reliable Prius but with a nicer interior and more responsive handling. The IS is a reliable, somewhat-sporty luxury compact sedan with available all-wheel drive and a quiet interior.
Other good choices:
Acura TL 2013
Honda Accord 2015-2016
Infiniti M 2011-2012
Lexus CT 200h 2013, 2015
Lexus ES 2012, 2013
Toyota Camry 2015-2016
Wagons
Toyota Prius V 2014-2016
Longer than a standard Prius, the V still returns excellent fuel economy despite its extra weight and larger size. It takes the attributes of the Prius and adds a roomier rear seat and expanded cargo capability.
Other good choices:
Toyota Venza 2012-2013
SUVs
Subaru XV/Crosstrek 2014-2016
Toyota Highlander 2011-2012
Subaru's small quasi-SUV is mechanically an Impreza hatchback with a raised ride height for people who don't want the bulk of a bigger SUV. Conventional and hybrid versions were offered. The Highlander is a roomy three-row SUV available with four- and six-cylinder gas engines as well as a V6-powered hybrid version. It has a quiet interior, room for seven, straightforward controls, and top-notch reliability.
Other good choices:
Honda CR-V 2014-2015
Lexus RX 2010-2011
Toyota 4Runner 2010
Toyota RAV4 2013-2014
Pickups
Honda Ridgeline 2010-2012
It isn't macho, but the Ridgeline is an excellent alternative to a full-sized pickup truck. It has a car-like ride, an innovative composite cargo bed, and a powerful V6 engine. If you don't need to tow more than 5,000 pounds, consider buying the Ridgeline.
Other good choices:
Toyota Tundra 2010-2011
$25,000-$30,000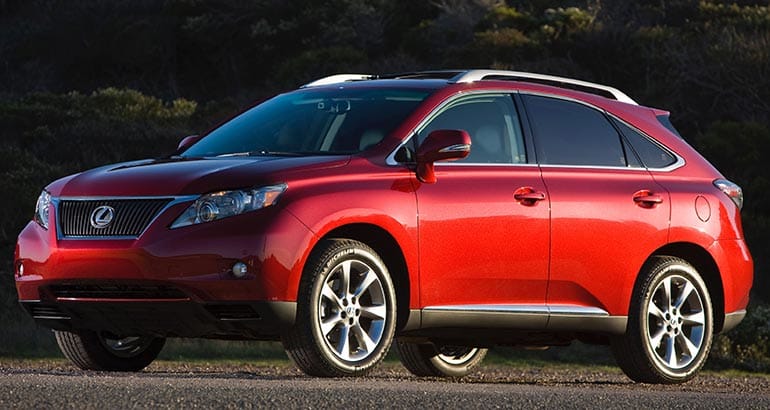 Sedans
Acura TL 2014
Infiniti M 2013
Lexus GS 2013
Though the TL often gets lost among sporty midsized cars, it shouldn't be overlooked. We liked its taut handling, comfortable ride, and well-finished interior. The base V6 returned competitive fuel economy, and all-wheel drive was available with its bigger engine. Infiniti's midsized M is plush, quiet, quick, and fun to drive. Fuel economy is decent, and a hybrid version is available. The GS was transformed with its 2013 redesign: It became a true sports sedan yet had a supple ride. Its roomy, comfortable, and luxurious cabin is an excellent place to spend time as the miles tick by.
Other good choices:
Lexus ES 2014
Toyota Avalon 2015-2016
SUVs
Lexus RX 2012-2013
The RX offers a cabin that is quiet, comfortable, and luxurious; fuel-efficient gas and hybrid powertrains; and a plush ride. Reliability has been stellar.
Other good choices:
Honda CR-V 2016
Toyota 4Runner 2011-2012
Toyota Highlander 2013
Toyota RAV4 2015-2016
Pickups
Toyota Tundra 2012
Among full-sized pickups, the Tundra is a reliable option. There's plenty of power from the V8 engine, off-road prowess and towing capability are impressive, and fuel economy is competitive. The damped tailgate is a nice convenience feature.
Other good choices:
Honda Ridgeline 2013
Shopping links are provided by eBay Commerce Network and Amazon, which makes it easy to find the right product from a variety of online retailers. Clicking any of the links will take you to the retailer's website to shop for this product. Please note that Consumer Reports collects fees from both eBay Commerce Network and Amazon for referring users. We use 100% of these fees to fund our testing programs.