When you shop through retailer links on our site, we may earn affiliate commissions. 100% of the fees we collect are used to support our nonprofit mission.
Learn more.
It was just after midnight when Ohio native Emil Nuñez and his wife, Mercedes, arrived, suitcases in hand, in front of a squat building in a quiet suburb just outside Kyoto, Japan. The host of the apartment, which they had found and rented on the home-sharing website Airbnb, said he had hidden the key in a yellow box. But with no street lights, finding the key and the door marked "No. 5 Ramen" was a challenge. As they searched and whispered nervously in the dark, they worried that they would wake the sleeping neighborhood.
This wasn't exactly the unique travel experience they had in mind when they decided to rent someone's apartment for a few nights rather than book a room in a hotel. They had used the website before, but on those occasions the host had handed off the key in person, or, when they rented a room in someone's home, was actually there during their stay. One host had even been too hospitable: A woman they stayed with in Rio de Janeiro interfered with their sightseeing plans by insisting on cooking them breakfast, lunch, and dinner. This time, they opted to rent an entire apartment so that they could have a bit of privacy while enjoying a one-of-a-kind trip.
Once they finally let themselves in, they were pleasantly surprised: The apartment was even nicer than it had looked in the pictures. It was pristine and traditionally decorated with tatami mats and shoji sliding doors. The host had even left an assortment of Japanese noodles in the kitchen for them. The next day, they rode the host's bikes to explore off-the-beaten-tourist-path attractions, including a nearby monkey park and a bamboo tree reserve. Had they stayed in a hotel in the city center, their whole experience, starting with check-in, would have been a lot more conventional but would have lacked what they were really after: authenticity.
Homestays—rooms, apartments, or homes rented directly from the owner, typically for vacation accommodations—are certainly nothing new. But a handful of websites, including Airbnb (the largest, with more than 3 million global listings), HomeAway, VRBO, and FlipKey, have made them easier than ever to find, to vet, and to book, creating a robust new home-sharing marketplace providing alternatives to hotel accommodations. The sites have also created a new $100 billion economy, with millions of people worldwide listing their apartments, homes, and extra rooms to generate income.
"Airbnb tapped into a desire for something real and a little bit adventurous that wasn't being met by the conventional hospitality landscape," says Leigh Gallagher, author of the recently published book "The Airbnb Story" (Houghton Mifflin Harcourt, 2017), a behind-the-scenes look at Airbnb's rapid expansion. "You can have every kind of experience under the sun, and it's all wrapped in this design-friendly, easy-to-use website." Indeed, according to a recent nationally representative survey by Consumer Reports of more than 2,000 adults, almost 75 percent of people who have never used one of these services would consider doing so to experience the local culture.
(Watch our video below on how to turn your home into a hotel.)
Live Like a Local for Less
Demand for authentic experiences and unique accommodations are no doubt driving the popularity of these services, but cost savings is an even bigger draw. A full 70 percent of people who have used sites like Airbnb or its competitors say they did so to save money, according to our survey. In the U.S., an Airbnb rental can cost as much as 17 percent less than an upper-scale chain hotel, according to a recent report from Morgan Stanley (an investor in Airbnb). Factor in the ability to find a rental big enough to accommodate a family or large group, plus access to a kitchen and to nearby restaurants that cater to locals, and the savings can really add up.
Although only about 10 percent of Americans have booked an accommodation through Airbnb or one of its competitors, an overwhelming majority of those who have—92 percent—say they are very likely or likely to do it again, according to our survey.
This combination of healthy demand and high satisfaction is fueling exponential growth. In 2009, the year after Airbnb was founded, travelers booked 21,000 stays through its website; by 2016 that number had ballooned to more than 80 million bookings. Recent estimates put Airbnb's valuation ahead of Hilton's and on par with Marriott's, the hotel behemoth that started out almost a century ago as a root-beer stand and today is worth more than $30 billion. HomeAway, the next biggest player, with 1.2 million listings worldwide, was acquired by Expedia for $3.9 billion in 2015.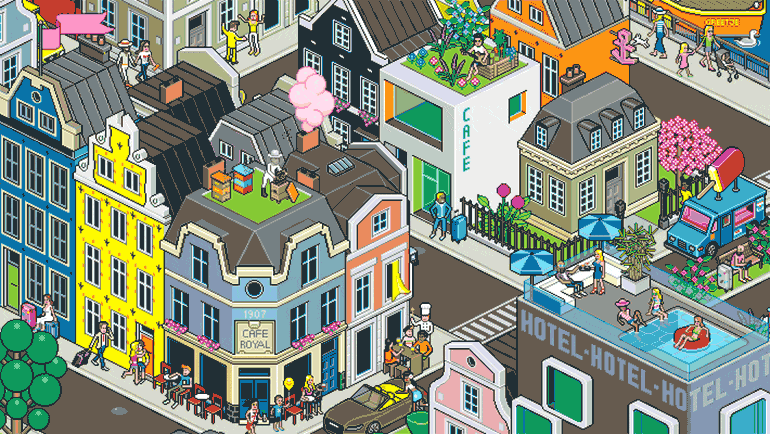 Not Your Typical Hotel
Like a hotel website, Airbnb, HomeAway, and other homestay booking sites make it easy for travelers to find accommodations for vacations or business trips (almost 10 percent of Airbnb's customers are business travelers). But any similarity to hotel companies ends there.
Airbnb and its competitors are more like online dating websites than they are hotel companies: They don't provide accommodations; they provide introductions, connecting travelers with potential hosts, then charging a service fee when a property is booked.
Just as with online dating profiles, what you see isn't always what you get, because negatives can be downplayed with professional photographs and clever descriptions. Unlike with online dating, however, you can't just stay for one drink and then leave if you decide that you and your vacation rental don't have chemistry: Neither the booking sites nor the hosts will refund your money if a property doesn't measure up to your fantasy. So it's important to fully evaluate listings and have a very good idea of what you're getting into before booking, all of which involves more effort than it takes to decide between, say, a Hilton and a Holiday Inn.
In addition to photographs, most sites provide user-generated reviews to help people vet prospective properties. The whole homestay ecosystem is built on trust, says Nick Shapiro, global head of trust and risk management at Airbnb, and reviews are a critical part of its foundation.
But reviews may not tell the whole story, according to Georgios Zervas, Ph.D., an assistant professor of marketing at Boston University's Questrom School of Business, who has analyzed hundreds of thousands of reviews on Airbnb and TripAdvisor, a website that features user reviews of hotels. According to Zervas' research, the average user rating given to properties on Airbnb is 4.7 stars out of a possible 5, and the average rating of hotels on TripAdvisor is 3.8 stars out of a possible 5.
"While most people aren't likely to leave a positive review after a disappointing hotel stay, that's not always true of a home share," Zervas says. "It's harder to be critical of a person you've gotten to know by corresponding with them or speaking with them on the phone," he says.
Last March, Jeffrey Kornberg, a 31-year-old producer from Brooklyn, N.Y., learned that reviews aren't necessarily reliable when he and a group of friends rented a lake house in New Jersey through Airbnb. With eight positive reviews and an overall score of 4.5 stars, it seemed a solid choice. What Kornberg found when he arrived at the lake house, however, was very different from the photos he had seen online.
"The sofa had huge tears in the cushions, as if someone had stabbed it with a knife. There were burn marks all over the carpet, like someone had put out cigars on the floor," Kornberg says. "There was no toilet paper, and one of the air mattresses the host provided deflated in the middle of the night because it had a hole in it."
Kornberg called the owner to let him know that many details in the listing were misrepresented. He says the owner seemed genuinely concerned to learn about the condition of the home and explained that the previous renters must have caused the damage. The owner pleaded with him not to leave a negative review, Kornberg says, promising to fix everything before the next reservation. Ultimately, Kornberg says he gave the stay 4 stars, leaving the devil in the details of his written review. He tactfully outlined the negatives, saying they were outside of the owner's control, while also mentioning that the home had lots of space, beautiful views, and a great fire pit.
Zervas says a careful reading of the text of the reviews can reveal clues about a property's quality. "Read between the lines to see what expectations the reviewer had, whether they match yours, and if this person is like you," he says. Study the reviewer's profile as well as the places he or she has stayed to gauge how similar his or her tastes may be to your own.
It's important to remember that disappointments are rare: According to our survey, 65 percent of people who have tried homestay accommodations have not had a bad experience. Of those who did, the most common complaints involved the cleanliness, size, or quality of the rental.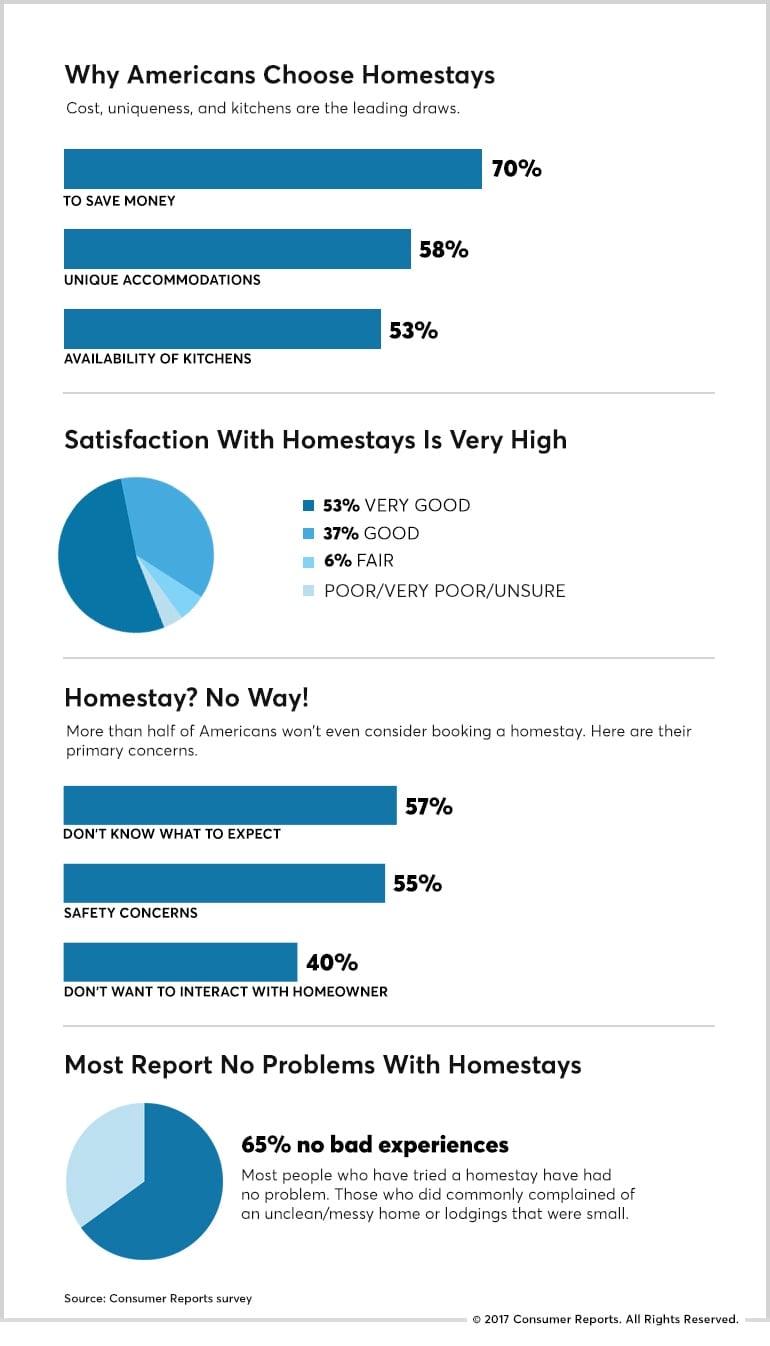 Who's Got Your Back?
The hotel industry is highly regulated, with laws and safety and fire codes dictating everything from the number and type of locks required on a guest room door to how many smoke detectors and sprinklers a room must have. Homestays, on the other hand, aren't yet subject to the same oversight and regulations as hotels, and people who use the home-sharing marketplace don't enjoy the same consumer protections as hotel guests.
Airbnb says that it has safety measures in place to screen out potentially problematic or dangerous hosts and guests, and that it provides resources to educate hosts on emergency preparedness. But neither Airbnb nor its competitors require hosts to comply with even a minimal safety standard (by installing smoke or carbon monoxide alarms, for instance), and they deny any responsibility for the safety of guests or hosts. This lack of regulation or oversight means that travelers must do their own due diligence when booking through these sites.
"Most travelers focus on the way the property looks in the photos, and on its amenities, rather than thinking about the security of the neighborhood or the safety standards inside the building," says Rob Walker, travel risk specialist for International SOS, the world's leading medical and travel security services firm. "In a business standard hotel, you can be reasonably confident that there will be a level of security and safety," he says.
With a vacation rental, you shouldn't assume the same (find out how to avoid vacation rental nightmares). "Unless you do deeper research, you don't know anything about the fire escape standards, the fire suppression systems, or burglar alarms," Walker says. "You can ask these questions, but what you take as the answer you have to take on trust."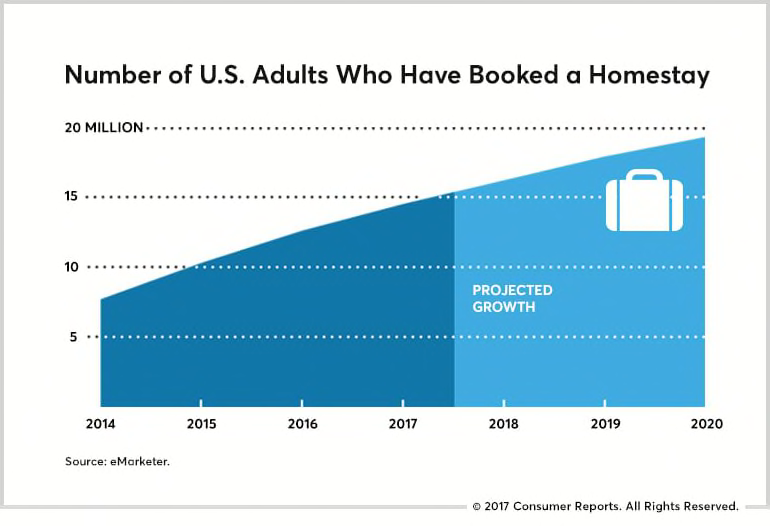 When Things Go Wrong
Bad experiences are exceedingly rare—in our survey only 1 percent of homestay users had a significant problem related to theft or safety—but when you're renting from an individual instead of a hotel, knowing who to call for help isn't as clear. And the incentives for the host to resolve your problem may not be as strong. "There's far less of a reputational risk to that person if something goes wrong than there is for a big hotel chain," Walker says.
Chris Polansky, a 27-year-old Brooklynite, found this out the hard way after an Airbnb host pulled a bait and switch on an accommodation he had booked in Los Angeles. After Polansky arrived at the correct address, the host texted a different address that he said would be more suitable for Polansky's reservation. He offered to pick up Polansky and bring him to the new property two miles away.
"When I told him I wasn't interested in a property two miles away from the one I booked and requested a refund, he started texting me insults and refused to refund my money," Polansky says. He ended up staying on a friend's couch.
Polansky says he contacted Airbnb later that day to request a refund but was told he had to give the host three days to resolve the issue before Airbnb would get involved, even though he submitted screenshots of the abusive messages. Almost a week later, in what they called a gesture of good will and a way of welcoming him to the Airbnb community, Polansky received a refund for the amount he paid, less the service charge for the booking. He didn't use the site again for more than a year.
Polansky might have had better luck if he had followed Airbnb's recommendations to contact customer service immediately, and to communicate with the host only through the site's messaging system, rather than through texts and emails. "If anyone ever encounters a listing that is different than as advertised, we ask that they reach out to us as soon as possible so we can assist them in getting rebooked and/or refunded," Airbnb's Nick Shapiro said in an emailed statement. "In the unlikely and even rare event that a guest or a host ever has an issue, our global Trust and Safety team of 600 experts, including former law enforcement officers, is on hand 24/7 to protect our community and help prevent incidents as well as permanently ban bad actors."
Getting a refund is one thing, but seeking damages when something really goes wrong could leave you running in circles.
"If you invite someone over for dinner and they trip going into your sunken family room, that's something that would traditionally be covered under your homeowner's policy," says Bryan Cook, senior assistant vice president at Amica Mutual Insurance Company. "But it gets tricky when you are renting a home or part of the home."
Although homestay sites encourage hosts to consider their insurance needs, purchasing a commercial liability policy is not a requirement for listing a property. That means your options for seeking any damages in the event that you or someone in your family is injured during a stay could be limited. "Don't assume liability coverage is in place or available," Cook says.
Because the homestay websites don't require hosts to have liability insurance, the only way guests can know for certain that they're protected is to ask to see the policy documents and to examine any exclusions or limitations on coverage.
Legal issues with the website are another matter. In order to book a vacation rental, some sites, including Airbnb and HomeAway, require travelers to agree that they will resolve any legal issues that arise via arbitration, a type of streamlined dispute resolution that takes place outside of the court system. Consumers Union, the policy and mobilization arm of Consumer Reports, opposes this type of forced arbitration, because consumers have no choice but to agree to it to use the service. "Consumers should not be forced by businesses to give up fundamental legal rights and protections in order to shop for products and services in the marketplace," says George Slover, senior policy counsel at Consumers Union. Arbitration can sometimes be a good option for resolving a disagreement, Slover says, but only when it can be freely chosen by both parties when a full range of options exist, including going to court.
Arbitration also prevents consumers from joining forces to address more widespread problems. Airbnb made headlines recently when a federal judge upheld the company's forced arbitration policy, ruling that a group of customers could not bring a class-action suit against Airbnb for racial discrimination by a host. Despite the fact that civil rights laws prevent such discrimination, the judge said that Airbnb's user agreement, which includes forced arbitration and must be agreed to by anyone who uses the service, takes precedence.
Nuñez, a seasoned traveler and Airbnb user, has seen no downside to staying in people's homes. "We never met the owner of the place in Kyoto, but he left us a welcoming note and asked us to use his Polaroid camera to take a picture of ourselves and paste it into a guest book. It was neat to see our photo along with other guests from all over the world," Nuñez says. "It makes you feel like you're part of a community."
Sizing Up the Home-Sharing Websites
How the largest homestay services compare in terms of size, reach, price, and consumer protections. (If you're reading this article on your smartphone, we recommend you rotate your phone to landscape mode to better view the tables below.)
| | | | | |
| --- | --- | --- | --- | --- |
| Website | Number of Properties in the U.S. & Worldwide | Key Policies | Fees | Prices |
| Airbnb Entire properties and private rooms, mostly in urban destinations. | 547,204 & 3 million | Guest Refund Policy protects travelers from losses due to a covered problem, like a property being misrepresented. Disputes settled through arbitration only. | 6 to 12% service fee. Extra-guest fees and cleaning fees may apply. | Average daily rate in the U.S.: $150. |
| HomeAway (includes VRBO) Entire properties, primarily in traditional vacation destinations. | 400,000 & 1.2 million | Book with Confidence Guarantee protects travelers for covered problems. Travelers are permitted to seek compensation in small claims court. | 5 to 12% service fee. Additional cleaning fees often apply. | The average weekly rental is $1,700 for a 2- or 3-bedroom home. |
| TripAdvisor Rentals (includes FlipKey) Entire properties and private rooms in urban and vacation destinations. | 200,000 & 835,000 | Payment Protection Policy offers a full refund for covered problems. Travelers have all legal options available to them, subject to TripAdvisor's limitations of liability. | 8 to 14.5% fee. Additional fees may be charged by the owner. | Varies, depending on location and season, but can range from $450 to over $20,000 per week. |
Editor's Note: This article also appeared in the June 2017 issue of Consumer Reports magazine.