Vacation Rental Options for LGBTQ+ Travelers
Tips from industry experts on how to avoid discrimination on Airbnb, FlipKey, Vrbo, and similar sites Vacation rental websites such as Airbnb now offer more rooms for rent than the world's top five hotel chains combined. But unlike hotels, some of these platforms encourage patrons to provide personal information in advance. Hosts can scrutinize a potential guest's profile and picture before opening their homes to them. Homes, that in some cases, are occupied by hosts and guests at the same time.

For members of the LGBTQ+ community, this has presented challenges.
Matthieu Jost, the CEO and co-founder of Misterb&b, a travel website with a database of short-term stay options geared toward and hosted primarily by LGBTQ+ individuals, encountered such a challenge. In Barcelona, Jost says, his host didn't seem to like the idea that two gay men were at her door, he says. She even asked, "Are you going to sleep in the same bed?" he says. "I didn't feel welcome, I didn't feel accepted, and my entire trip was compromised."
According to a 2018 study by economists at Trinity College Dublin, gay male couples were 25 percent less likely than lesbian or straight couples to secure a booking in the city via Airbnb. Researchers revealed the gay males were not outright rejected, but their requests for a place to stay went ignored.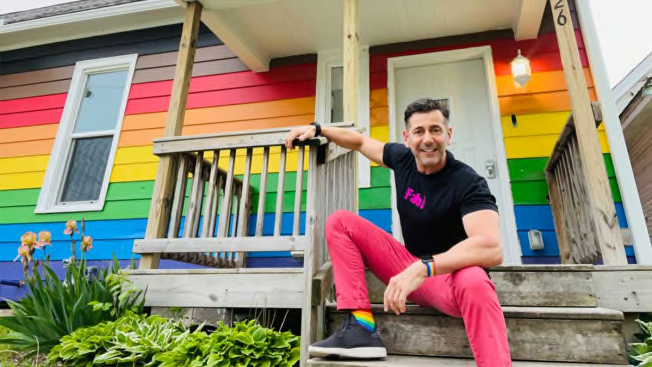 "We each have our own coming out experience, and unfortunately, you get to live that at a new job, with new friends, and in travel," says Robert Geller, a former Airbnb Superhost—a designation awarded to well-reviewed, experienced hosts.

Once, while in the kitchen of his Tampa, Fla., townhouse, Geller found himself calibrating just how much to reveal to a stranger who rented a room in his home and was now standing a foot and a half away from him. Motivated to avoid such awkward coming-out experiences, Geller created FabStayz, an online platform that caters to LGBTQ+ hosts and travelers, taking some of the guesswork out of peer-to-peer stays.
FabStayz-approved hosts need to have seven months of experience and excellent reviews on another major hosting platform, and they need to agree to abide by the community guidelines. Plus, there's a $40 yearly fee that must be paid before their listing goes live. "We put a lot of barriers to keep haters outside," Geller says.
Almost every online travel platform has an anti-discrimination policy. Airbnb has been recognized as one of the best places to work for LGBTQ equality based in part on its nondiscrimination policies and equitable benefits structure.
But the chasm between internal company policies and an individual host's bigotry can be massive. There have been widely reported instances of discrimination from hosts based on sexual orientation and race. In one 2015 case in Galveston, Texas, a self-professed "straight-friendly" host kicked out a same-sex couple after discovering the booking guest's significant other was another man.
After this and similar incidents, an Airbnb spokesperson says the company instituted a "Community Commitment'' policy in November 2016. The policy prohibited discriminatory language in a listing, or "declining a guest based on race, color, ethnicity, national origin, religion, sexual orientation, gender identity, or marital status." Existing and new hosts worldwide were required to agree to the standards.
In the almost five years since those standards were introduced, Airbnb says it has removed 1.5 million hosts from the platform for "declining to treat others without judgment or bias."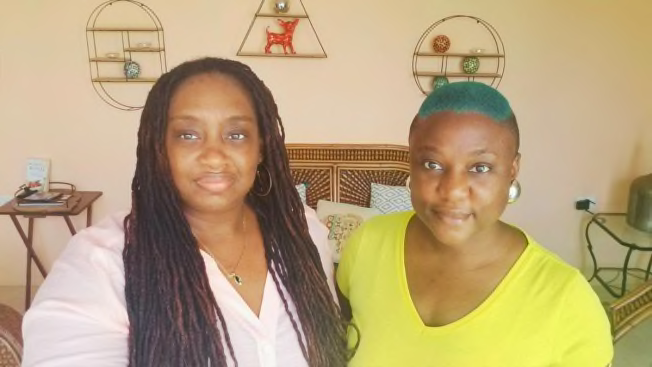 Amber and Anondra "Kat" Williams, currently of Merida, Mexico—and the Black, lesbian, expat couple behind the queer-affirming travel blog Wandering Soup—know a thing or two about prejudice and bias. But that's not what they've experienced on Airbnb. "When I go to reserve I say this is who we are," says Mississippi-born Kat. "It's me, my wife, and my son, and they say okay. We've literally never had anyone turn us down."

For example, in Singapore, where same-sex relationships are not legally recognized, and Malaysia, where there are no legal protections for LGBTQ+ individuals, the couple's strategy was to be transparent. "My Airbnb profile is a picture of me and my wife," Amber says. "My bio says we are a LGBTQ+ family, and I'm clearly Black," she says.
Transparency may be the best policy for the Williams family on their world travels, but anonymity is the antidote to discrimination at FlipKey, an Airbnb alternative owned by TripAdvisor. In addition to terms of use prohibiting discrimination by hosts, "If you go on FlipKey, you can see our profiles are largely anonymized," says Brian Hoyt, head of communications and industry affairs at TripAdvisor. People rarely put photos or personal information on their profiles, Hoyt says.
Like FlipKey, listings on Vrbo, another vacation-rental platform, feature a "book now" button that minimizes contact between potential renters and property owners. Vrbo also has a Trust & Safety team that monitors flagged content in their marketplace for discrimination. Anyone found violating the zero-tolerance policy regarding discrimination, harassment, or violence—both online and offline—will be removed from the platform, a Vrbo spokesperson says.
Orbitz, Vrbo's parent company, has a history of advocating for LGBTQ+ inclusion and equality in travel as well. Its "Travel As You Are" campaign, launched in April, along with a microsite devoted to LGBTQ+ travel, features trip planning guides, directories of LGBTQ+ owned businesses, and a first-person account of a nonbinary individual's reflection on traveling while trans.
Orbitz's website also has an LGBTQ welcoming filter that users can check to view hotel rooms and rental properties that "pledge to make all guests feel safe, welcome, and respected," the company says. Guests may be more welcomed, but their options become more limited.
A search for a vacation home in Seattle for two adults during the first week of August using only the LGBTQ welcoming search filter yielded three listings. The same search done with the "Business Friendly" experience filter indicating "properties with amenities to help you work comfortably like WiFi and breakfast," returned 12 results. The "Family Friendly" experience for "properties that include family essentials like in-room conveniences and activities for the kids" was answered with 75 properties for rent.
Flagging Anti-LGBTQ+ Bias
So what happens when the rubber meets the road trip and your vacation rental is less than community standard-compliant? Three of the largest sharing economy travel platforms told us what you can do.
Airbnb's website has a page where you can report discrimination. The company says your report initiates an investigation from which "appropriate action" will be taken, up to and including a host's removal from the platform and helping guests find another place to stay.
"If guests or hosts encounter harassment, discrimination, or see offensive content, they should call our customer support line at 877-202-4291 to report the incident," says Alison Kwong, senior public relations manager at Vrbo. "If we receive a report from governments, the media, or customers about someone with the intention to violate this policy, we will remove them from our site."
The help center at FlipKey gives you several ways to reach the company in the event of discrimination. Reports are sent to FlipKey's internal teams for review. "Depending on the situation, we may also help the traveler find an alternative location in addition to taking action against the property owner, up to and including removing them from our site," Hoyt says.
"Safety looks different for everybody," says Geller of FabStayz. He explains that allies can make LGBTQ+ travelers feel welcome from the beginning by using pronouns in listings. When hosts identify themselves with their preferred pronouns for gender identity, such as they/them, he/him, and she/her, it creates an atmosphere of understanding. "It's a big signal with so little effort," says Geller, who also suggests inserting a slide of a rainbow flag or an "All Welcome Here" sign, into pictures of a host's property.
"When you're dealing with an individual who owns a home vs. a brand of hotel, you need to ask questions," says ITanzella at the International Gay & Lesbian Travel Association. He recommends having those sometimes difficult conversations as early in the booking process as possible.
Kat and Amber Williams' pro tip for success in what could be an uncomfortable situation is a mix of oversharing and good old-fashioned research. Kat believes in disclosing as much about yourself and your trip as you can. "A lot of people say, 'Don't do that,'" Kat says. "I think if you do that you may be rejected, but at least your feelings won't get hurt on-site."
The couple also suggests that consumers use every online resource available before booking a short-term stay, including Google Maps to check out the property and surrounding neighborhood, searching for any news about the immediate area, and joining LGBTQ+ Facebook groups to get perspective from locals.