Best Vacuum Sealers From Consumer Reports' Tests
These top-rated models keep food fresh longer. They're also a key ingredient in sous vide cooking.
When you shop through retailer links on our site, we may earn affiliate commissions. 100% of the fees we collect are used to support our nonprofit mission. Learn more. If you're stocking the freezer for winter, you might find yourself wondering whether a vacuum sealer is a worthy addition to your kitchen.
Adding any small appliance to your collection is always a calculation. Will you use it? Do you have space for it? Is there a fun factor? A vacuum sealer checks all those boxes. For starters, these practical little machines save you money by keeping your food fresher, longer. And they help you prep for sous vide cooking, in which food sealed in a plastic bag is cooked in a water bath.
Vacuum sealers extract air from a bag, then fuse the sides together along a heated strip, creating an airtight seal. If you've ever frozen an expensive piece of meat only to find it covered with a thin layer of ice crystals, you'll appreciate what a vacuum sealer can do. That frosty freezer burn doesn't make the meat unsafe to eat, but it can change the taste, texture, and appearance.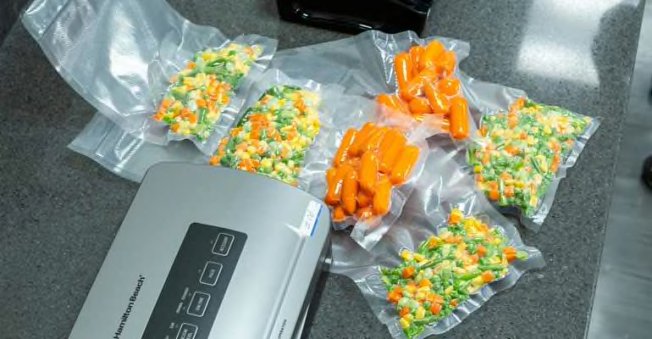 CR tested seven vacuum sealers from six brands. The sealers, roughly $60 to $180, are about as wide as a toaster oven, though most aren't that tall or deep. The larger models store a roll of plastic onboard, called a bag roll, that you cut to size. Those without roll storage don't require as much counter space and are even small enough to stash in a drawer.
Some sealers come with a bag roll and/or precut bags in a variety of sizes (such as pint, quart, and gallon). Prices for replacements vary: A batch of 44 quart-sized replacement bags for FoodSaver models costs $25 on the brand's website, while 200 generic quart-sized bags cost $28 on Amazon. (We tested two generic brands, and they worked with all the sealers in our tests.)
In previous tests, we evaluated whether vacuum sealing extended the storage life of food. "The answer to that was a resounding 'Yes,' so we didn't feel the need to repeat those tests," says CR test engineer Bernie Deitrick. Instead, we focused on how well a model seals dry food (such as an uncooked chicken breast or steak), how well it seals moist food (think meat in a marinade), how fast it works, how quietly it operates, and whether it's simple to clean and has convenience features such as cord and bag roll storage, and has easy-to-understand controls.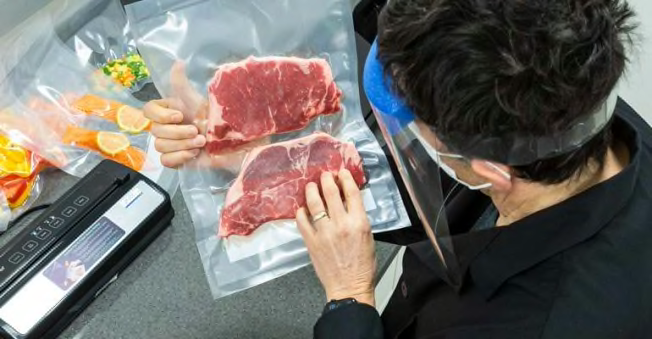 All seven vacuum sealers that CR tested were top-notch at dry sealing, earning an Excellent rating on that test. But beyond that, we found real differences. Read on for ratings and reviews of the top three vacuum sealers from our tests. To see the entire list, check CR's full vacuum sealer ratings and recommendations.
FoodSaver VS3180 Multi-Use
Dimensions: 6x16x9 inches (height x width x depth)
Comes with: 12 quart bags, 10 gallon bags, and a bag roll that's 8 feet long and 11 inches wide
Hamilton Beach NutriFresh 78220
Dimensions: 6x17x10 inches (height x width x depth)
Comes with: 6 quart bags, 4 gallon bags, and a bag roll that's 8 feet long and 11 inches wide
Anova Culinary ANVS01-US00
Dimensions: 3x17x5 inches (height by width by depth)
Comes with: 10 quart-sized bags