When you shop through retailer links on our site, we may earn affiliate commissions. 100% of the fees we collect are used to support our nonprofit mission.
Learn more.
Have you ever been at a cookout, munching on your perfectly grilled hamburger, feeling sorry for your meat-eschewing friends who have to settle for veggie burgers? Maybe you're the one who is missing out.
That's because many of today's veggie burgers are legitimately delicious, bearing little resemblance to the rubbery, flavorless discs you may have tasted once and vowed never to try again. At restaurants such as Superiority Burger in New York City, veggie burgers have achieved gourmet status, and fast food chains are getting onboard, too. Wendy's is test-marketing a black bean burger that's getting thumbs-up for great taste, and White Castle last year added a veggie slider to its menu.
Clearly, veggie burgers are having a moment. According to a 2015 survey from market research firm Mintel, 25 percent of Americans say meatless burgers are on the menu more than once per month; many eat them several times weekly.
The veggie burger renaissance is part of a trend toward eating more plant-based foods. Almost three-quarters of meat eaters substitute nonmeat protein in a meal at least once weekly; 22 percent say they're doing so more often than they did in the previous year, according to a 2015 survey published in Meatingplace, a leading meat industry trade publication.
(Read our advice for grilling veggie burgers and check our recipe for a homemade version, below.)
But what about supermarket veggie burgers? Consumer Reports' dietitians and professional food tasters put 17 widely sold veggie patties to the test. They come in two broad types: meatlike, and grain- and/or vegetable-based. The meatlike offerings usually have soy or pea protein as a main ingredient. The grain- and vegetable-based options are made with ingredients such as sunflower seeds, beans, vegetables (such as peppers, carrots, and mushrooms), and grains (such as bulgur, millet, and quinoa), and don't resemble meat at all.
We looked at both types, rating them for nutrition and taste, then combining those scores to give them an overall rating. (Check our Ratings of 17 veggie burgers.) Our nutritional ratings system gives extra points to veggie burgers with mostly "real" ingredients such as vegetables, grains, and seeds rather than artificial flavorings, additives, and chemical ingredients that are used in extensively processed foods.
More than half of the burgers received a Very Good score for taste. The others all rated Good, though some had bitter notes or harsh garlic flavors, or were mushy. Our tasters noted that the meatlike burgers were better on a bun with condiments. MorningStar Farms Grillers Original was the veggie burger in our tests that tasted closest to real meat. The top grain and vegetable burgers were tasty enough to stand on their own. If you don't feel like sliding them into a bun, our food pros suggest serving them on top of a salad, with scrambled eggs, or with a side of vegetables. The top grain/veggie burger was Amy's California Light in Sodium.
Our nutritional analysis revealed some surprises. First, not all veggie burgers are low in calories. The counts ranged from 100 in Lightlife Smart Patties (2½ ounces) to 360 for Sunshine Burgers Quarter Pound. By comparison, a 3-ounce 93 percent lean beef burger has 164 calories. Sodium was another shocker; four of the burgers had more than 400 milligrams. (Lower-sodium options are available.) Though protein doesn't factor into our nutrition rating algorithm (because most Americans get enough), vegans and others who count on plant protein might be surprised to find that some of the burgers contained as little as 4 or 5 grams.
Note that with some of the burgers weighing as little as 2¼ ounces, you may wind up eating two, so keep that in mind when you're checking burgers' nutritional information.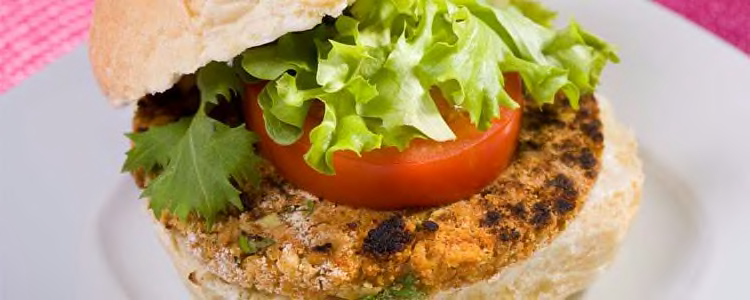 Go Ahead, Grill It!
Veggie burgers tend to be cooked on the stovetop or in the micro­wave, but that's not convenient—or fun—when you're hosting a barbecue. These patties can be softer and more delicate than those made with meat, so we wanted to see how they'd hold up on the grill. In short, the answer is pretty well, with a little care. Here are some tips from our grilling tests:
Don't thaw frozen veggie burgers—they can go straight from the freezer to a clean grill.
Set the grill to medium heat and don't oil the grates. Preheat the grill for 10 minutes.
If the veggie burger package has grilling instructions, follow them. If no instructions are provided, cook burgers for about 5 minutes per side.
Flip burgers carefully and just once, halfway through cooking, to keep them from falling apart.
Overall we found that grilling improved the veggie burgers' texture, giving both the meatlike and the grain- and vegetable-based patties a crisper exterior. Grilling also can add deeper browned flavor notes.
Check our buying guide and Ratings for gas grills.
A Healthy Homemade Option
It's easy to make veggie burgers yourself. This recipe has two variations, black bean and corn and quinoa and carrot. You can make a big batch to freeze so you have them at hand for a quick meal. Wrap the uncooked burgers individually and once they're frozen, put them in a plastic zip bag. Don't thaw before cooking.

1. Make the Base
Heat 1 teaspoon olive oil in nonstick skillet over medium heat. Sauté ¼ cup each finely chopped onion and red pepper and 1 clove minced garlic until soft, 4 to 5 minutes. Place in large bowl and add 1¼ cup cooked quinoa, ½ cup panko bread crumbs, 1 egg, ½ cup grated sharp cheddar or Monterey Jack cheese, and ⅛ teaspoon each salt and black pepper.
2. Choose Your Style
For black bean and corn: Add ½ cup black beans, ½ cup corn, ¼ cup chopped cilantro, and ½ teaspoon chili powder.
For carrot and parsley: Add 1 cup grated carrot, 1 tablespoon tahini, 2 teaspoons fresh lemon juice, ½ teaspoon cumin, ¼ cup chopped parsley.
3. Chill and Cook
With wet hands gently form six patties. Refrigerate uncovered until firm, at least 30 minutes or up to 4 hours. Heat 1 tablespoon olive oil in nonstick skillet over medium heat. Cook until browned on one side, about 5 minutes. Flip and cook about 5 minutes more.
4. Top and Serve
Top black bean burgers with salsa and avocado. Top carrot burgers with tzatziki.