When you shop through retailer links on our site, we may earn affiliate commissions. 100% of the fees we collect are used to support our nonprofit mission.
Learn more.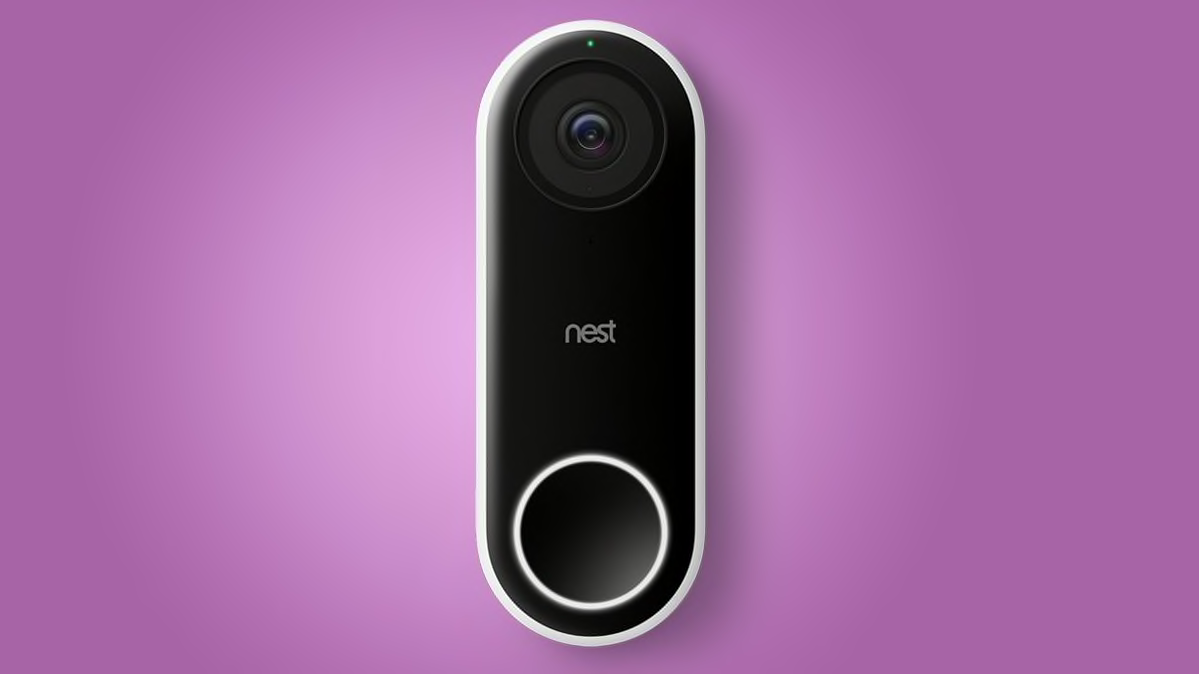 It's easy to see why you might be tempted to get a video doorbell. These compact streaming cameras let you video-chat with visitors and keep an eye on dog walkers, kids coming home from school, and package deliveries from the screen on your smartphone. Porch pirates, beware.
Global spending on video doorbells is predicted to almost triple from last year through 2023, according to the data insights firm Strategy Analytics, from $500 million to $1.4 billion.
To help you find the best doorbell for your home, we've rounded up the best video doorbells from our tests, listed below in alphabetical order. (CR members can access ratings for each model.) You'll find models from August, Eufy, Google Nest, LaView, Ring, and Wisenet. They all feature night vision, HD video, voice control via digital assistants, and two-way audio.
Because these internet-connected devices continue to evolve, CR beefs up its lab tests accordingly.
"Similar to our recent improvements to our wireless security camera testing, we improved our picture-quality tests to challenge the video doorbells with more complex lighting scenarios," says Bernie Deitrick, CR's test engineer for video doorbells and wireless security cameras.
Our video quality tests evaluate a camera's picture in good light, low light, and zero light (to determine how well its night vision works, so you can be confident that the racket out back is only the raccoons again). Then we add various levels of backlighting to each lighting scenario to challenge the camera sensors.
For a deeper dive into our testing, check out our home security camera buying guide. And to see more CR-tested doorbells, go to our complete home security camera ratings.
Just one note of caution about any video doorbell you buy: There have been multiple instances of connected security cameras, including video doorbells, being hacked. Consumer Reports is calling on manufacturers to improve the security of such products, but in the meantime, to protect yourself, read our guide on how to prevent security cameras from being hacked, which has steps you can take to make your video doorbell more secure as well.
6 Best Video Doorbells
August Doorbell Cam Pro
Free video storage: 24 hours of cloud storage
Additional storage: $3/month for 15 days, $5/month for 30 days
CR's take: The August Doorbell Cam Pro is a fantastic video doorbell, but it's not the smartest model in our ratings. It receives high marks for video quality and response time, but a less-than-ideal Fair rating for Smart IQ, owing to its lack of smart features compared with the competition.
For example, the August doesn't offer person detection or monitoring zones (these let you block out areas of the camera's field of view that could create unimportant motion alerts, such as a busy street or neighbor's driveway). However, it is one of only a few models in our ratings to offer color night vision, thanks to its built-in floodlight that illuminates whoever is at your door.
It also comes with voice control via Amazon Alexa and a rolling 24 hours of free cloud video storage for video clips triggered by the camera's motion sensor (footage that captures movement, not dead air). With an optional subscription to the August Premium or Premium Plus video recording plans, the available video storage increases to a rolling 15 days or 30 days, respectively.
Eufy Video Doorbell T8200
Free video storage: 30 days using the doorbell's internal memory
Additional storage: N/A
CR's take: The Eufy Video Doorbell is a great model for the money. It's also one of the few video doorbells on the market that doesn't charge you fees for longer video storage. Instead, all video clips are stored on the doorbell itself using its 4GB of internal memory (that equates to about 30 days of video) and streamed to your smartphone.
In our tests, the Eufy offers great video quality and receives a Very Good rating for response time. This doorbell also packs plenty of smart features, including monitoring zones, person detection, voice control via Amazon Alexa and Google Assistant, and the ability to leave prerecorded messages for visitors. The Eufy doorbell does require doorbell wiring for power (the company has a battery-powered version in the works), but it won't work with your existing doorbell chime—it comes with a wireless doorbell chime.
Google Nest Hello Video Doorbell
Free video storage: None, but 3 hours of snapshots
Optional subscription: $6/month (or $60/year) for 30 days, $12/month (or $120/year) for 60 days
CR's take: The Google Nest Hello Video Doorbell is one of the best you can buy. It receives an Excellent rating for response time and offers terrific video quality, but it falls in the middle of the pack when it comes to its smart features. The Hello's features include HDR video for vivid picture quality, geofencing, person alerts, unusual sound detection, voice control via Amazon Alexa and Google Assistant, prerecorded messages for when you can't answer the door, and a rolling 3 hours of motion-triggered snapshots (not video clips).
If you sign up for a Nest Aware subscription, you'll get either 30 or 60 days of cloud storage for motion-triggered video clips (depending on the plan), 10 days of 24/7 continuous video recordings (only on the $12/month plan), facial recognition, package detection, monitoring zones, and e911 to call your home's 911 dispatcher regardless of your physical location. The Nest Hello is offered in a hardwired version only and can't run off battery power. If you have an existing doorbell that's hardwired, it will work just fine.
LaView One Halo
Free video storage: Unlimited when using a microSD card or LaView network video recorder
Additional storage: $4/month for 7 days of cloud video storage
CR's take: The LaView One Halo offers decent video quality, receiving a Good rating in that test, as well as speedy response time and a good number of smart features. The list of features includes color night vision, thermal motion detection (so it only detects motion from people and large animals, not cars or trees), and voice control via Amazon Alexa and Google Assistant.
The LaView One Halo also gives you three options for video storage. If you don't want to pay $4 per month for 7 days of rolling storage, you can store footage in a microSD card up to 128GB in size, or connect the doorbell to a LaView network video recorder (NVR), which can cost anywhere from $300 to $500 depending on the amount of storage space and cameras they can handle.
An NVR acts like an at-home server for storing security camera footage and allows the One Halo to record continuously, instead of only capturing motion-triggered clips. Just make sure you buy the right NVR, as the doorbell only works with seven specific models: LV-N9508Q8E, LV-N9516D6E, LV-N9608C8E, LV-N9616D6E, LV-N9808C8E, LV-N9916C6E, and LV-T9708MHS.
Ring Video Doorbell 2
Free video storage: None
Optional subscription: $3/month (or $30/year) to $10/month (or $100/year)
CR's take: For a battery-powered video doorbell with decent video quality, consider the Ring Video Doorbell 2. It receives a Good rating for video quality and offers great response time, but it could offer more smart features.
Its feature set includes a removable rechargeable battery, voice control via Amazon Alexa and Google Assistant, monitoring zones (although they aren't as customizable as those on the Ring Video Doorbell Pro or Google Nest Hello), and alert schedules. With an optional subscription to a Ring Protect Plan, you'll get a rolling 60 days of motion-triggered video clips.
For information on the recent string of Ring camera hacks, please see: 3,000 Ring Doorbell and Camera Accounts May Be Vulnerable to Hackers.

Wisenet SmartCam D1
Free video storage: None
Optional subscription: $5/month to $20/month
CR's take: The Wisenet SmartCam D1 requires a hardwired connection, but it offers superb video quality. In fact, it's one of only two models in our ratings with an Excellent rating for video quality. It also earns a strong score for Smart IQ, but its response time could be a bit better.
The Wisenet SmartCam D1 comes with plenty of premium features, including monitoring zones, facial recognition, person detection, abnormal-sound detection (such as sirens, glass breaking, and screaming), HDR video, and voice control via Amazon Alexa. With an optional subscription to one of three Wisenet SmartCloud storage plans, you'll get a rolling 30, 60, or 180 days of motion-triggered video clips. The plans cost $5 per month, $8 per month, and $20 per month, respectively.
Security Systems 101
Self-installed security systems are becoming more popular, but there are a few things to consider. On the "Consumer 101" TV show, Consumer Reports expert Dan Wroclawski explains to host Jack Rico what to look for when buying one.