Is It Safe to Run Your Oven's Self-Clean Cycle?
CR's in-house range expert offers her point of view on what might be the most taboo feature on your stove
When you shop through retailer links on our site, we may earn affiliate commissions. 100% of the fees we collect are used to support our nonprofit mission. Learn more.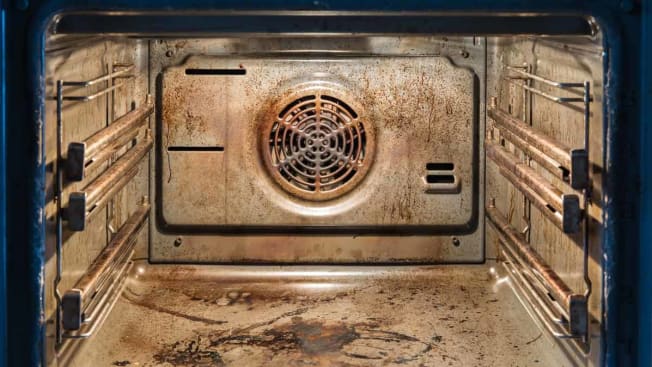 The self-clean cycle might be both the most feared and revered feature on a stove. Depending on whom you ask, self-cleaning ovens are either the best thing ever—or a scary option to avoid. 
The allure? A self-cleaning oven gets the cavity squeaky clean without a drop of chemical cleaner—and without much elbow grease. It achieves this feat by heating to temperatures north of 800° F to burn off all those spills and spots, leaving you with a thin layer of white ash that's easily wiped off with a sponge.
And it's a popular feature. In Consumer Reports' 2020 Range Reliability and Satisfaction Survey, which collected data from more than 40,000 CR members, self-cleaning ovens are far and away the most sought-after feature in a range. Nearly two-thirds who took that survey said it's a very important feature they want in their next range—more than those who said the same of convection ovens, high-powered burners, or even stainless steel finishes.
Don't Let the Horror Stories Scare You
Despite those aforementioned anecdotes, you should know they're the exception, rather than the rule. Casaregola has seen little evidence that running the self-clean cycle is likely to damage your oven. "I recall a few malfunctions during self-cleaning over the years, but it's not a common thing," she says. Data from our surveys confirm that problems with the self-clean cycle are few and far between, occurring in only 1 percent of the ranges covered in our most recent reliability survey. Ignition problems, a far more frequent issue, occurred in 9 percent of gas and pro-style ranges.
Chris Zeissler, technical service supervisor at Repair Clinic, notes that certain parts can break or malfunction during a self-clean cycle, including door latches, electrical components, bake or broil elements, or heating elements in gas ranges, along with gaskets. "The biggest takeaway is that if you're hosting a big gathering, like Thanksgiving, you want to run the cycle several weeks in advance."
The Self-Clean Cycle Works
To test self-cleaning ovens in CR's labs, we make a proprietary mixture of some of the messiest foods that might soil your oven cavity including tapioca, cheese, tomato puree, lard, and cherry pie filling. We paint that mixture onto the oven cavity and bake it onto the walls and oven door to make it tougher to remove. Then we run the self-clean cycle, and our pros judge how well the cycle cleans the cavity, based largely on how much scrubbing needs to be done to get the oven clean. In general, the cycle does a pretty good job. Every electric range with a self-clean cycle in our ratings earns at least a Good rating in that test, with many earning Very Good or Excellent. Results are more varied among gas ranges, but most are still a serious step up from no self-clean cycle at all. "When the cycle works well, it's really just incredible how clean the cavity gets," says Casaregola. 
The Self-Clean Cycle Requires Precautions
Those same high temperatures that help your oven clean can produce smoke and fumes. "When you run the cycle, turn on a range hood if you have one and try to open some windows," says Casaregola. "And make sure not to leave anything on top of the stove—it can get really hot." The oven door will lock itself for the entirety of the cycle, which takes about 3 to 5 hours, depending upon the model. Keep that in mind—if you start the self-clean cycle later in the day, it might be a good night to order a pizza. And keep kids and pets out of the kitchen. 
The Self-Clean Cycle Is Different Than the AquaLift Setting
Self-cleaning cycles are the norm, but you still won't find them on every model. "Some very inexpensive models don't have self-cleaning ovens," says Casaregola, "and a number of pro-style models also forgo the cycle." Additionally, you'll see some models instead come with an AquaLift setting, a light-duty steam-clean cycle that's common on brands owned by Whirlpool, including Whirlpool, KitchenAid, Maytag, and Amana. In our tests, these cycles are no match for high-heat self-clean cycles. They can generally help loosen very light spilled debris on the oven floor. 
The Self-Clean Cycle Still Requires a Little Work on Your End
Self-cleaning doesn't mean fully automated. For starters, you'll need to remove the racks and clean those by hand—running the self-clean cycle with the racks in place can cause them to discolor and could remove the factory finish that helps them glide smoothly. "If you run the cycle with the racks in place by accident, try rubbing the racks down with oil to help them glide smoothly again," says Casaregola. "Last, be ready to use a little elbow grease once the cycle is over." The residual ash should be washed out using a sponge and soapy water.
Ranges and Wall Ovens With Standout Self-Clean Cycles
These gas and electric models have strong overall performance and earn ratings of Very Good or Excellent for self-clean. For bigger-picture buying advice, start with our buying guides for ranges and wall ovens.  
Electric Smoothtop Ranges