When you shop through retailer links on our site, we may earn affiliate commissions. 100% of the fees we collect are used to support our nonprofit mission.
Learn more.
There was a time when choosing a wall oven over a range meant you had to compromise on performance, or settle for a small oven without a self-cleaning feature. No longer. The best wall ovens in Consumer Reports' tests deliver impressive baking, broiling, and self-cleaning. Here's what to consider before you shop.
Price Range
$600 to $8,000
At the low end are 24-inch wide wall ovens, which Consumer Reports does not test. Pro-style double wall ovens are the more expensive options.
Size
Available widths are 24, 27, 30, and 36 inches. Wall ovens 30 inches wide are the most common and what Consumer Reports tests. If you're replacing a wall oven it's crucial that you measure the wall oven and the cabinet cutout. GE's website offers step-by-step instructions, which includes removing the screws that secure the oven and pulling it forward an inch or two. Sounds like a lot of effort, but it will save you headaches later.
Electric or Gas
Overwhelmingly most wall ovens sold are electric. By overwhelmingly we mean that you'll have 233 electric and 16 gas wall ovens to choose from on Home Depot's website. At Lowes.com you'll see 224 electric wall ovens and four gas, and at Sears.com there are 324 electric and five gas wall ovens to consider. That's why Consumer Reports buys and tests electric single wall ovens. Double wall ovens appear in our Ratings and performance is based on the tested single wall oven models.
Features
Most have just a touchpad for setting the oven temperature. A few add knobs for setting various oven modes. A control lockout prevents the oven from being turned on, and is recommended for households with children. Most wall ovens in our tests have a convection option. It uses one or more fans to circulate hot air and some have an additional heating element. Convection can trim cooking time, especially for large roasts. In double-oven models convection is typically in the top oven.

A covered element, also known as a hidden baking element, means the heat element is out of sight and hidden inside the oven floor, making it easier for you to wipe the oven clean. All wall ovens in our tests have a self-clean feature.
Design
The look ranges from box-in-the-wall to sleek and stylish. Available finishes include white, black, stainless, black stainless, and slate. The $4,100 Viking VESO5302SS has a small window, but many have a large window, offering you a better view without having to open the door. The GE CT9070SHSS has two side-by-side doors, known as French doors. They open to the side, rather than down, and pulling one handle opens both doors at the same time. You can control this $3,900 wall oven from a smartphone.

Capacity
Manufacturers are finding ways to increase capacity in wall ovens. Of the single wall ovens tested, capacity scores range from fair to excellent. The $2,100 Fagor 5HA-780X had the smallest oven—2.86 cubic feet is what Fagor claims. Among the largest ovens are the $1,500 Whirlpool WOS92EC0AH, a CR Best Buy, and the $1,800 GE JT5000SFSS. Both are claimed to be five cubic feet.

The capacity scores in the Ratings are based on our measurements of usable space, and the same scales and scoring is used for wall ovens and ranges, allowing you to compare. There are eight double wall ovens in our Ratings, and capacity is based on our measurements of the single oven model (the upper oven in a double-oven model).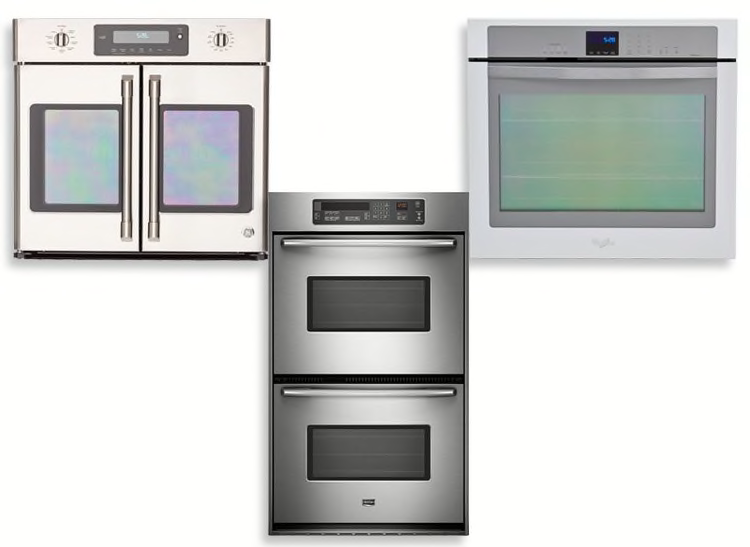 Pros, Cons, and Brand Reliability
Advantages
The cooktop-and-wall-oven combo is stylish and eats up less space than a range. The oven is built into the wall and the cooktop can be installed over a cabinet that stores cookware. For convenience, place the wall oven at a height that makes it easier for you to use. Choose between single and double ovens, and if you prefer a gas cooktop and an electric oven, that's possible too.

Drawbacks
This combo is usually more expensive than a range. Keeping in mind that the wall oven is built into the wall, there are complaints online, including some of our user reviews, about the cooling fan making a loud noise in some wall ovens. The manufacturers' websites explain what is normal and what's not. "Cooling fans may whistle or whoosh when the cooling fan is on high," says Wolf. A rubbing/metal on metal noise when operating is not normal, says Whirlpool, adding, "It is normal for all wall ovens to have an automatic cooling fan that runs when the oven is in use and/or after a cycle completes. It is normal to hear the automatic cooling fan move air when the oven is in use and/or cycle completes." Check before you buy.
Brand Reliability
Every year we ask thousands of subscribers about their experiences with electric wall ovens and repairs. Based on our latest survey of 4,703 people about seven brands, we estimate that by the time the wall ovens are three years old, 11 percent will need repair or have serious problems. The differences among brands were not big enough to call out most and least reliable. However, Kenmore and GE and GE Monogram appear at the top of our reliability chart and are better than KitchenAid, which appears at the bottom.

Shopping for a Wall Oven?
Then see our wall oven Ratings first. We've tested wall ovens from Whirlpool, GE, Frigidaire, Kenmore, Electrolux, Viking, Wolf, and more. Single-oven models range from $1,300 to $4,100. Double ovens cost $2,000 to $6,300.

Use the filter to narrow your choices by brand and price. Check the Features & Specs tab to compare models and the Brand Reliability tab to help you decide. Look for sales and rebates online. We're seeing some great deals. And if you have questions, send me an email at kjaneway@consumer.org.