Utility rebates for energy-efficient washing machines are an easy way to save money on a big purchase. So when the Southern California Gas Company announced a $200 rebate for the Whirlpool WTW4715EW, a $520 top-loader, Consumer Reports decided to put this unique washer to the test.
Unusual in Two Ways
To save energy heating the water, this Whirlpool uses only cold water for most cycles. That's why the California utility offers that big rebate. (Heating hot water accounts for 90 percent of the energy a washer uses, according to Energy Star.) You can't do a warm wash with this machine, but hot water is available if you choose the heavy-duty cycle.
Whirlpool markets this appliance as a high-efficiency (HE) agitator top-loader. HE top-loaders usually don't have an agitator, which allows for a bigger capacity. HE top-loaders use a lot less water than agitator top-loaders and are better at extracting water, so dryer time is shortened, saving energy.
The agitator in the Whirlpool WTW4715EW eats up space, so it can handle about 17 pounds of laundry, compared with 28 pounds for the highest-capacity HE top-loaders. And this washing machine used 26 gallons of water to wash our 8-pound load. That's about twice as much water as many of the HE top-loaders we tested. Odd that a washing machine that uses so much water is promoted with rebates to residents of drought-ridden California.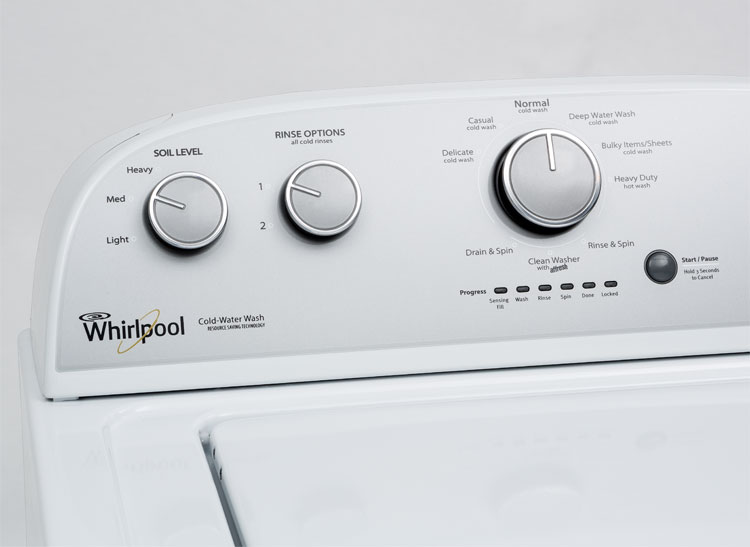 So How Good Is This $520 Washer?
Our tests use the normal-wash cycle with warm water and the heavy-soil setting. The Whirlpool WTW4715EW can use only cold water when set to the normal wash cycle, so cleaning in our tests was just fair, and some stains remained, says Emilio Gonzalez, the engineer who oversees our tests of washers and dryers. "To get the best performance of any machine, use a highly rated laundry detergent," he advised.
This washing machine wasn't so gentle on fabrics and was noisy. But it was one of the most energy-efficient agitator washers we tested. "While it doesn't extract as much water as a typical HE top-loader, which trims dryer time and saves energy, it uses negligible amounts of hot water," Gonzalez says. Wash time was 50 minutes.
You'll find this Whirlpool in our Ratings of agitator top-loaders.
Top-Loaders to Consider
Agitator Top-Loaders

High-Efficiency Top-Loaders

More choices. When you check our washing machine reviews, use the filter to narrow your choices by price and brand as well as by test results and features. And be sure to check our exclusive brand reliability information to find out what more than 115,000 people have to say about washing machine brands.
Email me questions at kjaneway@consumer.org.

Consumer Reports is an independent, non-profit organization dedicated to helping consumers. We make it easy to buy the right product from a variety of retailers. Clicking a retailer link will take you to that retailer's website to shop. When you shop through retailer links on our site, we may earn an affiliate commission – 100% of the fees we collect are used to support our mission.
Learn more.
Our service is unbiased: retailers can't influence placement. All prices are subject to change.