When you shop through retailer links on our site, we may earn affiliate commissions. 100% of the fees we collect are used to support our nonprofit mission.
Learn more.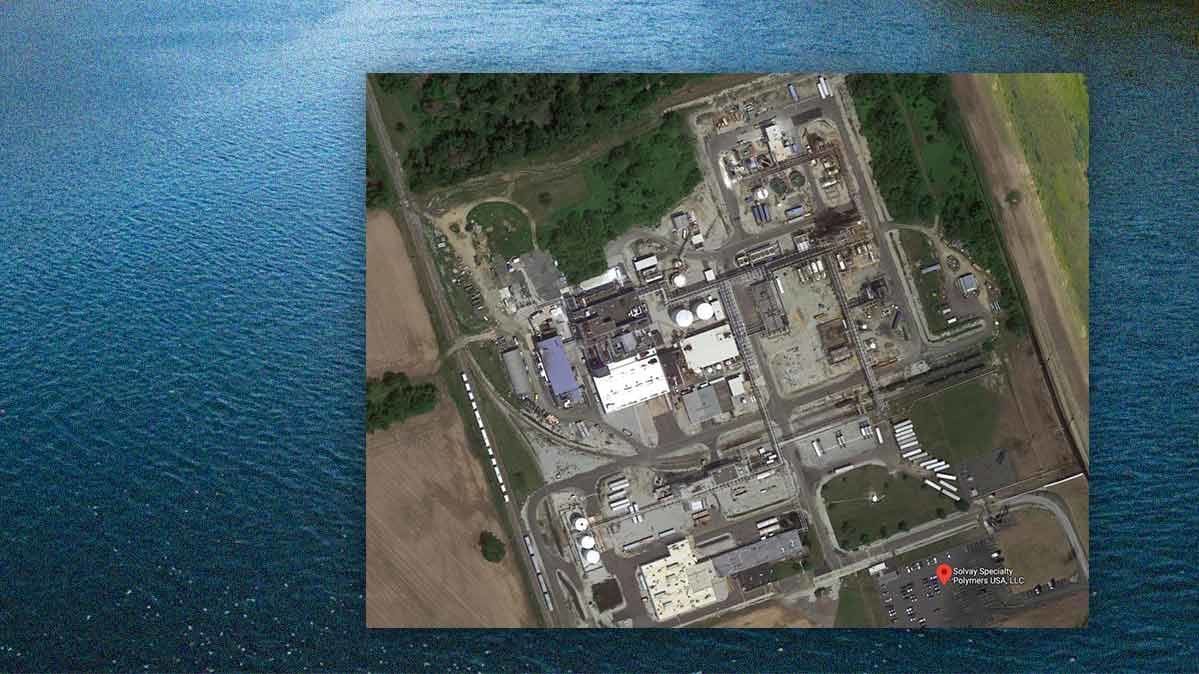 The manufacturer Solvay Specialty Polymers USA has been emitting unregulated PFAS chemicals at a New Jersey facility for more than two decades and contaminating water supplies, state regulators allege in a lawsuit filed Tuesday. But the state remains unable to release detailed information about the compounds because Solvay asserts that information is confidential, the lawsuit says, effectively barring it from public view.
"Solvay cannot be allowed to continue to release toxic PFAS chemicals into the environment while leaving the public in the dark about the risks of their practices," Catherine McCabe, commissioner of the New Jersey Department of Environmental Protection, said in a statement.
The 113-page complaint (PDF), brought by the DEP, is the latest salvo in the state's effort to address environmental contamination it believes has been caused by Solvay's use of PFAS (per- and polyfluoroalkyl substances) at the company's plant in the town of West Deptford.
Solvay uses PFAS—a group of several thousand so-called forever chemicals, linked to serious health problems—to make plastic components for consumer products. But it has for years discharged "tens of thousands of pounds" of those compounds into the environment, the New Jersey DEP claims.
That includes PFAS compounds Solvay introduced as a replacement for PFNA (perfluorononanoic acid), which New Jersey has regulated with strict limits in drinking water since 2018. Solvay's own research suggests the company's replacement PFAS can cause liver damage, according to emails obtained last month by Consumer Reports, and they may be even more toxic than PFNA and other well-known PFAS substances.
A Solvay spokesperson says the company was "surprised and disappointed" by the lawsuit and that it intends to "defend ourselves against NJDEP's inaccurate, overly broad, and meritless allegations."
The spokesperson added, "We remain committed to completing our investigation and remediation of PFAS impacts scientifically attributable to our West Deptford facility in compliance with applicable laws and regulations."
Consumer advocates say the new revelations in the lawsuit raise significant concerns.
"It is concerning that the use and discharge of these new problematic chemicals has been ongoing for over two decades, according to the company," says David Andrews, senior scientist at the advocacy organization Environmental Working Group. "The replacement of long-chain PFAS compounds with newer similarly toxic chemicals is a systemic problem that urgently needs to be fixed."
The lawsuit seeks an order from a New Jersey Superior Court judge that would require Solvay to investigate and remediate PFAS contamination, stop unpermitted discharges at its manufacturing facility, and withdraw its confidentiality claim regarding new replacement chemicals.
"This decisive action by New Jersey recognizes that PFAS substitutes also may be toxic and should be removed from the environment," says Michael Hansen, PhD, a senior scientist at Consumer Reports. "It also demonstrates that all classes of PFAS should be declared as toxic contaminants, and highlights the need for a federal drinking water standard for the whole class. Finally, safety data on the PFAS substitutes should not be allowed to be considered confidential, and we urge the state to release the information."
Decades of Contamination
The lawsuit sheds new light on Solvay's use of unregulated PFAS compounds being used in place of PFNA. Solvay reported that it began using replacement compounds even before phasing out PFNA, in 2010, after the state ordered it to release information about its use of that compound, according to the complaint.
"In April 2019, Solvay reported to the Department that it has discharged and emitted 'replacement' PFAS products into New Jersey's environment for more than two decades, and that it continues to use, emit, and discharge these compounds today," the lawsuit alleges.
Information about the company's use of newer PFAS compounds has trickled out over the past year. In June, researchers from the DEP and the Environmental Protection Agency published a study in Science, which found newer PFAS compounds it believed were used by Solvay in soil samples taken in New Jersey. The state says those compounds are believed to be a type of PFAS known as chloroperfluoropolyether carboxylates, or ClPFPECAs.
A few months later, the researchers disclosed in a separate study, published in the journal Environmental Science & Technology Letters, that the same compounds had been found in drinking water.
New Jersey DEP scientists analyzed Solvay's own studies on the PFAS replacements and determined that they pose a "potential for human toxicity" at even lower doses than older ones, CR reported last month. That research, conducted in rats, "indicated that these PFAS cause liver toxicity at very low doses," a state scientist wrote in an email CR obtained.
Information Remains Hidden
But at the same time, Solvay's confidentiality claims have "hidden much of its activity regarding these compounds from the Department and from public view," the lawsuit claims. Solvay has asserted the specific chemical identities of its replacement PFAS, emissions information, safety data, and toxicology studies "that describe the health and environmental risks they pose" are confidential and proprietary, the state claims in the complaint.
"In so doing, Solvay has effectively barred the Department from disclosing this information to the public at this time," the suit says.
Consumer advocates have called for Solvay to release safety information on its replacement PFAS, but the company so far has refused to say whether it would agree to release the information.
"Solvay has exacerbated the impact of its PFAS on the public health, safety, and environment by treating virtually all information regarding the safety of and its use, discharge, and emission of the 'replacement' PFAS compounds as Confidential Business Information, thereby limiting the Department's ability to act promptly to address the ultra-hazardous activities involving and the impacts of Solvay's 'replacement' compounds," the DEP's lawsuit says.
Relief Requested
In addition to PFAS pollution, the lawsuit—which also names the manufacturer Arkema, the predecessor at Solvay's manufacturing site, as a defendant—claims that toxic heavy metals and volatile organic compounds have been detected in groundwater near the facility. These include arsenic, antimony, beryllium, chromium, lead, and cobalt, "all of which have been detected on-site at levels exceeding groundwater quality standards," the lawsuit says. Levels of PFNA in public drinking water near the facility are higher than what has been reported anywhere else in the world, the lawsuit says.
The 10-count complaint is likely to reinvigorate calls from advocacy groups for decisive regulatory action around PFAS, including a proposal to manage the compounds as a chemical class, rather than one by one. The EPA has yet to issue a national enforceable limit for PFAS in drinking water, instead providing only voluntary guidelines for two of the compounds, PFOA (perfluorooctanoic acid) and PFOS (perfluorooctanesulfonic acid). Some states have stepped in to fill the void and have implemented legal standards for a handful of other PFAS, as New Jersey did in the case with PFNA.
The DEP's case follows a lawsuit filed last month by Solvay against another local manufacturer, claiming it was responsible for PFNA contamination in the region. But the DEP says that evidence links Solvay to "widespread" PFAS contamination and that the company refuses to take "full responsibility for the necessary investigation and remediation."
"Solvay Specialty Polymers USA, LLC's conduct has been driven by its desire to profit from the sale of its products and avoid the expense of properly disposing of and cleaning up PFAS," the lawsuit says, "despite the harm it has caused to New Jersey's citizens and the environment."