When you shop through retailer links on our site, we may earn affiliate commissions. 100% of the fees we collect are used to support our nonprofit mission.
Learn more.
Tougher energy standards for window air conditioners mean that your utility bill won't soar when temperatures do. Window air conditioners manufactured since the end of October have such innovations as high-efficiency compressors and fans, and better insulated installation materials that give you a tighter fit. And to help you choose, Consumer Reports upgraded its testing chamber to give an even more accurate idea of how an A/C cools in real-world conditions. We found some winners from GE, LG, Frigidaire, and Haier.

Buy the right size. When it comes to air conditioners, bigger isn't always better. A unit that's too big for the space it's meant to cool will cycle on and off without removing enough moisture from the air, leaving you feeling cold and clammy. One that's too small will struggle to cool down the room, leaving you hot and sweaty. Here's how to find one that's just right and that's recommended by Consumer Reports.

Small (5,000 to 6,500 Btu/hr.)
(Cools 100 to 300 square feet.) For a small bedroom, home office, or guest room you'll want an air conditioner with good scores for comfort and quiet.
Medium (7,000 to 8,500 Btu/hr.)
(Cools 250 to 400 square feet.) To cool a master bedroom or playroom, step up to a mid-sized air conditioner.
Large (9,800 to 12,500 Btu/hr.)
(Cools 350 to 650 square feet.) For a living room or family room, you'll want a large air conditioner, especially if you have an open floor plan.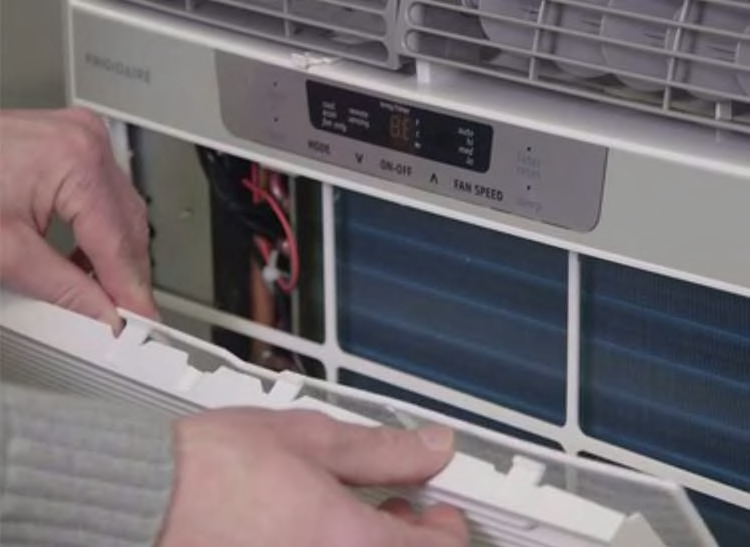 When You Can't Install a Window A/C
For apartment buildings that don't allow window air conditioners or for homes that don't have double hung windows, you can consider a portable air conditioner. But be forewarned that in our tests they had subpar scores for comfort, meaning they labored at lowering the temperature of the testing chamber to a comfortable level. At 80 pounds, some portable A/Cs are anything but and can be cumbersome to move around, even when they have casters. And they're typically bigger, noisier, more expensive, and use more energy than window air conditioners.

Fans. Ceiling and box fans won't lower a room's temperature or remove humidity from the air, but they can make you feel several degrees cooler and don't cost much to run. Ceiling fans that earn the Energy Star label move air 20 percent more efficiently than standard models. When used in concert with an air conditioner, a ceiling fan allows you to set the temperature a bit higher and save money. But keep in mind that fans cool you and not the room so turn if off when you leave.