Be Prepared With a Winter Car Emergency Kit
Check out the features before buying one, and don't shy away from adding to it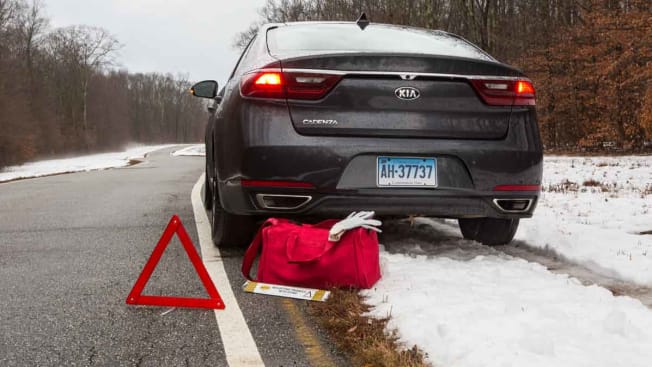 A winter car emergency kit is a must for the drivers in your family, including yourself. 
Winter weather could leave you stranded, but a well-stocked emergency kit can help you get back on the road or at least make time waiting for assistance safer and more comfortable. 
We recently bought a few winter emergency kits online to gauge what they offer and how useful they might be in a pinch. The kits we bought cost between $50 and $85. See our reviews of these kits, below.
Winter car emergency kits typically include:
Battery booster cables. You'll want these in case you wind up with a dead battery or you need to help someone else with a dead battery. Alternatively, a portable jump starter is very easy to use and works well, but it needs to be kept charged to work on the road.
Ice scraper. Every car in the snow belt should have an ice scraper and a brush. Cheap scrapers are commonly found in the kits. It is better to carry a combination snow brush/scraper that makes clearing snow before traveling easier. In some states, clearing your car of all snow is the law. Even where it's not, it's just common courtesy so that your blowing snow doesn't impair another driver's vision.
Portable shovel. These are handy for digging out a car buried by plows or stuck along the roadside, and for clearing space around a tailpipe for extended idling, to prevent fumes from entering the car. Most kits come with a collapsible shovel. (The shovels come in a range of sizes and strengths.) If you've ever had to dig out your car before, a full-sized shovel might be in order because compact shovels can be difficult to use on big jobs. Also, keep a bag of sand handy in your trunk to help boost traction.
Items to help if you're stranded. Most kits come with a flashlight, and some include a signaling cone to warn oncoming cars of your presence. Pack backup batteries for that flashlight. Roadside triangles should be in every kit, and a reflective safety vest comes in some kits.
Basic first-aid kit. Most emergency kits have one for the bare essentials, such as attending to a small cut. Add things that suit specific health needs, and be aware of how temperature may affect medicines.
Cell phone charger. Almost everyone carries a smartphone attached to the hip nowadays, and a cell phone charger is a good thing to keep in the car, especially during the winter and on road trips.
Other common items. Things such as gloves, a blanket, a rain poncho, wipes, and rags can help you stay clean and shield you from the elements. It's a good idea to keep a pair of boots and a hat in the car, particularly if you're often driving in snowy conditions.
Other items that come with kits may be handy, depending on your needs and skills:
Tow strap. A simple tool, a strap can be essential if you ever need to be pulled out of a ditch. Know how much weight the strap can tow (reputable straps have that information printed on a label) and how to tether it to the appropriate part of a car before using it. Read your car's owner's manual for recommend practices for using a tow strap, such as using a detachable tow hook to use a tether. 
Fire extinguisher. It's good to have if you need to fight a small fire, but if your car is on fire, back off and wait for the emergency help. If you buy an extinguisher, make sure it is intended for automotive use.
Water and long-lasting food. They're always good things to carry, particularly on long trips. Think granola and protein bars; bottled water will usually last for six months before it needs to be replaced.
Items for handling a flat tire. Some kits come with an aerosol can of tire sealant that can temporarily fix a tread puncture. Be aware that these products may not work well in extreme cold weather (check the directions), nor are they intended for large punctures or tires with sidewall damage. Our tip here is to use a spare tire if one is available, or call roadside assistance for a tow.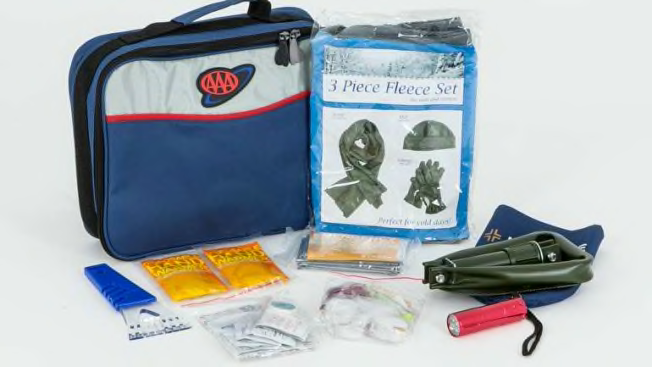 A quality metal folding shovel is included; it seems tough enough to dig out of hard-packed snow. (Some other kits have a plastic shovel that's better suited to soft snow.) Another nice touch: The kit comes with fleece gloves, a hat, and a scarf. There are no battery booster cables with this kit, but a AAA membership brochure for roadside assistance is included.
CR's take: This is a good basic kit with many essentials. The compact size is good for cars of all sizes. Prices vary, but we found it at lowes.com for the lowest price.
Ultimate Winter Car Emergency Kit
Price paid: $64.95
This basic kit has most of the winter-driving essentials. Included are battery booster cables, a tow rope, a flashlight (batteries included), candles with matches, a collapsible shovel, an ice scraper, a blanket, gloves, and hand wipes.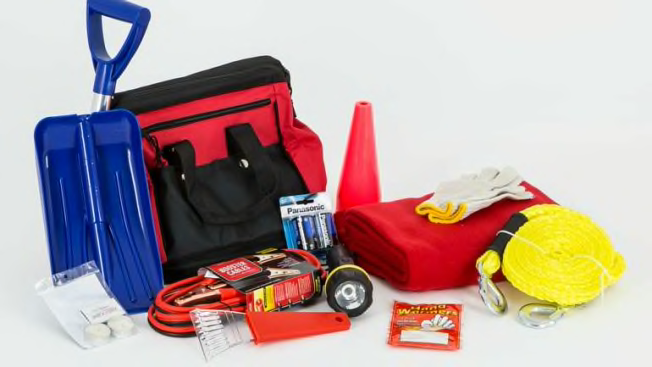 The gear is packaged in a carry case with a nonskid bottom, two zippered compartments, and storage pockets. It won't take up much room in a car because it's sized like a bowling ball bag. It comes with a safety manual that offers good tips on winter driving and what to do in case of an accident or a flat, or if you're stranded. Since we first evaluated this kit, the manufacturer increased the roadside-assistance program to three years, and raised the price.
CR's take: This kit is a good choice, but add your own first-aid kit and a triangle reflector. We found it at survival-supply.com.
All-in-One Winter Roadside Kit
Price paid: $69.95
The large bag would suggest that the kit comes with more stuff than some of the smaller kits, but most of the space in the duffle bag is eaten up by a big portable snow shovel with a sturdy handle, suitable for most snow conditions.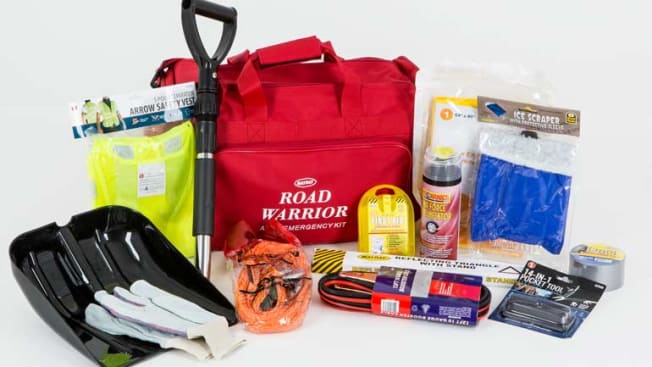 Included are a tow strap, an ice scraper with a protective sleeve, battery cables, a flashlight and batteries, a light stick, a reflective triangle, a high-visibility highway blanket, a rain poncho, hand warmers, work gloves, a first-aid kit, a distress flag, a space blanket, a reflective vest, a utility knife, and a can of tire sealant. Although it wasn't listed on the website, ours came with a versatile 14-in-1 pocket tool.
CR's take: This kit has a good mix of quality supplies to support winter driving, and the duffle bag has room to add more supplies. We found it at survival-supply.com.
Price paid: $79.95 
An expanded version of the Winter Car Emergency Kit, this one adds a triangle reflector, a first-aid kit, tire sealant, and some tools. However, it lacks hand warmers and an ice scraper.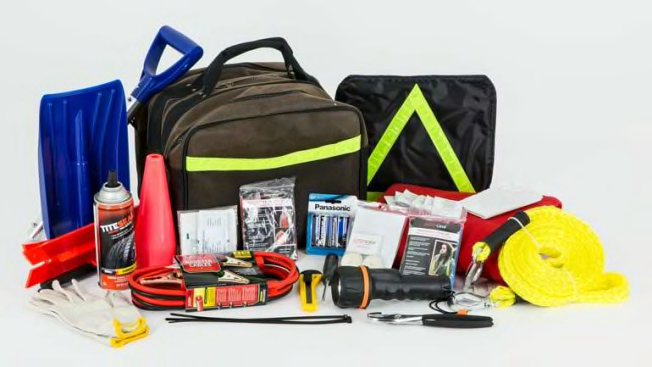 We like that the kit has a rain poncho and a reflective vest. A plastic bag with bandages, gauze, and alcohol wipes constitutes a very basic first-aid kit. You may want to pack additional medical supplies. The soft carrying case is well-designed, with integrated reflectors and compartments and pockets to keep things well-organized. There is ample space in the bag to add more equipment. Like with the Winter Car Emergency Kit, you can register for a roadside assistance program (one year of coverage, covering up to three incidents), and there is a safety manual with good tips on winter driving. It also has a nonskid bottom to prevent the bag from sliding around in your car.
CR's take: It's almost complete for tackling most winter driving situations, but add your own ice scraper and hand warmers. We found it at survival-supply.com. 
All-in-One Car Emergency Kit
Price paid: $85.95
Think of this as an all-season assistance kit, loaded with useful gear for year-round emergencies, but it's clearly not assembled specifically for winter driving. There is no ice scraper, snow shovel, hand warmers, or the like.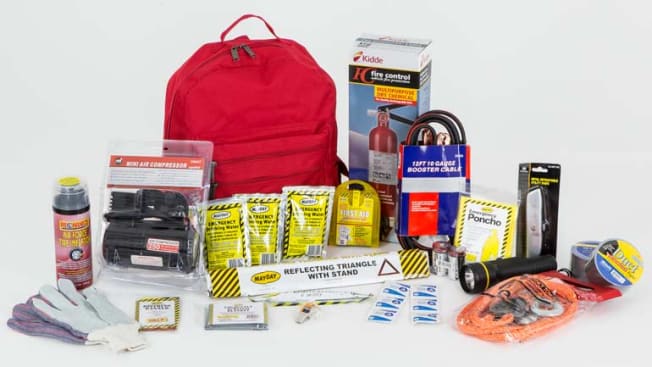 What you do get is the customary battery booster cables, a tow rope, a flashlight and batteries, a space blanket, work gloves, a poncho, and a first-aid kit. A portable air compressor can be useful for topping off your tires, and there is a tire sealant can to temporarily fix a punctured tire. A multipurpose fire extinguisher can be used to put out small fires before they get out of hand. We like the inclusion of a large reflective triangle, a 12-hour chemical light stick, and a distress flag. Bonus points for its duct tape and utility knife. Three bags of potable water are included. It all comes in an average-sized backpack. In addition, the kit has been updated since we last purchased it to include personal protective equipment, including a pair of vinyl or nitrile gloves, one face mask, and a packet of hand sanitizer.
CR's take: This is a good general-purpose emergency kit, but complete it with an ice scraper, hand warmers, and other winter-driving supplies. We found it at survival-supply.com.
A well-stocked emergency kit can help you and your passengers face unexpected challenges. You can't prepare for every possibility, but kits like these can help drivers solve problems, reach out for assistance, and keep occupants safe. We suggest always carrying  a tire-pressure gauge for routinely checking your tires and a water bottle filled with extra windshield-wiper fluid.  
There are more than 2,000 crashes in wintery conditions. On the "Consumer 101" TV show, Consumer Reports' expert Jen Stockberger offers essential tips to help get you where you're going safely.
When you shop through retailer links on our site, we may earn affiliate commissions. 100% of the fees we collect are used to support our nonprofit mission. Learn more.