When you shop through retailer links on our site, we may earn affiliate commissions. 100% of the fees we collect are used to support our nonprofit mission.
Learn more.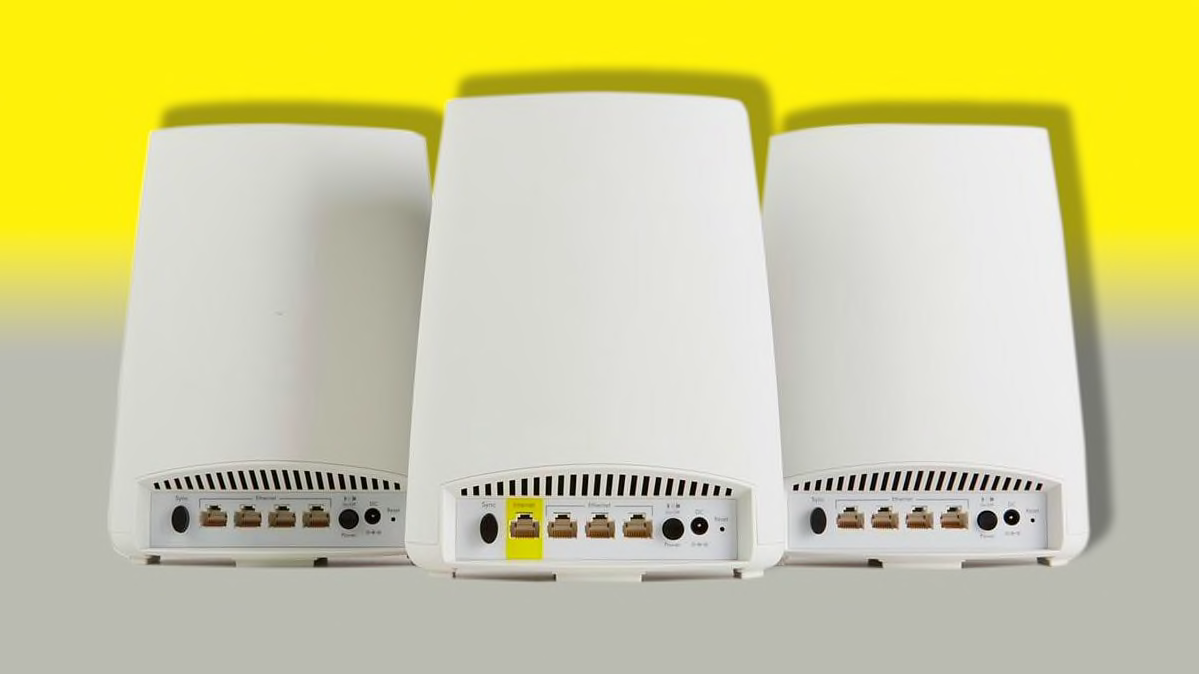 Bratton McGregor was tired of dealing with crummy WiFi.
A small business owner who lives just outside Mobile, Ala., he merely wanted to stream Netflix and play the occasional video game on the family iPad. But it wasn't until he upgraded to a mesh router that he was able to do so.
"Mesh has been a lifesaver for my entire house," he said in a recent interview. "I would have spent the money on it years ago if I knew about it."
Mesh, of course, is a relatively new router technology that uses several units (often sold in packs of three) that work together to evenly spread WiFi throughout your home.
That makes them especially useful if you have trouble getting a signal in one corner of your home or, say, the office tucked away in the attic. You simply shift the units around until you find a setup that eliminates the dead spots.
"Mesh is pretty close to the magic bullet," says Richard Fisco, who oversees electronics testing for Consumer Reports.
Mike Champion, an engineer at a digital marketing company in the Boston area, saw his WiFi problems effectively solved overnight by switching to an Eero mesh router system.
"With the transition to working from home, our three-person household would often have three concurrent Zooms," says Champion, who had at his desk speeds as slow as 3 megabits per second—barely fast enough to stream a single standard-definition video, according to the Federal Communications Commission—before upgrading to mesh.
"So far, so good," he says. He now gets close to 200 Mbps, which is fast enough to host eight simultaneous 4K Netflix streams, according to Netflix.
Mesh routers tend to be more expensive than their nonmesh counterparts. One top performer in our ratings sells for $500.
But a few models cost $300 or less—a good price for a device that has suddenly become critical infrastructure for homes across America. They include the Netgear Orbi AC2200 Tri-Band, $300, Eero Home WiFi, $250, and TP-Link Deco Whole Home, $180.
According to Fisco, models like these may outperform a traditional, single-unit router in part because they sling WiFi farther and more uniformly throughout your home. You may find even better performance with more expensive mesh routers, such as the Netgear Orbi AC3000, but you don't have to go all-out to fix spotty WiFi performance in a modest-sized home.
So if you're tired of pulling your hair out because your Zoom calls keep dropping or because "Tiger King" won't stop bufffffering, these budget-friendly mesh routers, ordered by price, may be the answer.
TP-Link Deco Whole Home
This is a strong performer with plenty of useful features, including simple setup via a mobile app. It has several built-in Ethernet ports, allowing you to plug laptops, printers, and other devices directly into the router network. And it supports two frequency bands (2.4-gigahertz and 5GHz networks), which helps further improve your WiFi connection in high-traffic areas, such as apartment buildings.
The model does not support automatic firmware updating, though, which means you have to routinely check with the manufacturer for new security patches. Having up-to-date firmware helps keep your WiFi network safe from hackers and other bad actors.
Eero Home WiFi (2nd Gen.)
Now owned by Amazon, Eero helped popularize the very idea of mesh networking. And while the manufacturer makes more powerful models, this one is still a good choice for many consumers.
You can expect fast signal speeds, convenient app-based setup, and automatic firmware updates. It also offers built-in Ethernet ports and support for both 2.4GHz and 5GHz networks.
Why would you spring for Eero's more expensive models? They may provide faster speeds in larger homes.
Netgear Orbi AC2200 (Tri-Band)
At $350, this is the priciest model on the list. What sets it apart from the others? The sheer number of Ethernet ports. We're talking 11, which could come in handy if you want the benefits of plugging printers, gaming consoles, and other devices directly into your WiFi network.
Beyond the fast, stable WiFi connection, the Orbi mesh system offers app-based setup and support for 2.4GHz and 5GHz networks. The biggest drawback: You must manually check for firmware updates.