When you shop through retailer links on our site, we may earn affiliate commissions. 100% of the fees we collect are used to support our nonprofit mission.
Learn more.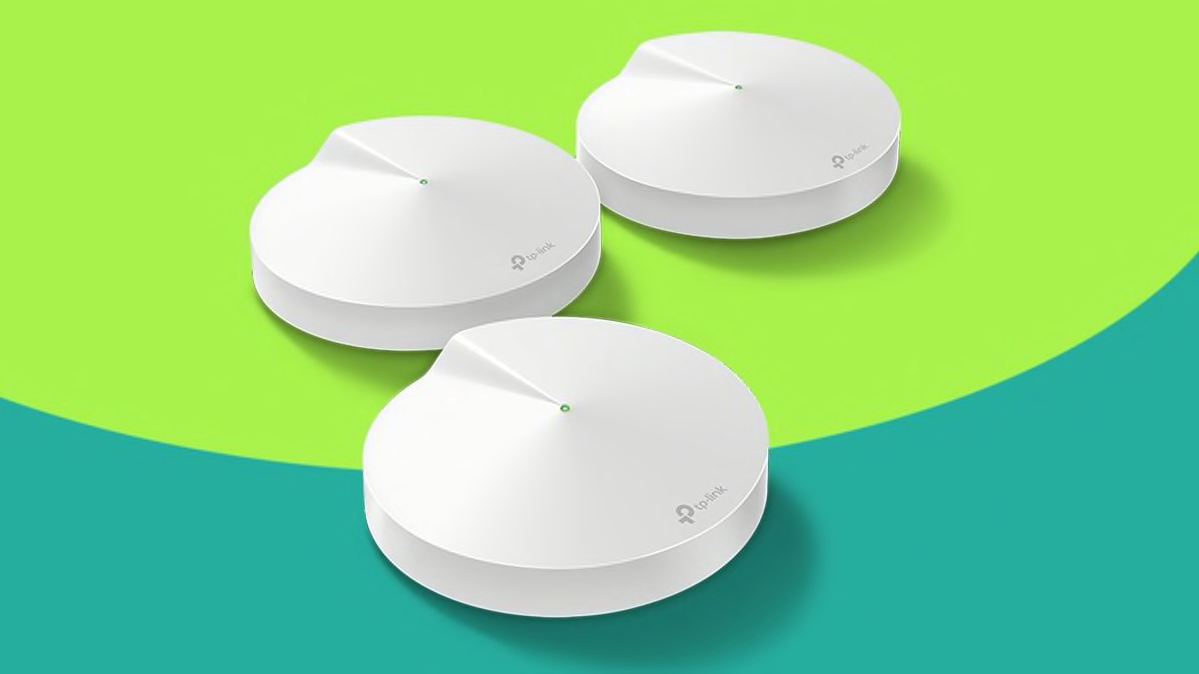 Your wireless router is responsible for handling all the data that flows into and out of your home through your internet service provider.
And though the best routers in Consumer Reports' ratings keep things humming along, relaying content from Netflix, Disney+, and Xbox Live without a hitch, some models do better than others.
"If I'm paying for a 200-megabit internet connection, can I actually get data that fast with my wireless router?" says Richard Fisco, who oversees electronics testing at CR. A good router can help you make sure the answer is yes. But if you experience problems with dead spots or slow connections, Fisco says, it could be time to go shopping—which is where we come in.
Right now there are almost 50 models in our ratings, split across two categories: wireless (aka single-unit) and mesh WiFi models.
A single-unit router plugs directly into your modem. Mesh WiFi routers feature one unit that plugs into the modem, plus a few satellites that can be stationed throughout your home. The units then "talk" to each other, creating a mesh network.
A single router is generally fine for apartments and modest-sized houses, but if you live in a larger home, a mesh router might be a better fit. That's especially true nowadays, when so many of us are working from home alongside children who are attempting to learn remotely. You can move the satellite units around to maximize coverage—steering the WiFi signal around common obstacles like doors, walls, and appliances.
A number of these routers are now compatible with WiFi 6, the latest wireless standard, which promises faster speeds and better support for the large number of connected devices that populate the average home. Note that in our ratings we refer to WiFi 6 by its more technical name 802.11ax.
What follows is a curated selection of the best routers in our ratings, based on a range of criteria, including how well they perform and how well they protect your privacy and security.

Mesh Routers
Netgear Nighthawk AX1800 (3-Pack)
A newer addition to our ratings, this mesh router is a good choice for consumers who have very demanding needs, such as providing enough throughput to support multiple high-resolution video streams, and at different locations, throughout your home.
This is among the very best-performing routers in our ratings, and includes support for WiFi 6, automatic firmware updates, and four built-in Ethernet ports to directly plug in nearby devices such as printers or game consoles. It also supports app-based setup, which lets you use your smartphone to do the initial installation.
This is a three-pack, including one main unit that you plug into your modem and two satellite units that you place throughout your home to evenly distribute WiFi signals.
TP Link Deco Whole Home
This TP-Link model is a CR Best Buy, which means it not only scores well in our tests but also is quite affordable compared with other options in this category. Available for around $160, it consists of a main base unit and two satellite units. And though it doesn't have any USB ports, it does offer six Ethernet ports that provide a wired internet connection for products such as a smart home hub or bridge, for example.
Our testers note that you'll have to manually update the firmware; a number of routers can now do this automatically, helping ensure that you always have the latest security improvements.

Eero Home
Several Eero models are now available, but we think this entry-level model is the one that makes the most sense for everyday consumers. It should cost around $250 for a three-pack; stepping up to the Pro version will cost you north of $500.
The Eero Home provides strong speeds even at long distances, offers easy, app-based setup, and has a couple of built-in Ethernet ports for connecting nearby devices. On paper the Pro model should perform even better (in part thanks to its support of a third frequency band), but this might not be worth the extra money for most folks.
The models currently in our ratings are the previous-generation models; the latest models, which launched at the beginning of November (called Eero 6), mostly add support for WiFi 6. The newest models are more expensive ($270 vs. $250 for the entry-level, and $600 vs. $500 for the Pro), but the newer ones might be easier to find as the new year approaches. Either generation will provide a solid, stable WiFi connection, and there are clear advantages to routers that support the newer standard.

Single-Unit Routers
Synology RT2600ac
Synology may not be as well known to consumers as other wireless router manufacturers, but the RT2600ac is a clear standout in our ratings. It delivers strong performance at a range of distances, has two built-in USB ports so that you can plug in and share peripherals like printers, and supports easy setup using a mobile app. If you have a truly large home, you can even link several units together to create a mesh network.
Our testers also like that the RT2600ac supports automatic software updates, which means the router will routinely run the most secure software without you having to lift a finger.

TP-Link Archer C3150 V2
Another CR Best Buy, this TP-Link model does very well in terms of pure performance—you'll be hard pressed to find a faster, more consistent router. It scored okay in terms of privacy and security, too, though you'll have to manually update the firmware to keep up with the latest security patches.
Another bonus: There are two built-in USB ports for connecting peripherals.
Asus AC2900
This CR Best Buy provides strong performance across the full range of distances that we test. Other handy features include app-based setup, four built-in Ethernet ports, and two built-in USB ports.
This model is also compatible with an Asus technology called AiMesh, which lets you use additional satellite units (sold separately) to create a mesh WiFi network if you want to expand the range of your WiFi network down the line.

Home WiFi Mesh Networks
Can't get a decent wireless internet connection in your home? On the "Consumer 101" TV show, Consumer Reports expert Nicholas De Leon explains to show host Jack Rico how mesh networks provide faster speeds and better coverage.