When you shop through retailer links on our site, we may earn affiliate commissions. 100% of the fees we collect are used to support our nonprofit mission.
Learn more.
Shoppers looking for some version of the Amazon Echo, the widely sold smart speaker powered by the Alexa digital assistant, already had a wide array of choices. Now Amazon is introducing a handful of new Alexa-enabled gadgets.
The new entries include a fresh Fire TV streaming media player, three Alexa-powered Echo speakers, and two completely new Echo accessories called Echo Buttons and Echo Connect. In addition, Amazon has announced that Alexa will be built into new BMWs.
The expanded lineup, announced Wednesday, could help Amazon ward off increased competition from Google Home, along with similar products from Apple, Microsoft, and even home-audio company Sonos.
But it could also leave consumers confused. After all, since 2014 the company had already launched a somewhat dizzying array of products with overlapping features: the Echo Dot, the Echo Tap, the well-known Echo speaker, the Echo Look, and the first of the devices to include a screen, the Echo Show.
Here's What's New
The new products expand the roster enough to fill out a baseball team, or more.
Here's the lineup of new players:
First comes the star of the show, the new version of the original Echo. This speaker is shorter than the original and has swappable exterior "shells" in finishes such as charcoal and oak veneer. The new Echo also packs improved microphones and speakers, according to Amazon, to help Alexa hear you more clearly and play music with better audio quality.
If you're shopping for your first Echo, the most appealing feature of the revamped model could be the price: Amazon is selling the new Echo for just $100, $80 less than the original. (The cheapest option remains the hockey puck-sized Echo Dot smart speaker introduced in 2016, which is often on sale for as low as $40.)
You can also buy a three-pack of the new Echo, which comes with a $50 discount. You'd do that to take advantage of multiroom audio, a feature Amazon added to its Echo speakers last month.
Next comes the Echo Plus. It looks identical to the first-generation Echo but comes with several improvements, the most important being the ability to act as a smart-home hub. This could make it the most interesting of the new products.
The original Echo could control connected gadgets if you downloaded that product's "skill"—Amazon-ese for "app"—and created an account with the manufacturer. That inconvenience discouraged some users from accessing more than a few smart devices. (CR has an available skill on the Amazon Alexa platform, enabling consumers to ask about pricing, performance, and recalls over a range of home and child products.)
Things should be easier with the Echo Plus, which costs $150. Amazon says you'll be able to control compatible smart-home devices such as smart locks and lights just by saying something like, "Alexa, find new devices." We'll be looking forward to seeing how well this works once we get the product into our labs.
Next up: the $130 Echo Spot. It looks like an alarm clock with a 2.5-inch display and a front-facing camera to let the user make video calls.
The next two products are bigger departures from what Amazon has done before.
One is the $35 Echo Connect, a neat idea with potential safety benefits. It's a box that connects to your home phone line and can turn any Echo speaker into a speaker phone, complete with your dedicated home phone number. That means you should be able to tell Alexa to call 911 if you can't get to a phone.
Finally, Echo Buttons, $20 for a two-pack, are small, wireless buttons that can be used with games played through an Echo speaker. For instance, the buttons can light up or vibrate when you guess an answer to a trivia question. Amazon says this is the first product in a new category called Alexa Gadgets. Details are scarce on what other devices could be introduced, what it would be like to play a game with the Buttons, or what innovations third-party developers will come up with.
Whew. That's it for Echo-branded products.
Rounding out the hardware news, Amazon unveiled a new Fire TV streaming dongle that supports 4K and high dynamic range (HDR) video, positioning it squarely against the latest streaming boxes from Apple and Roku. And at $70, it might offer those players stiff competition—the Apple TV 4K is priced at $180. The new Fire TV comes with an Alexa Voice Remote, as did previous Fire TV products.
All the new devices, except for the Echo Connect and Echo Buttons, are now available for preorder and will start shipping in about a month. Amazon says the Echo Connect and Echo Buttons will go on sale before the end of the year.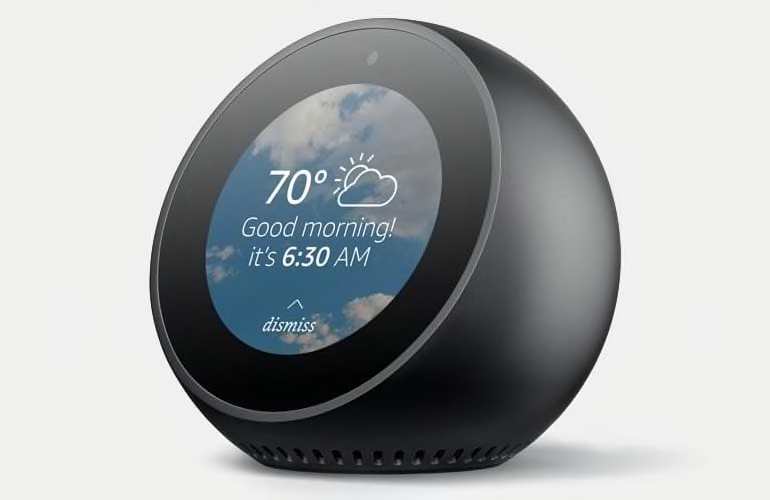 An Alexa Refresh
Alexa herself is also getting a few software upgrades, to be rolled out soon, according to Amazon. And these improvements will be available to anyone with an Alexa-powered device, new or old.
First, the voice assistant now lets you make an internet call to any U.S. phone number, using any Echo speaker. Caution: Because those calls go out over the internet rather than a phone line (unlike calls made with the Connect), you won't be able to call 911.
Alexa is also supposed to be getting better at helping you control smart-home devices. In the past, you needed to remember a highly specific name for products, like Kitchen Overhead Lights. Now Alexa should let you use more natural language.
And Alexa can now do the classic smart-home trick of combining commands for a variety of connected products into routines. You can, for instance, say, "Alexa, I'm going to bed" to have the system shut off the lights, lock the doors, and turn down the heat. At least that's the idea. We'll have to see what's involved in setting up such routines, and how smoothly they work, in our labs.
With so many new Alexa-enabled devices at prices ranging from $50 to $230, consumers now have a dizzying array of options. We'll be getting the new Echo speakers into our labs just like the earlier models to help you decide which model, if any, you should buy.