When you shop through retailer links on our site, we may earn affiliate commissions. 100% of the fees we collect are used to support our nonprofit mission.
Learn more.
Here in America, boomboxes are a visceral part of our collective audio culture. Who can forget that famous scene from Say Anything, with John Cusack holding a boombox high above his head, the Peter Gabriel hit "In Your Eyes" bounding from the speakers?
Shelf systems are less iconic, but if you ever went to a dance club or a college dorm party during the Say Anything era, chances are you got your groove on while listening to a device like the ones pictured below.
That's not to say that boomboxes and shelf systems are a thing of the past. The truth is they never really went away. But young John Cusack would be surprised to discover how much they've changed in the last 25 years. Today's models don't have cassette decks, for example. They offer Bluetooth connectivity and USB or HDMI ports instead.
Here are four cutting-edge models that caught our attention:

BeBox by Mohu, $500
Why is this boombox so pricey? It comes with a built-in android tablet that allows you to access a wide array of mobile music apps. In fact, you can conceivably download one that actually let's you create music.
If you want to pair the BeBox with a cell phone or other mobile device, though, you can still do so, either wirelessly (via Bluetooth) or through a 3.5mm jack, USB port, or microSD memory card slot. The BeBox also includes an HDMI output jack.
Of course, to serve you well, a boombox must be portable, and this model delivers eight hours of battery life. That should be enough to keep the party going deep into the night.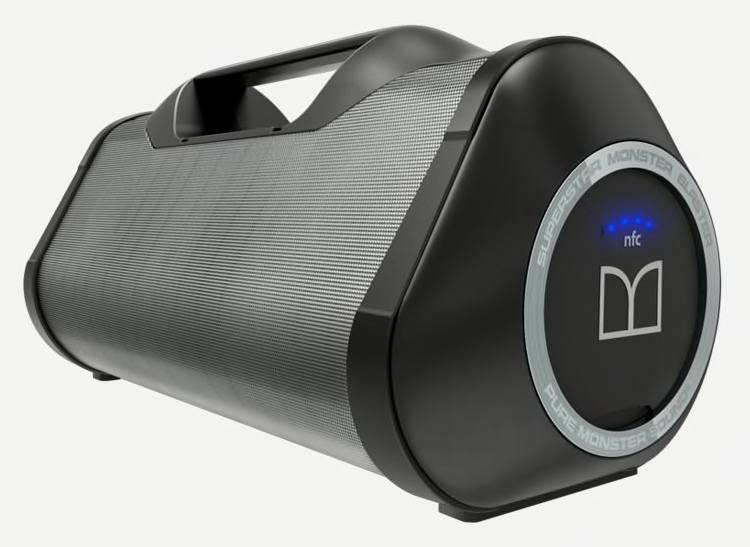 SuperStar Monster Blaster, $400
With its front- and rear-facing speaker, says Monster, this new boombox offers "powerful high-wattage bi-directional sound with full and deep bass." It also provides you with Bluetooth and USB connectivity, plus a 3.5mm stereo analog input. What's more, it's water-resistant. In many ways, though, it's just a big wireless speaker with a handle—except perhaps for the styling, which, Monster argues, "will look great on anyone's shoulder or at any social gathering." The SuperStar Monster Blaster will be available this spring.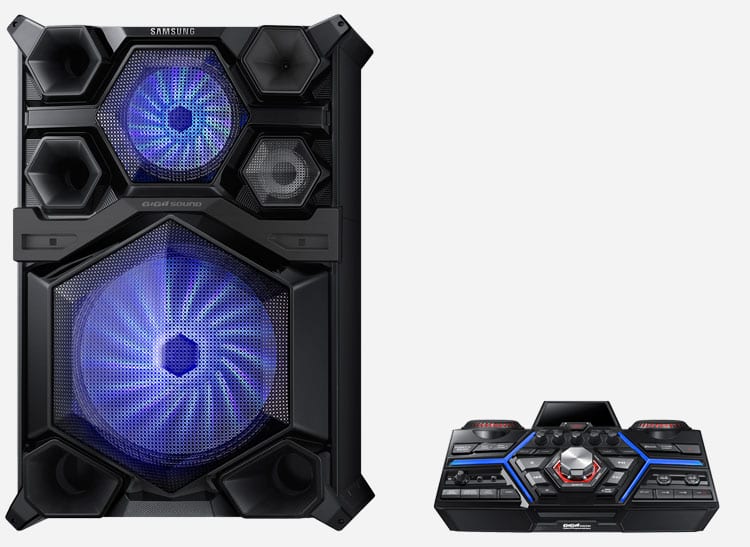 Samsung Giga Sound Systems, $150 to $1,700
In addition to stereo speakers, shelf audio systems generally include other components. For example, Samsung's $150 MX-J630—the entry-level option in its Giga Sound Systems—includes a built-in CD player. And this $1,700, top-of-the-line MX-JS9500 has a pair of powerful 4000-watt speakers, a built-in CD, an FM tuner, and a Party Drum feature that lets you add your own beats to any song on your playlist.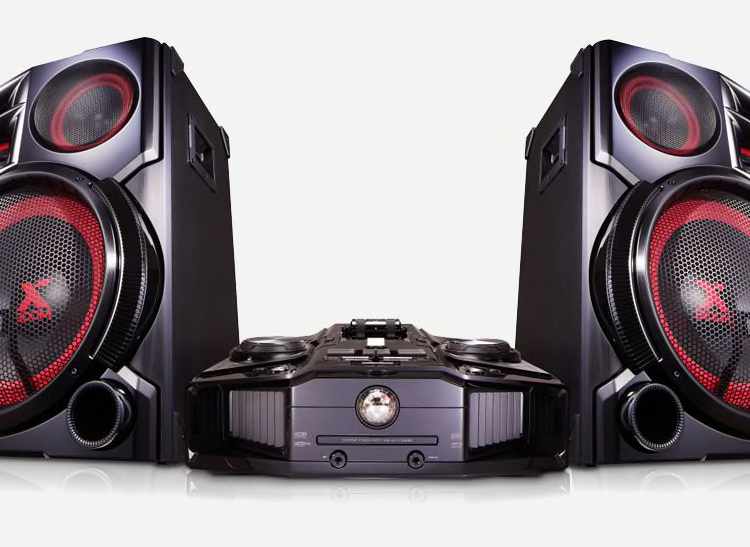 LG X-Boom Series
LG recently unveiled three X-Boom audio systems, including this CM9960 model, which offers more specialized, DJ-type features. For instance, the Sampler Creator lets users record a sound on a smartphone and wirelessly beam it to the X-Boom system, where it can be added to the digital soundboard and selected at the touch of a button. Much like other systems, LG also has a Party Thruster lever that creates multicolored light shows synced to the audio. LG has yet to announce the CM9960's price, but the unit is scheduled for release in the U.S. by mid-summer.
If you'd much rather shop for wireless speakers or upgrade to a home audio system, be sure to consult consumerreports.org for more expert advice.