When you shop through retailer links on our site, we may earn affiliate commissions. 100% of the fees we collect are used to support our nonprofit mission.
Learn more.
If you've liked the sound of Sonos wireless speakers, which have topped our wireless speaker ratings for several years, but wished they had the voice capabilities of the Amazon Echo, your wait is over. Today Sonos announced its first smart speaker, the $199 Sonos One, which will support multiple voice services. (Find out whether the Sonos One is the first decent-sounding smart speaker.)
The speaker will launch with Amazon Alexa baked in, but the company says it will be adding support for other voice-controlled digital assistants, including Google Assistant, sometime next year.
Also on tap for 2018: Apple AirPlay 2. That means you'll be able to play music—or sound from videos on services such as Netflix and YouTube—from any Apple device on Sonos speakers. You'll also be able to ask any device with Siri to control music on Sonos speakers.
The speaker can be preordered right now, for delivery Oct. 24.
Current Sonos speaker owners aren't being left out in the cold. They'll be able to get Alexa via a free software update, currently in beta. But you'll need an Alexa-enabled device, such as an Echo or a Dot, for that to work.
The Sonos One, which is available in either black or white, will compete in the rapidly growing smart speaker market, going head-to-head most directly with Amazon's own Echo, as well as with Google Home and Apple's upcoming HomePod. But Sonos is hoping that the company's superior sound quality will help give the Sonos One an edge.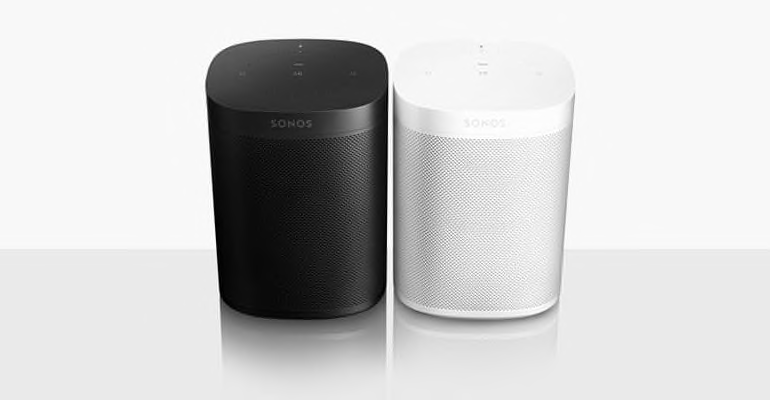 The Sonos One looks a lot like the current Play:1 model, but Mieko Kusano, senior director for product management at Sonos, said it was re-engineered almost entirely from the ground up. She said that there were no immediate plans to lower the price of the Play:1, also $199, once the Sonos One launches, but that the company would judge consumer reaction to both models. The company wouldn't say whether it planned to launch higher-priced voice-enabled models in the future.
During a demo at the event, the Sonos One's sonic signature—the character of the sound—seemed to be almost identical to the Play:1 model's, and like that speaker, it can be paired with another Sonos One in a stereo configuration, where sound noticeably improves, or with other Sonos speakers in a multiroom setup.
At launch, the Sonos One will support about 80 streaming services, and you can use Alexa voice commands to play tunes from Amazon Music, iHeart Radio, Pandora, and a few other music services right now. Support for Spotify will be added soon, the company said, with Apple Music coming at a later date.
All the other Alexa features, such as the delivery of news and weather reports, sports updates, setting timers, and controlling some smart home devices, will also be available to Sonos One owners.
The new speaker incorporates six far-field microphones to pick up voice commands and uses an adaptive noise-suppression technology that is supposed to help the speaker focus on the person speaking, making sure that voice commands are understood.
With a nod toward privacy concerns about devices with always-on microphones, a Sonos product spokesman said you can turn off the unit's mic, and because the indicator light is hardwired to the same circuit that powers the microphone array, "if the light is off, it means the microphone is off."
Sonos also said that it was updating its app today. The main benefit is simplified navigation; the main controls are now on a navigation bar at the bottom of the screen.