When you shop through retailer links on our site, we may earn affiliate commissions. 100% of the fees we collect are used to support our nonprofit mission.
Learn more.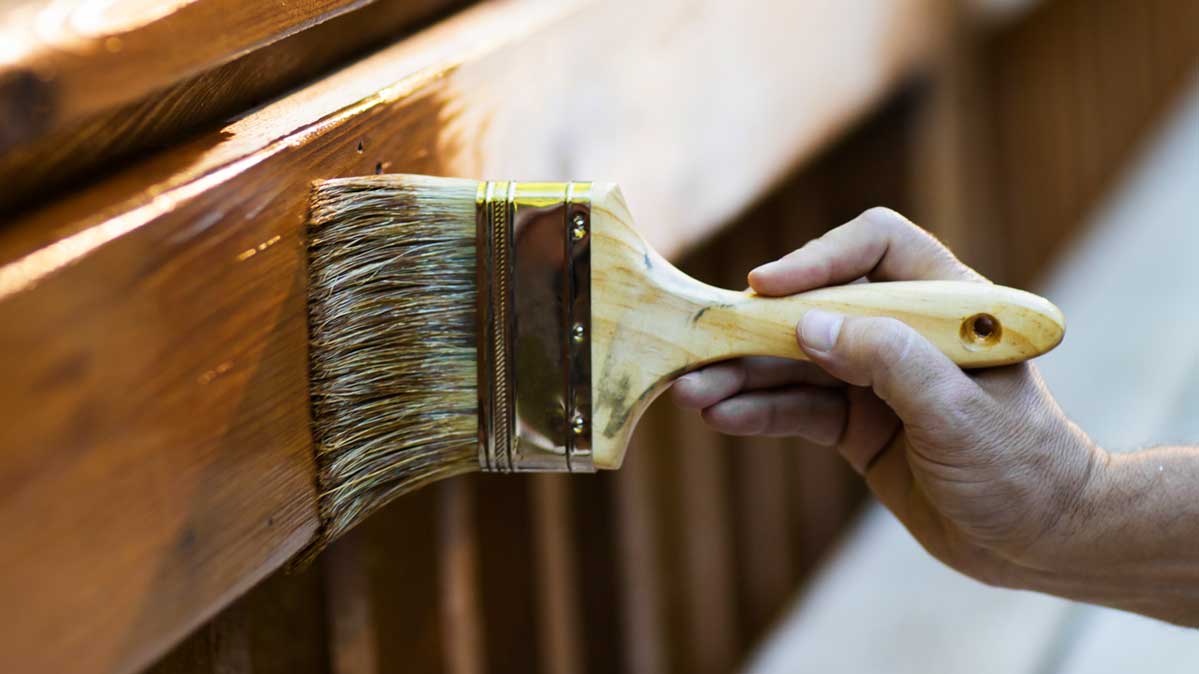 Staining a deck or fence is a perfectly doable DIY project. That doesn't mean you want to do it any more often than necessary. If you want to avoid repeating the chore every year, you're going to want a long-lasting stain.
Consumer Reports tested 28 solid, semitransparent, and clear wood stains to find which ones last the longest. Overall Scores range from 5 to 80 (out of 100), which means there are big differences in quality among wood stains.
"The worst stains won't hold up a year," says Rico de Paz, the chemist who oversees CR's tests of paints and stains. "The best remain close to new after three years, without fading, cracking, or mildew buildup. Some also fend off dirt."
The best stains should last three to five years on a deck, and even longer if applied to siding or fences, which do not get as much abuse. "The sun and water beat down on a deck, snow can pile up, and even dirt and mildew spores can settle on the flat surface," says de Paz. "All those issues are minimized on a vertical surface."
MORE ON STAINS AND PAINTS
Lab-Tested for Your Home
CR's test engineers apply two coats of stain to pine boards, and place them on the roof of our headquarters in Yonkers, N.Y. We face the boards south and angled down, like a roof, to intensify the effects of the sun and weather for up to three years.
One year of testing tells you how a stain will do one year on your deck, or about three years of weathering on your home's vertical surfaces (siding or fences) as you'll see in our wood stain ratings.
Types of Stains
Solid. They hide the grain of the wood the way paint does, and the best should last three to five years on a deck—the longest of the three types of stains. But solid stains' paint-like qualities have their drawbacks: They might build up a film, especially after several coats, which can peel, chip, and crack, just like paint. The 11 stains in this category earn Overall scores of 12 to 80 (out of a possible 100).
Semitransparent. These color the wood's grain but let it peek through the color, making them a good choice for wood that you want to show off—western red cedar, for instance. But the best semitransparent stain in our tests isn't as tough as the top solid stains, and our data suggest this type of stain will probably only last two to three years on a deck. The 11 stains in this category also vary widely in performance, garnering Overall Scores of 12 to 65. So compare before you shop.
Clear sealer. These may contain little or no pigment, along with water repellents. Clear sealers are ideal for accentuating the beauty of the natural grain of the wood, although without anything to turn back UV rays, the wood will turn gray over time—picture a weathered cedar-shingled house on Cape Cod. And you'll probably have to re-stain annually. As a group, the six clear sealers tested scored the lowest, with Overall Scores ranging from 5 to 28 (out of 100).
Shopping for a Stain?
See our wood stain ratings, and check the Features & Specs info to find out if the stain is good at resisting cracking, fading, dirt, and mildew. That makes a difference depending on the climate you live in. For example, look for a stain that resists mildew if you live in a humid area, or one that resists dirt if you live in a desert.
CR members can read on for ratings and reviews of the only three wood stains to make our recommended list.