Can some drugs make me more sensitive to the sun?
Published: July 21, 2015 02:30 PM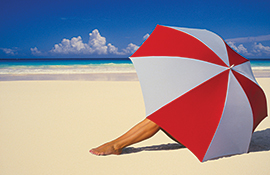 Yes. A surprising number of medications make your skin more vulnerable to the sun's ultraviolet radiation—an effect you might not be aware of until after a ruined summer outing. Some medications increase your risk of regular sunburn. Others cause something called photosensitivity, which increases the risk of painful or itchy rashes.
"When we say that a drug causes photosensitivity, we mean that the medication causes a chemical change in the skin that makes it react abnormally to the sun's ultraviolet rays" said Jessica Krant, M.D., assistant clinical professor of dermatology at the State University of New York Downstate Medical Center in New York City and a member of Consumer Report's medical advisory board. "That photosensitivity comes in two basic forms, phototoxic and photoallergic reactions."
Phototoxic reactions, the most common form, occur when UV rays interact with a medication—either something you took or applied to your skin—to directly damage skin cells. Those reactions typically take the form of a rash that looks like a bad sunburn and come on quickly, appearing within minutes or hours of sun exposure. The effects can sometimes linger long after the drug is stopped, Krant says. So if you've had a reaction, be extra cautious about sun exposure for awhile, even if you have stopped taking the drug.
Photoallergic reactions occur when UV rays cause chemical changes that cause your body to treat a substance as an allergen. They take the form of an itchy rash that develops 24 to 48 hours after you've been in the sun. Something you apply to your skin, such as an antiseptic or topical form of a nonsteroidal anti-inflammatory drug, can cause a reaction, but so can some systemic medications. Other substances that can cause photoallergic reactions in some people are fragrances and, surprisingly, sunscreens. If you think you may have suffered a photoallergic reaction, enlist your doctor's help in identifying the culprit and finding an alternative. For example, the sunscreen ingredients titanium dioxide and zinc oxide typically don't cause allergic reactions.
A painful sunburn or miserable rash can spoil your summer fun. To play it safe, Krant recommends asking your doctor or pharmacist if anything you are using can cause sun sensitivity. Remember to include supplements in that conversation, Krant says. For example, the herb St. John's wort can cause phototoxic reactions.
The table below lists some of the offenders. If you're using any of them, you should be especially careful to take the following steps to protect yourself from the sun's powerful rays.
Drugs that increase sun sensitivity
Use

Drug names*

Acne and aging skin

Benzoyl peroxide (Clean & Clear Continuous Control Acne Cleanser, PanOxyl), salicylic acid (Clearasil Pore Cleansing Pads), and tretinoin (Retin-A, Renova)

Bacterial infections

Fluoroquinolone antibiotics such as ciprofloxacin (Cipro) and gemifloxacin (Factive)

Sulfa antibiotics such as sulfadiazine

Tetracycline antibiotics such as demeclocycline (Declomycin) and doxycycline (Doryx, Vibramycin)

Depression

Tricyclic antidepressants such as amitriptyline and imipramine (Tofranil)

Disinfecting skin

Topical chlorhexidine

Fungal infections

Voriconazole (Vfend), griseofulvin (Grifulvin V)

High blood pressure

Thiazide diuretics such as chlorothiazide (Diuril) and hydrochlorothiazide

Itching

Topical diphenhydramine (Benadryl Itch-Stopping Gel)

Malaria

Quinidine (also used to treat heart arrhythmias), quinine (Qualquin)

Nausea and vomiting

Prochlorperazine (Compro)

Osteoarthritis

Piroxicam (Feldene)

Pain, fever, and inflammation

Nonsteroidal-anti-inflammatory drugs such as ibuprofen (Advil), ketoprofen (Nexcede), naproxen (Aleve, Naprosyn)

Topical NSAIDs such as diclofenac (Pennsaid, Voltaren gel)

Psoriasis

Methoxsalen (8-Mop, Oxsoralen)
*Many of the drugs listed are also available as generics.
How to protect yourself

Use sunscreen. Choose a water-resistant product that's labeled "broad spectrum," which means that it's formulated to protect against UVA and UVB radiation. Apply it 15 to 30 minutes before you go out to give it time to soak into your skin, and reapply every two hours or after swimming or sweating heavily.
Cover up. Wear sun-protective clothing (dark-colored material with a tight weave) and a wide-brimmed hat when outdoors. A dark, nonreflective underside of the brim can also help cut down on the amount of UV radiation that reaches your face from reflective surfaces such as water.
Seek shade. Avoid being out in the early afternoon, when the sun's rays are at their peak. As a rule of thumb, if your shadow is shorter than you are, the UV light is at its strongest.
Get a consultation. Have a discussion with your doctor about whether it would be appropriate to stop some higher-risk medications (such as some antibiotics) one week before a planned sun exposure.
Editor's Note:
This article and related materials are made possible by a grant from the state Attorney General Consumer and Prescriber Education Grant Program, which is funded by the multistate settlement of consumer-fraud claims regarding the marketing of the prescription drug Neurontin (gabapentin).