When you shop through retailer links on our site, we may earn affiliate commissions. 100% of the fees we collect are used to support our nonprofit mission.
Learn more.
It seems Acura can't leave well enough alone, updating its popular MDX luxury SUV almost annually. And though Acura made some improvements that we've wanted, some changes are a miss, and the automaker still hasn't changed some of the MDX's worst problems.
Most notable for 2017 is that forward-collision warning and automatic emergency braking come with every MDX. We've been advocating for all cars to make this vital safety gear standard, and we're glad Acura heeded our call.

Other changes are less noteworthy. Gone is the beaklike front grille, softened and less menacing. The top Advance trim adds available rear captains chairs; these reduce passenger capacity to six from seven, but many luxury SUV buyers seem willing to make this trade-off. Other Advance add-ons include a heated steering wheel and surround-view camera system—both handy features. (Other trims can get the heated wheel as a $500 dealer-installed accessory, a neat hack also available on other recent Honda SUVs.)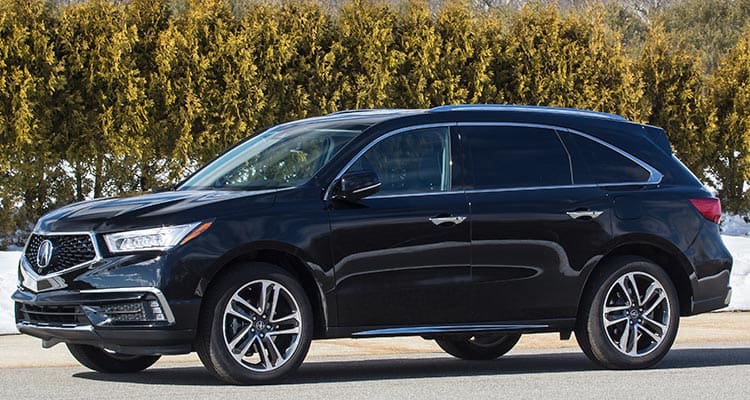 Beyond that, the MDX remains familiar. The 2014 redesign significantly improved ride comfort and cabin quietness, but it eroded the agility possessed by previous (2007-2013) MDXs, partly because of its vague steering. Road noise fell to a distant murmur, and the suspension rounds the edges off of most bumps. For all of the marketing hype about the MDX's Super Handling All Wheel Drive being able to proportion power from side to side for more responsive handling, there is little about the MDX's handling that is sporty. There is little chance a driver will experience anything special in normal, everyday driving.
Most MDXs will come with a 3.5-liter V6 making 290 hp. Acceleration is snappy as the engine eagerly pulls along this three-row SUV, and it remains slick sounding. Honda says that this engine gets an EPA-estimated 18 mpg in the city, 26 mpg on the highway, and a combined 21 mpg. A new start-stop system has been added to the MDX Advance, shutting off the engine when stopped to save fuel. It's not the smoothest system around—it restarts the MDX with a shudder, and the gains are minimal, with an estimated 19 mpg in the city, the same 26 mpg on the highway, and a combined 22 mpg.
The 2017 model year brings a hybrid MDX, due to reach the market soon. Honda says that version is estimated to get 26 mpg in the city, 27 mpg on the highway and 27 combined mpg; the city figure is 45 percent higher than the regular MDX, Honda says.
One of the tweaks Acura made to the MDX in 2016 was the change to a new nine-speed automatic. Fuel economy and acceleration both improved, but gear changes lack the transparent smoothness we expect in this class. The transmission also comes with an infuriating electronic shifter. This console-mounted array of circles and rectangles that you push or pull to select gears looks like a toddler's developmental toy gone awry. At least Acura included comprehensive safeguards, automatically shifting into Park in case you open the door or shut off the ignition when the car is stopped while in gear.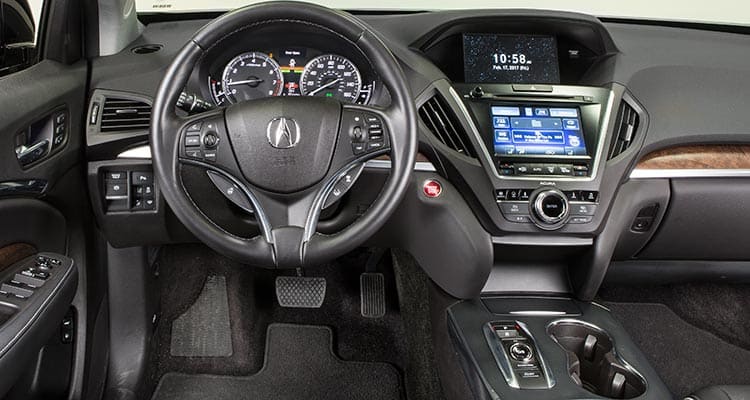 One thing we wish Acura would get around to changing is the MDX's infotainment system. It combines a high-up display screen, a lower touch screen, a controller knob, and an assortment of buttons. None of this is intuitive, taking several steps to find what you want, which is very distracting. At least you get an actual volume knob, although the separate power button is silly. Android Auto and Apple CarPlay compatibility are nowhere to be found—no excuse there because it is available in the Honda Accord.

Overall, the MDX is a pleasant and practical SUV. Size-wise, the MDX strikes a handy balance, packing three-row versatility into a manageable length. We appreciate the super-clever one-touch button for folding the second-row seats, easing access into the third row.
Even the price is agreeable for a luxury-branded SUV. Splurging on a top-trim MDX Advance takes the price to $57,475. That's thousands less than some competitors from Audi, BMW, or Mercedes-Benz. (The Volvo XC90 is similarly priced and plusher inside than the Acura, but its engine noise and ride comfort aren't as refined as the MDX.)
More buyers will go with the popular combination of a MDX AWD with the Technology package, which adds navigation and blind-spot monitoring. That version adds up to $51,435, pretty much on par with one competitor, the Lexus RX350, that lacks a third-row seat. It's also about what you'd pay for a loaded three-row SUV from a non-luxury brand, like the Ford Explorer or GMC Acadia.
Here's the MDX's predicament: Its value proposition becomes fuzzy if you're willing to skip the Acura's upscale branding. Some models by more pedestrian brands, such as high-end versions of the Toyota Highlander or Kia Sorento, are more compelling bargains. Furthermore, they don't sacrifice much—if anything—in luxury and driving experience to the MDX.
The Mazda CX-9 drives better than the MDX, and its top-trim Signature has a similarly ritzy interior, all for $44,955. Then there is the MDX's platform-sharing and mechanical twin, the Honda Pilot Elite, which has more room. It's not quite as plush, but it costs quite a bit less: $48,010, including a rear entertainment system that would cost you an additional $2,000 in the MDX.
The MDX represents a known quantity with a history of good resale value. Beyond some frustrations, it gets the job done and is arguably the most compelling model in Acura's current lineup, if you can get past its blemishes.