When you shop through retailer links on our site, we may earn affiliate commissions. 100% of the fees we collect are used to support our nonprofit mission.
Learn more.
A model from the Mini brand is unmistakable, no matter the guise, version, or body style. Some may consider the all-new 2017 Mini Cooper Countryman—the biggest Mini yet—an SUV, but the model embodies that trademark Mini character. That uniqueness extends beyond the car's physical shape to the brand's cheerful and irreverent demeanor.
Mini offers the choice of a 134-hp, 1.5-liter turbocharged three-cylinder in the base Cooper or, in the Cooper S, a 189-hp, 2.0-liter turbocharged four-cylinder. We opted for the latter in our awkwardly named Cooper S Countryman All4, which is Mini-speak for an all-wheel-drive version. This makes it comparable with other premium small SUVs, such as the Audi Q3, Mercedes-Benz GLA, and BMW X1—which shares a platform with Countryman. Mini is owned by BMW. The Countryman starts at $26,950 for the base front-wheel-drive version and $31,950 for the S AWD. A few desirable option packages brought the price of ours to $39,535. That may sound like a lot of money, but Mini has never been a budget brand.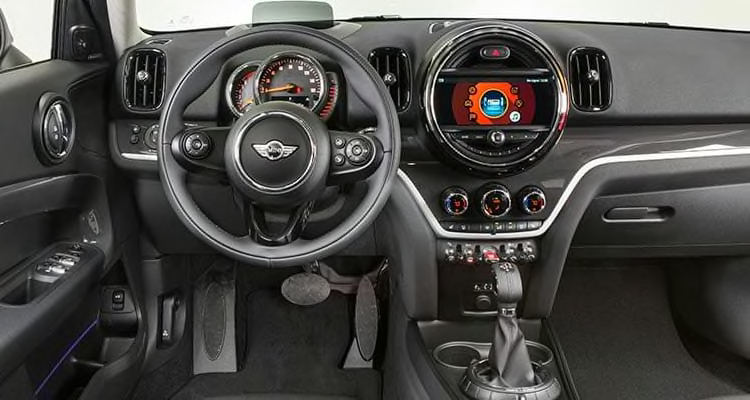 Even so, it's astonishing that even at this price our Mini lacks advanced safety features, including auto emergency braking and lane-departure warning. It doesn't have a blind-spot monitoring system. You can get it as part of the $1,000 Active Driver Assistant option, which also requires an additional $6,000 package called Fully Loaded.
On the road, this Mini adheres to the brand's character with agility—thanks to quick steering and a distinct exhaust sound that make it fun to drive. At nearly 3,700 pounds, the Countryman may not be the go-kart its pint-sized hatchback brethren are, but in the realm of SUVs and even some sedans, it corners with remarkable enthusiasm.
With the larger 2.0-liter engine, mated to an eight-speed automatic transmission, the Countryman feels zippy and responsive. The transmission plays harmoniously with the turbo's rich torque. Rotate the drive mode selector by the shifter to Sport and throttle response becomes swifter and shift points occur at higher revs, adding more zest. Conversely, choosing the Eco mode results in somewhat blunted performance. The engine shutoff feature isn't the smoothest, but you can turn that nuisance off. Incidentally, a six-speed manual transmission is still offered.
We believe that with the less powerful three-cylinder engine, which we tested in our 500-pound-lighter Cooper Clubman, the Countryman would struggle to move with authority. Fuel economy is pegged by the Environmental Protection Agency as 26 mpg overall; so far we've been getting close to that according to the car's computer.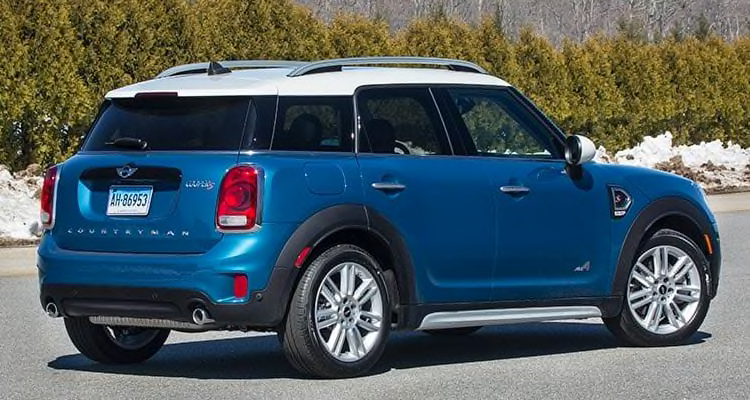 The Countryman may very well be the most comfortable Mini, but its ride is still quite firm. The suspension has a layer of absorbency, and the body remains controlled and tied down, thankfully free of the choppiness that characterized earlier Minis.
The Mini isn't particularly quiet, but noise isn't objectionable. Road noise is fairly well suppressed, but at highway speeds wind noise is rather pronounced.
Inside is the usual-for-Mini celebration of style and character, including chrome-tipped toggle switches and other funky details. Yet like the rest of the current Mini line, controls such as those for windows, locks, and mirrors adjustment are placed in traditional spots. Unlike earlier Minis, the Countryman's speedometer is conventionally placed right ahead of the driver, freeing up the large round center gauge for the infotainment screen.
That infotainment system is handled via a center control knob that interacts with the screen, much like the iDrive in BMW models. It certainly entails a learning curve, but once mastered it's logical. Conveniently, changing radio stations and initiating or receiving phone calls can be done with just steering-wheel controls while viewing the action in the optional head-up display.
The rear seat has enough space for average-sized adults, and unlike the original Countryman, it seats three people across. It's plenty roomy for kids. Although the cargo space is modest, the rear seats can slide fore and aft independently, enabling a bit more space for passengers, cargo, or both.
Surely, we won't have any trouble piling up break-in miles before formal testing begins because this maxi-Mini is super fun to drive . . . with an even credible practical side.