When you shop through retailer links on our site, we may earn affiliate commissions. 100% of the fees we collect are used to support our nonprofit mission.
Learn more.
The all-new 2018 Buick Enclave has been completely modernized, while retaining the spacious and quiet cabin, responsive handling, and composed ride that defined the previous generation. Still, given its nameplate and price, shoppers expect a more refined finished product.
The large, seven-passenger Enclave has smooth and punchy acceleration, delivered by its 310-hp, 3.6-liter V6 engine, and helped by its slick-shifting nine-speed automatic transmission. We've been averaging about 19 mpg overall, according to the car's trip computer, during our early drives. The only major demerit so far is that the Buick's start/stop feature can be a little abrupt when restarting the engine.
Overall, the Enclave has a firm and mostly absorbent ride, but occasionally some larger bumps intrude. We think that, for a luxury SUV, the ride could use a touch more fine-tuning.
Handling is mostly responsive and confident for an SUV this large. The Enclave doesn't feel sporty but it still delivers a satisfying driving experience, especially for its class.
We bought a mid-level Premium 1SN Enclave with all-wheel drive. We added the "Experience" package, which includes 20-inch wheels, dual sunroof, and the trailering package; navigation; special metallic paint; and a few more odds and ends, which brought the final price to $55,680 (including the destination fee).
Climb inside and you're treated to a quiet interior, with supportive seats that are a bit on the firm side. Oddly, the seats only have two-way lumbar support adjustment. A Honda CR-V—at less than half the Enclave's $55,000 price—features four-way lumbar adjustments.
It's quite easy to master most of the Enclave's controls, with straightforward phone pairing instructions, easy-to-assign radio presets, and standard Android Auto and Apple CarPlay compatibility. You also get handy shortcuts through the steering wheel controls and lots of information in the gauge cluster. However, the 8-inch touch screen sits too far away, and some switches (like the hazard lights) require a long reach for the driver.
We also found the Enclave's gear shifter challenging to operate. In particular, it's tricky to find and engage Reverse. We often found ourselves revving the car in Neutral rather than selecting Reverse, a mistake that can be dangerous, especially on a hill where the SUV can roll. Park is activated by pushing a button atop the shifter—again, making a common exercise take more effort than is necessary.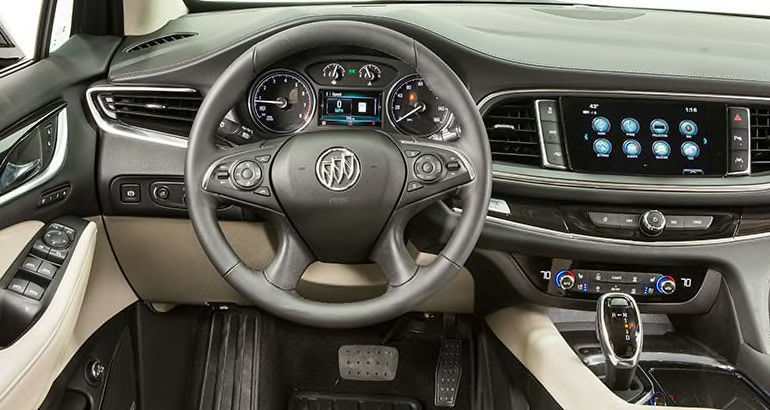 The Enclave is competitive in fit and finish, with upscale touches scattered about the cabin. But we were dismayed to find a few shortcuts, including the same manually operated sunroof shades that are in its corporate siblings, the Chevrolet Traverse and GMC Acadia. All three SUVs, and the Cadillac XT5, share the same GM platform. We expect a more elegant solution in a premium-priced vehicle.
Base Enclave versions come with a standard backup camera and rear parking assist, and the Essence trim adds rear cross-traffic alert, lane-keeping assist with lane-departure warning, and blind-spot monitoring. But we had to upgrade to the Premium trim to get important safety features such as forward-collision warning and low-speed automatic emergency braking. Even then, our Enclave doesn't have adaptive cruise control or highway-speed automatic emergency braking.
While the Enclave is a pleasant, upscale SUV that is satisfying to drive, so far there's no compelling argument to choose it over the less expensive—and already accomplished—Traverse. The driver and passengers should feel more pampered in a top-shelf Buick.
We'll know more as we pile on the miles and complete our formal testing.