When you shop through retailer links on our site, we may earn affiliate commissions. 100% of the fees we collect are used to support our nonprofit mission.
Learn more.
Thanks to the recent surge of interest in virtual reality, we're now witnessing an intense, almost frenzied fascination among camera companies with models that shoot 360-degree video. After all, what good is a $599 headset if you don't have high-quality eye candy to explore?

A year ago, Pentax introduced its Theta action cam. This month, it was Nikon with its Keymission 360. And so, it's not surprising that GoPro, the runaway leader in the action cam market, will be introducing two 360-degree camera rigs later this year. Most consumers won't consider buying either of these expensive pieces of equipment, which both can shoot in 4K, but you may see video shot with them if you invest in Google Cardboard or another headset. And in the next couple of years, prices should drop into the expensive-but-sane range.
GoPro's $15,000, 16-camera Odyssey is designed for professionals—presumably for Hollywood and ESPN. But the company also plans to release a consumer-friendly model. At what price? That's not yet clear. But, since the rugged, waterproof device will have six GoPro cams integrated into it, it is likely to cost upwards of $2,000. That would be quite expensive, but still within reach for some really committed amateurs. At least GoPro is hoping so, because the company has a lot riding on the product: After announcing disappointing sales figures for the holiday season, the company recently announced it was cutting 7 percent of its workforce.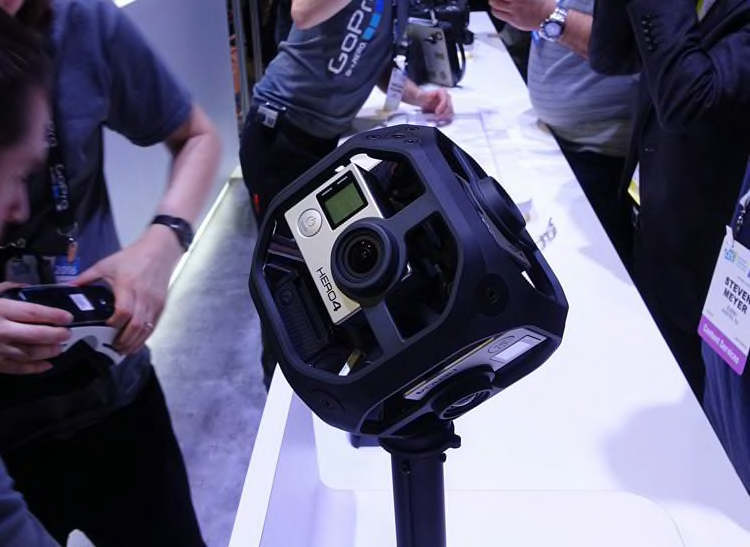 Although I have not gotten to shoot with the new GoPro model—what I was shown during a recent meeting with executives was more or less a prototype—I did get to review some footage from it on a Samsung Gear VR headset. Dressed in a jacket and tie, I donned the headset and suddenly I was surfing the waves off the coast of Tahiti.
Two moments in particular captivated me. In the first, the top of a wave appeared just over my head. When I looked up, all I could see was more wave. That's when I realized I was tunneling through the surf. Then I looked down and noticed, just below the rushing water, the rocky ocean floor whizzing beneath my feet.
If you want to check out the footage, you'll find it online here (the surfing segment starts about 45 seconds into the clip). As you can see, you can change the point of view—even when you're not wearing a VR headset—by simply dragging and clicking on the video.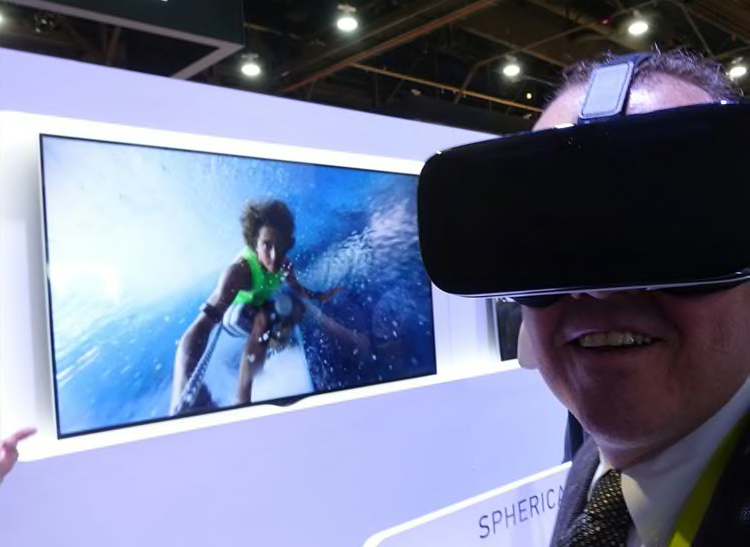 It will be interesting to see what kinds of great content videographers shoot using GoPro's six-camcorder VR rig. But we also want to learn more about what it's like to actually shoot with it, and so far, GoPro hasn't revealed too much information. In all likelihood, the rig will be controlled through either a remote or an app-enabled smartphone. Since GoPros do not have optical zoom, this rig may lack that capability, too. But the company will probably need to add for the first time some kind of image stabilization, since non-VR ultra HD or 4K-resolution video without it is hard to stomach, much less watch. Nausea is not good for business.
We'll be sure to test this new action cam rig in our labs once it's available. In the meantime, check out our camcorder buying guide for expert advice on action cams that are already on the market.