Buying a camcorder can be complicated. Models vary not only in size and capabilities but also in price. You can spend $150 or more than $1,600. Our camcorder guide organizes the process of buying one into clear steps that will help you make the right decision.
First, decide on the type of high-definition camcorder you want to buy. If you want better quality and more options, consider a full-sized model. If you need a smaller, more portable model, get an action cam, which is about half the size of regular pocket camcorders. Keep in mind, however, that today's full-sized camcorders are smaller and more lightweight than previous models. They fit easily in your hand and weigh as little as a half-pound yet still include at least a 10x optical zoom lens and other powerful possible features: Ultra High Definition, or 4K, resolution; 3D capability; GPS for geotagging; and built-in, or pico, projectors.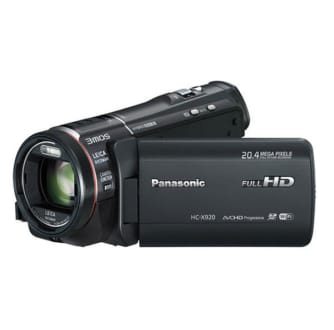 Full-Sized Camcorders
Unlike analog camcorders of the past, digital models allow you to do a lot more with video than just play it back on a TV. You can edit and embellish with music using a computer, then play your productions on a computer, or on a DVD or Blu-ray player. You can also email recordings or upload video clips to sites such as YouTube. Many video-editing software suites also let you combine video with digital stills, graphics, and text.
Most full-sized camcorders have at least a 10x optical zoom, although some have more (as much as 50x). At maximum zoom, most full-sized camcorders will produce jittery video because of hand shake or other factors. To compensate, most have an image stabilizer.
One feature found on many full-sized HD camcorders is an HDMI output, the best way to connect your camcorder to an HDTV.
Camcorders Ratings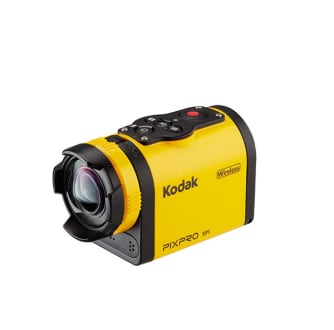 Action Cams
If you want a camcorder that's more compact than a full-sized model, you should consider an action cam, like one of GoPro's Hero line of camcorders. Such models are very small and lightweight, and they often have rugged bodies.
Action cams are designed for people who engage in outdoor sports and activities such as biking, surfing, and snowboarding, and want the ability to capture hands-free video. Because of their compact size, they may lack features such as a viewfinder or an LCD. Although some have a waterproof exterior, most have a rugged and waterproof housing or removable case and mounting brackets for attaching the camcorder to a helmet or another object.
Action camcorders Ratings
Camcorder Features
The right camcorder features are important, whether you're considering an HD camcorder or a 4K model.
Consider the type, size, weight, controls, and features: In the store, try different camcorders to make sure they fit your hand and are comfortable to use. Most are designed so that the most frequently used controls—the switch to zoom in and out, the record button, and the button for still photos—are readily at hand. Make sure that the controls are convenient and that you can change recording media and remove the battery without any trouble. More models are also including WiFi features. So check for this if it's important to you.
Check the LCD. Most measure about 3 inches on the diagonal, but some are larger. However, few action cams have any type of display. Some displays on full-sized models suffer from too much glare, making them difficult to use outdoors in bright sun. Check the display in the store to make sure you're satisfied with the usability of any model you're considering. But note that most LCDs look fine indoors. In full, midday sunlight, viewing performance will vary greatly from model to model.
Think about lighting. You won't always be shooting in bright light. Using the default mode, we found that models varied in quality when shooting in dim light. Most full-sized HD camcorders captured at least good-quality video in low light, but some had excellent quality. Note that many camcorders have settings that can improve performance but can be a challenge to use.
Consider audio quality. We look at how accurately the built-in microphone records and whether the sound file is free from noise or hiss. Action cams often lack decent audio quality. A few advanced models include a jack for using an external microphone, which can improve sound quality.
Decide which recording format suits you best. The recording format you choose determines not only how much you'll be spending for memory media (most often, a memory card) but also how much recording time you'll get. Most models offer a few recording formats and several resolution options. But there's generally a trade-off: Better-quality formats and higher resolution settings give you shorter recording times.
How Camcorders Store Video
Flash memory is the standard storage format. Most camcorders store video on memory cards, such as Secure Digital (SD, SDHC, SDXC), micro Secure Digital (microSD, microSDHC, microSDXC), Memory Stick, and Memory Stick Micro memory cards. The amount of video you can record on a camcorder at the highest quality depends on the card's capacity, which can range from 4GB to 128GB or more.
Some camcorders include an internal, nonremovable flash memory chip—capacity for internal flash storage can range from 8GB to 96GB. Some models include both a memory card and internal flash memory.
No matter which type of camcorder you buy, after you capture your video you'll need to transfer your video to your computer's hard drive, where you can store or edit it.
Resolution and What's Available
Almost all newer camcorders capture high-definition video, even low-end budget models (at either 1280x720 pixels or 1920x1080 pixels at various frame rates). Such footage will look best when viewed on an HDTV. There have also been fewer full-sized HD-models introduced because an increasing number of devices (SLRs, smartphones, tablets) also capture HD video.
However, 4K video camcorders are appearing in the market. The major distinction between a 4K camcorder and an HD camcorder is the resolution they capture:
• 4K camcorder resolution: 3840x2160 pixels
• HD camcorder resolution: 1920x1080 pixels or 1280x720 pixels
• Standard-definition camcorder resolution: 720x480 pixels
Almost all HD models can record video in 1080i, the same resolution as much HDTV programming. Some can even shoot in 1080p—the same format used on Blu-ray discs. Only a few models record in 720p, an alternative HD broadcast format.
HD recordings take up much more space than standard-def video, so you'll fit less video in a given amount of storage. Some formats that record in HD, such as AVCHD, need HD-capable hardware, such as a Blu-ray disc player, to play back recordings. Also, you'll find action cams that can capture HD-resolution video, some even in 1080i, but will compromise the video quality in other ways, such as lower frame rates. 
Camcorder Brands
Sony dominates the camcorder market, offering a range of models across all current consumer formats. Other brands include Canon, GoPro, JVC, Panasonic, Samsung, and Vivitar. 
Canon is a key player in the camcorder market. Its Vixia high-definition camcorders, which record to media cards and flash memory, consistently offer good to very good performance. Its models offer WiFi connectivity and are compatible with Eye-Fi SD memory cards.
GoPro offers a range of sports-oriented, high-definition waterproof and shockproof HD Hero video cameras. Available accessories allow mounting to various flat or curved surfaces, such as bicycle helmets and surfboards. Additional accessories include a 3D kit and a WiFi backpack.
JVC's varied Everio high-definition compact camcorders record to internal flash memory and media cards. Models include built-in WiFi, which allows easy uploading, and Live Monitoring using a smartphone. JVC also offers a line of compact, waterproof Adixxion action camcorders.
Panasonic offers a wide range of WiFi compatible, high-definition camcorders that record to media cards and flash memory. The brand consistently produces good to very good models that tend to be very easy to use. Additionally, Panasonic offers a high-end model that can record full HD in 3D, and an unusual POV (point-of-view) waterproof action camcorder that has a separate lens.
Samsung offers a limited variety of high-definition, low-priced to midpriced camcorders that record to SD-format memory cards and offer easy one-touch uploads to YouTube.
Sony is the leading camcorder brand and offers the widest range of high-definition models; some have recently topped our ratings. Sony's model line includes a very high-end, newly introduced professional/consumer 4K camcorder; a high-end, full-HD 3D-capable camcorder; and a variety of low-priced to midpriced, high-definition Handycam camcorders that record to internal memory and memory cards—some with integrated projectors capable of projecting content from external devices. Sony also offers a line of sports-oriented, WiFi-capable action camcorders.
Vivitar offers a wide range of inexpensive standard-definition and high-definition pocket camcorders that record to flash memory or SD memory cards. Included in its line are waterproof models, 3D-capable models, and WiFi-capable models.
Thanks for sharing.
Oops, we messed up. Try again later
Recently Tested Camcorders
BEST TIME TO BUY:
May, November
Do you know when is the best time to buy Camcorders? Learn more
More From Consumer Reports