When you shop through retailer links on our site, we may earn affiliate commissions. 100% of the fees we collect are used to support our nonprofit mission.
Learn more.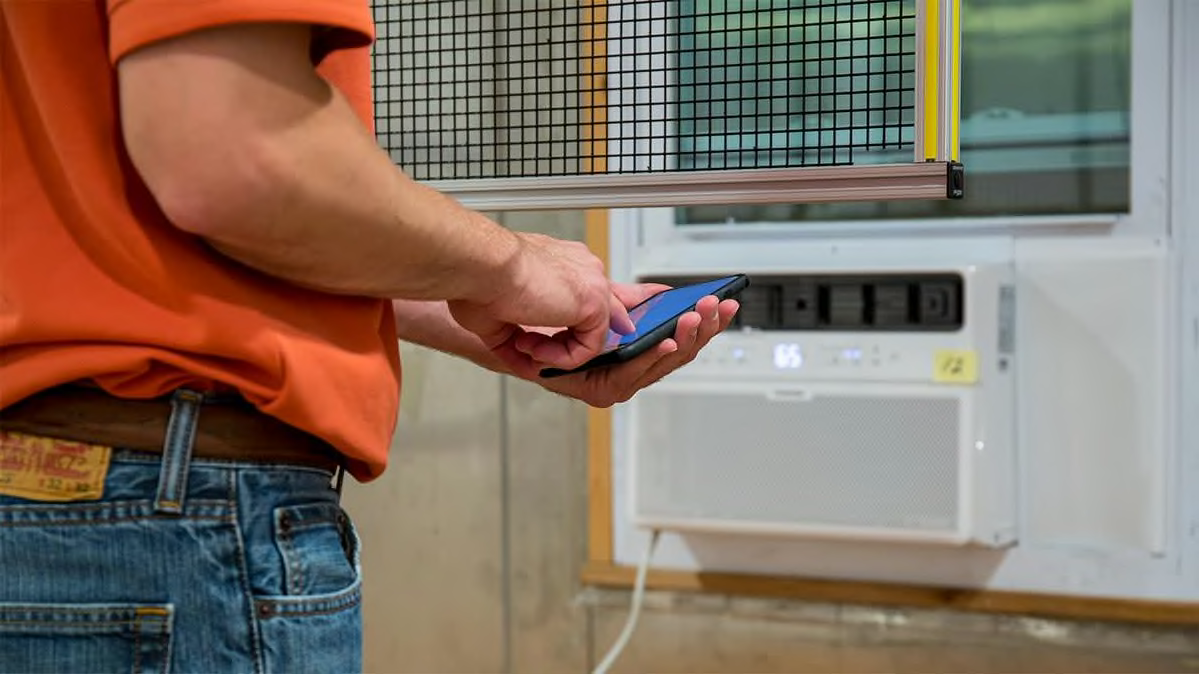 Most window air conditioners come with a remote, but where does that leave you when it goes missing? Sweaty and rummaging through the couch cushions.
Smart air conditioners offer a cool solution. Thanks to built-in WiFi, you can switch a smart AC on from your smartphone or by asking your voice-controlled smart assistant to do it for you. That's pretty handy if you want to cool the house down before you get home from work but you don't want to waste energy running the AC all day.
With a smart AC, you can do more than turn it on and off remotely. You can remotely check and change the temperature, select the modes and fan speeds, easily program a cooling schedule, and, in some cases, connect several air conditioners and run them in concert. Some apps even monitor your energy use and send alerts when air filters need cleaning.
You can give anyone in the household access to take control by using the app with his or her phone.
More manufacturers are offering smart appliances, and typically all you need is a WiFi connection, a smartphone, and the companion app.
In Consumer Reports' tests of dozens of window air conditioners, we're seeing more that have smart features or can be connected to WiFi with an add-on kit. In our tests we discovered that not every smart air conditioner is a brilliant performer.

Although we don't test every app, Chris Regan, who oversees our air-conditioner tests, installed a smart AC at home and surprised his children when he turned it on from the office when the rest of the family was home. "That was fun," he says. "The smart features are a nice addition. But before investing in a smart AC, you want to make sure it can perform its primary function of keeping you cool."
How We Test Window ACs
After installing a unit in a double-hung window in our climate-controlled test chamber, we crank up the air temperature to 90° F, then measure how long it takes the AC to cool the space by 10° F. Regan says the best units do it in less than 15 minutes. We also gauge how accurately the AC reaches its set temperature, whether a model can recover after a simulated brownout, how intuitive the controls are, and how loud each unit is running on low and high.
If you have a digital or all-access membership to CR, you can read on for ratings and reviews of seven smart ACs from CR's recent air-conditioner tests.
Small Smart AC
5,000 to 6,500 Btu; cools 100 to 300 square feet
Frigidaire Gallery FGRC0644U1
CR's take: Only one small AC in our tests comes with smart features. And with only a Fair rating for cooling, the Frigidaire Gallery FGRC0644U1 is one of the lower-scoring small window units. But it comes from a brand with favorable scores for reliability and a Good rating for owner satisfaction. It runs quietly when on low and gets a bit noisier when on its highest setting. When we tested it in low-voltage conditions, as you would experience during a brownout, it restarted like a champ. It has an attractive mesh grill and a digital temperature display. This model tends to blow air to the left, so make sure that works for the room where you plan to use it.
The Frigidaire Gallery works with Amazon Alexa and Google Assistant. You can download the companion app through the model page on the Frigidaire website.

Midsized Smart ACs
7,000 to 8,500 Btu; cools 250 to 400 square feet
Kenmore Elite 77087
CR's take: The Kenmore Elite 77087 earns a Very Good rating for cooling a room and is fairly quiet on low. But it makes a racket once it's cranked up to high. It aces our brownout test, which means it'll start back up during periods of low voltage. The Kenmore distributes air evenly throughout a room, unlike some models that tend to blow air in one direction or another. It comes with a remote, but you won't need it if you download the Kenmore Smart AC app.

It works with Amazon Alexa when you enable the Kenmore Smart skill in the Alexa Skill store. You can use the same app with Kenmore's other smart appliances, including refrigerators, washers, and dryers.
GE AEC08LY (Home Depot)
CR's take: The GE AEC08LY, sold at Home Depot, is new to our list of recommended window ACs. It cools a midsized room quickly, earning a Very Good rating on our comfort test. It's one of the quieter models when running on low but gets a bit loud on the highest setting. It aces our brownout tests, restarting with no problems when power comes back on. It comes with a remote, but if you download the app you can monitor such settings as the timer and dirty-filter indicator from your smartphone. GE air conditioners get our highest rating of Excellent for predicted reliability, but owner satisfaction is average.

This unit is compatible with various connected devices, including Amazon Alexa, Google Assistant, and Apple HomeKit. The GE Comfort App can sync with your location so the house cools down before you walk in the door. You can download the app at GEAppliances.com/connect.

TCL TAW08CREB19W (Walmart)
CR's take: Exclusive to Walmart, the TCL TAW08CREB19W earns a Very Good rating in our comfort test, making it a good candidate for a medium-sized room. It's noisy, though, earning a middling score for noise on the low setting and being fairly raucous when on high. It bounces back in low-voltage situations, so brownouts shouldn't be a problem. It has a timer and a dirty-filter indicator. You can use either the included remote control or an app to work the unit. In our brand reliability survey, we didn't have enough data on the TCL to give it a rating.

Once you download TCL's Smart Life app and connect to WiFi, you can easily control your air conditioner from anywhere. It also works with Amazon Alexa. You can download the app at Google Play, the Apple Store, and Amazon.

Large Smart ACs
9,800 to 12,500 Btu; cools 350 to 650 square feet
LG LW1217ERSM
CR's take: The LG LW1217ERSM is similar to the LG LW1216ER, $350, which is our top-rated large air conditioner. It's the WiFi connectivity that sets it apart from its brandmate and accounts for the price difference. The LG is a champ at cooling a large space and does so fairly quietly on the low setting, earning a Very Good rating on the noise test. It's a bit noisier on high, however. You can depend on it during brownouts or during periods of low voltage. The LG blows air primarily to the right, so check the placement of your windows.
LG calls its app SmartThinQ, and it works with Amazon Alexa and Google Assistant.
Frigidaire Gallery FGRC1244T1
CR's take: Like its smaller brandmate, the Frigidaire Gallery FGRC1244T1 has a mesh front and blows air up through a vent on top instead of through the front louvers. It earns an Excellent rating for cooling a large space, such as a living room or family room, and it bounces back in our brownout test. But it isn't the quietest choice, so keep that in mind if you're buying an AC for a room where the family typically gathers. The louver design on the top doesn't allow for redirecting the airflow like some other ACs, contributing to its middling rating in our usability tests. The Frigidaire is compatible with Amazon Alexa and Google Home.
Toshiba RAC-WK1011ESCWU
CR's take: Sold at Home Depot, the Toshiba RAC-WK1011ESCWU is a workmanlike—if not stellar—performer. It earns a Good rating at cooling, soit falls a bit short of some of its competitors, and it's noisy when running on the highest setting. The Toshiba bounces back in brownout conditions, so it won't leave you sweating it out when voltage is low. We don't have enough data to rate Toshiba ACs for reliability.

You can run the Toshiba from your smartphone or by asking Alexa to turn down the temperature, according to the company's website. You can download the owner's manual, which walks you through the process, on the model page on Toshiba's website.