When you shop through retailer links on our site, we may earn affiliate commissions. 100% of the fees we collect are used to support our nonprofit mission.
Learn more.
When you shop through retailer links on our site, we may earn affiliate commissions. 100% of the fees we collect are used to support our nonprofit mission. Learn more.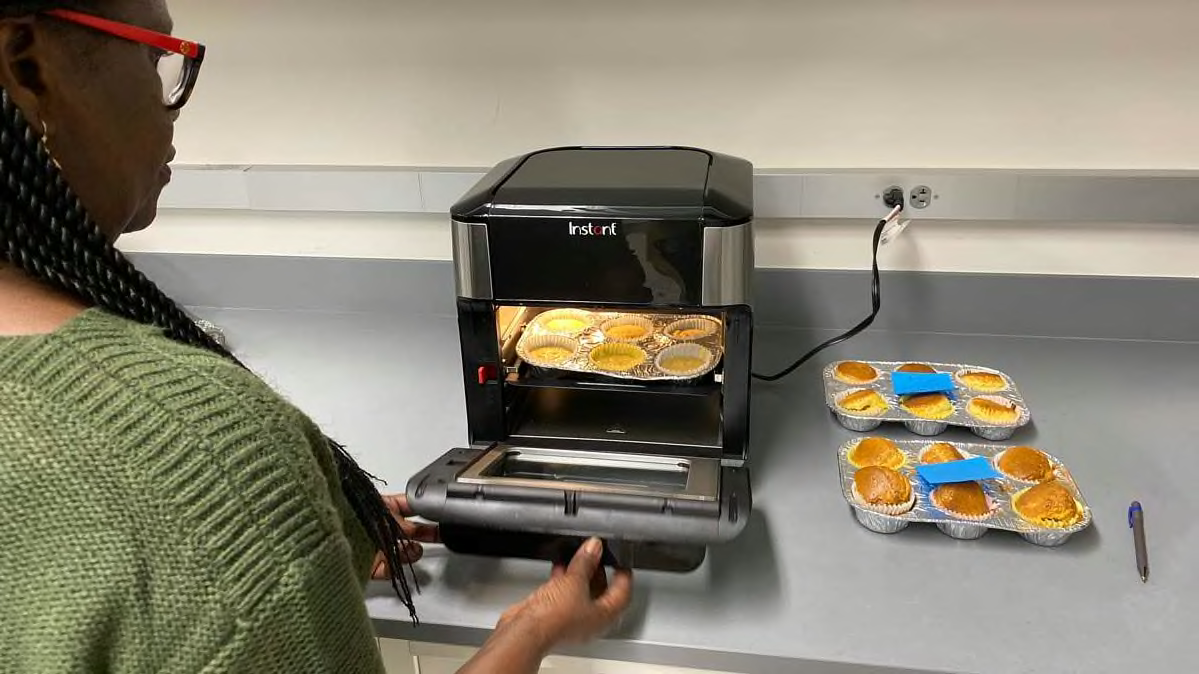 Instant Brands made its name with the multitasking Instant Pot, and has since steadily expanded its line of countertop appliances. Its latest is the Instant Vortex Plus 7-in-1 Air Fryer Oven, $120, and it's unlike anything we've tested.
The Vortex Plus is not a toaster oven—there's no toast setting—and it's more than an air fryer, so it doesn't belong in our air fryer ratings. It's a 1,500-watt mini convection oven with a max oven temperature of 400° F that can air-fry, bake, roast, cook rotisserie style, broil, reheat, and dehydrate. As for size, it's about 13 inches square.
To find out how well this Franken-cooker works, CR put it through a set of tests to assess each of its functions—air-frying wings and fries, roasting whole chickens, baking cookies and muffins, reheating frozen lasagna, broiling burgers, and dehydrating fruit.
MORE ON COUNTERTOP APPLIANCES
One thing our testers noticed right off the bat: "The convection fan is always on, no matter which cooking function you use," says Ami Ndiaye, a CR tester in our small appliance lab. "The fan circulates the hot oven air and that's great for air frying foods and roasting, but it may not be great for all of the functions."
Makes sense when you think about it. After all, air fryers are essentially mini convection ovens. And according to Robert J. Wang, Ph.D., chief innovation officer of Instant Brands Inc., and creator of the Instant Pot multi-cooker, while the Vortex is versatile, "the focus of our Instant Vortex line is air frying—one of the latest trends in cooking healthy and tasty foods."
But what about all the other functions the Vortex claims to perform? Read on to see our test results.
Test-by-Test Results
Air frying: The Instant Vortex Plus shines here, cooking food evenly and quickly in its 3-quart basket. Frozen chicken nuggets came out crispy outside, moist inside, in just 15 minutes. Frozen chicken wings took 30 minutes to bring to deliciousness. Shoestring fries were crispy and golden in just 18 minutes.
Roasting and rotisserie: No need to run out to the grocery store for a roasted chicken when the Vortex can do a terrific job. Using the rotisserie spit, we roasted a chicken and our 4-pounder turned out juicy, tender, and crispy brown in 50 minutes.
Reheating: Impressive. Our single serving of frozen lasagna was evenly heated after cooking for 15 minutes.
Baking: The Vortex misses the sweet spot here. Our first batch of four sugar cookies turned out golden on the outside, but raw inside. We baked another batch a bit longer, and the cookies got darker on the outside, as you would expect, but still had raw spots inside. That's even when we covered the cookies with aluminum foil, as the manual recommends. The Vortex did a better job baking corn muffins, which were uniform in color and done inside.
Broiling: The Vortex isn't so hot at this task. We popped some burgers in and hit the broil button, but they came out more baked than broiled.
Dehydrating: The Vortex didn't disappoint in this test, but as with most dehydrators, you'll have to wait a long time to reap the benefits: We used the dehydrate function for four thinly sliced kiwis, and got dry, flavorful fruit, but only after 6 long hours.
The Verdict
As a concept, the Vortex is a little half-baked. We found that it's better at air frying, roasting, and reheating than it is at baking and broiling. Still, for around the same price as an air fryer (the top models in our ratings cost $70 to $130), the Vortex not only air fries like a pro, but it also makes killer rotisserie chicken and dehydrates foods well—tasks other air fryers can't do. So if baking and broiling are less important to you, and you don't already have an air fryer, the Vortex is worth considering.
Where to buy: $119 at Walmart, $119.99 at Best Buy and Target, $129.99 at Kohl's, $149.99 at Macy's
Cooking With Countertop Appliances
Countertop appliances have come a long way over the years. On the "Consumer 101" TV show, Consumer Reports expert Sara Morrow shows host Jack Rico how it's possible to cook an entire meal without using your oven or range.