Quietest Air Fryers From Consumer Reports' Tests
These kitchen appliances can cook up your next meal with quiet convection
When you shop through retailer links on our site, we may earn affiliate commissions. 100% of the fees we collect are used to support our nonprofit mission. Learn more.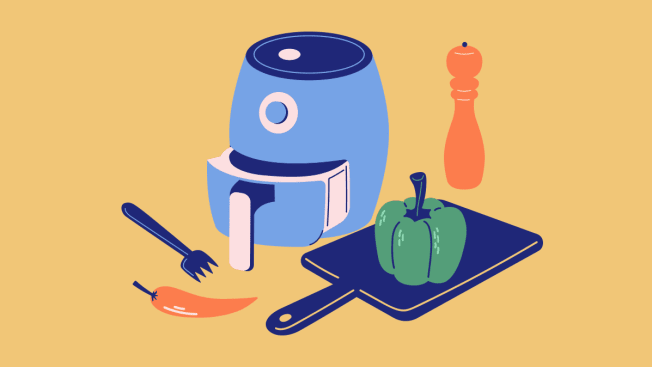 Many of us have spent the past two years cooking at home more than ever before, and if all the headlines and social media posts are any indication, air fryers have been in heavy rotation during this period. That's unlikely to change anytime soon. Between now and 2027, MarketWatch predicts that the air-fryer market will grow by about 7 percent each year.
Another reality of pandemic life in a busy household? A lack of quiet time. And adding more noise—like what comes from the internal fan of an air fryer crisping your food to perfection—is less than ideal.
"Most kitchen appliances put out levels of sound that are not going to be harmful to health, but could certainly be annoying," says Rick Neitzel, associate professor of environmental health sciences and global public health at the University of Michigan School of Public Health. And while a low-grade hum as you quickly air-fry a basket of fries might not bother you or anyone who's close by, cooking a Cornish hen over the course of an hour is a different story.
To test air fryers for noise, CR takes a sound reading in our lab to measure the noise with the appliance turned off. Then, according to Larry Ciufo, lead engineer for CR's air fryer tests, we place the air fryer on top of a butcher block countertop and set the sound meter at 6 feet high, roughly the height of a human ear, and 3 feet away from the appliance. We turn on the air fryer for 30 seconds and take a noise reading. We repeat that process and average the two readings to calculate each model's noise score; the quieter it is, the higher the score.
The loudest models in our ratings put out noise equivalent to a vacuum cleaner, while the air fryers included below in alphabetical order have a decibel reading on a par with the hum of a refrigerator.
Notably, the ticking of an analog timer, compared with the relative quiet of a machine with digital controls, may be a nuisance if you're sensitive to sound, but you'll see that several of the quietest models below are analog.
For more information, check out our air fryer buying guide. And to get all the specs on the full lineup of air fryers we've tested, see our air fryer ratings.
CR's take: The analog Black+Decker Purify HF100WD is great if your main concern is noise, but it scores poorly in our controls test because of the extremely small numbering on the analog dial. Other redeeming qualities include a Very Good rating for cleaning—plus, it's widely available at several major home retailers. The decibel reading on this unit is slightly higher than on the Dash models.
CR's take: The Chefman TurboFry 4.5 Quart air fryer is the latest shining star in our air fryer ratings. It aces our noise and controls tests—producing a sound that is just a smidge louder than the Dash models—and earns a Very Good rating for cleaning. Despite its larger claimed capacity, the interior basket measures just 2.7 quarts. The one-year warranty is on a par with most of the models we test.
CR's take: A CR Best Buy, the Chefman TurboFry Touch has a measured capacity of just 2.4 quarts. It earns high marks for controls and ease of cleaning, and it operates quietly, acing our noise test with a decibel reading that's slightly higher than the Dash models in this roundup. Though it does have a digital display, it does not come with programmed settings. That means you'll need to have a general idea of the temperature and time required for each recipe. It does, however, come with a one-year warranty, as well as a cookbook and parchment liners for the fryer basket.
CR's take: The Dash Digital Tasti Crisp is small but mighty. At a measured capacity of 1.9 quarts and an overall size of less than a square foot, this 6-pound model is one of the most compact air fryers in our ratings. Still, it ranks among the best. It earns a Very Good rating for controls and cleaning, and excels in our noise test. It shares the honor of being the quietest air fryer in our ratings with its analog counterpart below. It has a one-year warranty, which is typical for most models.
CR's take: Much like its digital sister above, the analog Dash Express Tasti-Crisp has a measured capacity of 1.9 quarts and an overall footprint of less than a square foot. It's also among the lightest-weight models at just 6 pounds. Though it receives only a middling mark for its controls, it earns a Very Good rating for cleaning and aces the noise test. This model and its digital counterpart are notable for being the quietest air fryers in our ratings. Additional pluses: It is among the most affordable models we test and comes with a two-year warranty.
CR's take: The GoWise USA GW22731 ranks among the best air fryers in our ratings—and among the quietest CR recommends. Though it receives only a Fair rating for how easy it is to clean, it receives top marks for noise and simple-to-use controls. The decibel reading for this unit is slightly higher than the Black+Decker above, but this model's basket has a larger measured capacity—4.9 vs. 2 quarts.
CR's take: The Williams Sonoma Open Kitchen Digital Air Fryer, a Williams Sonoma exclusive, has a brushed stainless steel exterior. The interior basket size measures 3.6 quarts. It earns a middling score for its controls but aces the noise test. It puts out about the same amount of noise as the Black+Decker model. It's also pretty easy to clean. This model is designed with a digital display and programmed settings. Like most of the models we test, this one comes with a one-year warranty.